Aishwarya Rai Bachchan has been endearing with her looks at the Cannes film festival for over a decade now.  Many B-town actresses are heading to Cannes now, but we think that Aishwarya's exquisite charm makes her the Bollywood queen of Cannes since 2002.
Here's a blast from the past with her Cannes red carpet appearances over the last 16 years. Aishwarya's fashion choices have changed with certain time and always astonishing us with her svelte looks at Cannes. Starting from her first appearance in the year 2002 where she made us proud in Cannes Film Festival.
Cannes 2002:-
Ravishing beauty marks her first mien in the 55th Cannes Film festival in 2002 for the premiere of her movie 'Devdas'. Draped in designer Neeta Lulla yellow saree with embellish golden jewellery.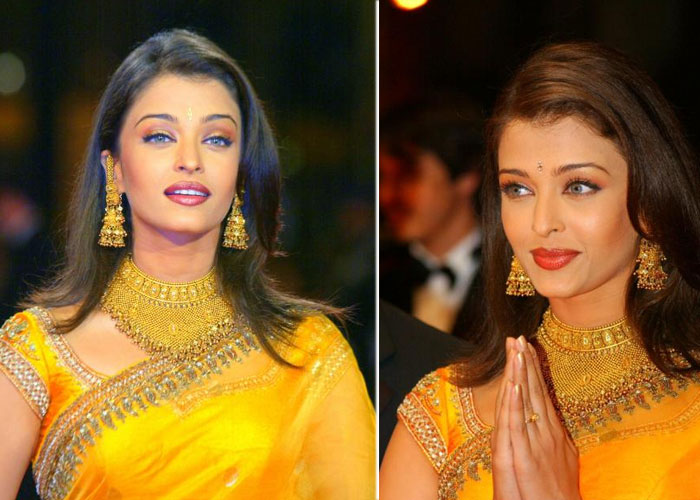 Cannes 2003:-
She is the first Indian Actor to be a jury member at the Cannes. She wore a neon green sari with her hair tied in a bun. She also wore a sparkling and shining pink lehenga-choli and had scruffy hair. She was heavily criticized for her obsolete look at the 56th Cannes Film Festival.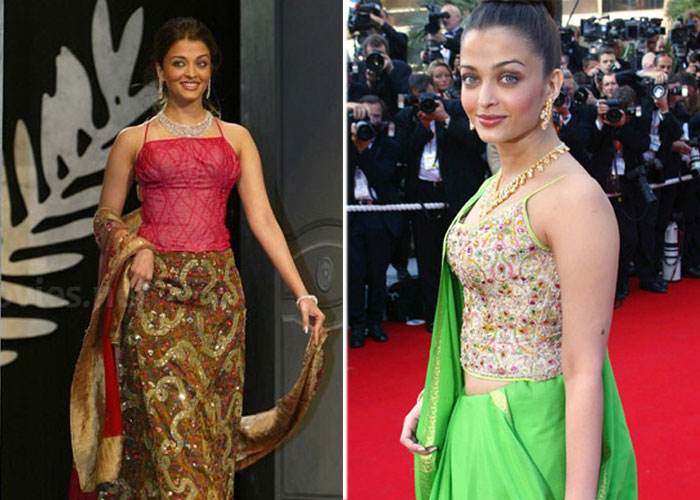 Cannes 2004:-
At the 57th Cannes Film Festival, she looked gorgeous in white gown designed by ace designer Neeta Lulla and minimal jewellery and silver clutch complimenting her entire look.
Cannes 2005:-
Aishwarya rocked the red carpet with her fabulous and flirty floral gown in 58th Cannes Film Festival.
Cannes 2006:-
In 2006, she looked extremely glamorous and forced the fashion industry to give a thumbs up for her red carpet look. A midnight blue gown adorned her personality and made her look magnificent and a snake like neck piece of accessory completed her look.
Cannes 2007:-
A newlywed Aishwarya walked the red carpet as a bride with actor Abhishek Bachchan. She looked glamorous in a white strapless gown, shiny and twinkle clutch.
Cannes 2008:-
In 61st Cannes film festival, Aishwarya looked pretty in a fushia pink outfit in a halter neck line gown. In day 2 of film festival, she wore a shining green embellished gown with her pulled back in bun. This one was not best look at Cannes for sure.
Cannes 2009:-
In 2009, for sure we saw a best appearance of her in Cannes Film Festival and she got big thumbs up from the fashion Police.
She was seen flaunting her white peacock goddess gown with plenty of layers and frills that adorned her body. Her look was complimented with exquisite pearl diamond earrings.
Cannes 2010:-
Black dress and red lipstick is a perfect combination to get a smoky and hot look, so this is what Aishwarya followed in Cannes red carpet. She wore a black evening gown paired with red lipstick that created a sensational effect in red carpet.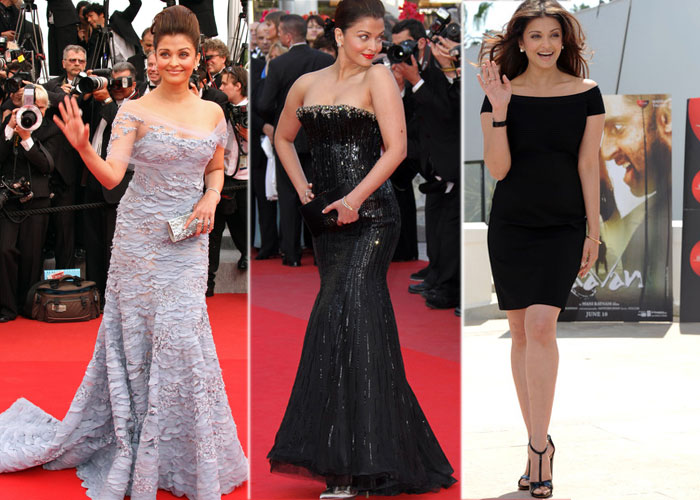 Cannes 2011:-
The Diva graced the red carpet with her one shoulder embroidered gown with her smoky make-up.
Cannes 2012:-
We saw a different look of former Miss World at Cannes. The new mommy showed her curvy side in Maxi dress.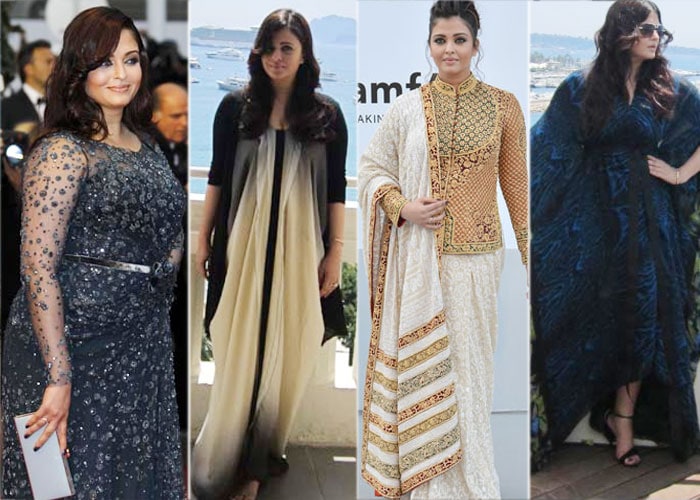 Cannes 2013:-
Loud smoky eye make-up is always hot and compliments your attire and look.
This year she flaunted designer Sandeep Khosla's floor-length colourful Anarkali dress and loud eye make-up, making her fan go crazy and won many hearts.
Cannes 2014:-
Wavy hair, red dark lipstick, smoky eyes and mesmerizing dress isn't it sound perfect and beautiful combination.
Our quintessential diva, lit-up the red carpet with blown up wavy hair, red lipstick and off shoulder mermaid silhouette featuring a criss-cross pattern. She absolutely looks gorgeous and dazzling.
Cannes 2015:-
If you have a curvy figure, why not flaunt it? After all, Curvy gives you a right to show off. Aishwarya Rai Bachchan flaunted her perfect curves in an elegant and fashionable white gown with a gold coloured fishtail bottom that swept behind her charmingly and stylishly.
Cannes 2016:-
The green-eye diva flabbergasted everyone when she came up with daring purple lips. Although her Rami Kadi gown was beautiful, it was her lips that grabbed all the attention and even made headlines.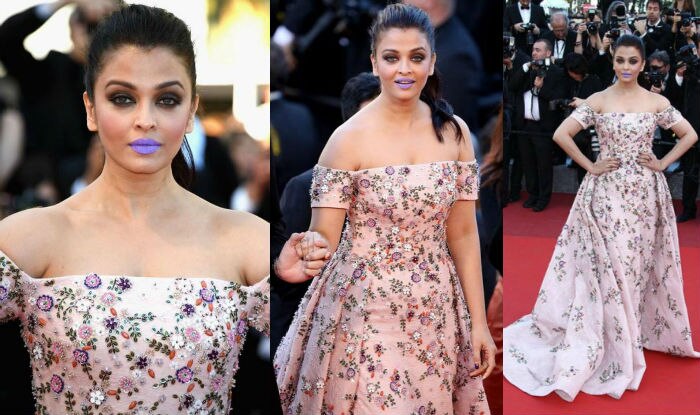 Cannes 2017:-
Aishwarya Rai Bachchan proved once again that she is the queen of Cannes. The  daughter Aaradhya Bachchan also accompanied Aishwarya at Cannes this year and their glimpses from the festival is just endearing. This year Aishwarya just silenced her critics or fashion police when she appeared in powder blue gown and she looked stunning.
Here's the glimpse
!
Happy B'day Aishwarya Rai Bachchan!