We all know Shweta Tiwari as an exceptionally talented actress who once ruled the Indian televisions with her role as 'Prerna Bajaj' in Ekta Kapoor's Kasautii Zindagii Kay. However, her life wasn't a cake walk. The actress has had an unimaginable share of shattered and disturbed personal life with ex-husband Raja Chaudhary.
First Marriage

Shweta Tiwari was only 19 years old when she tied the knot with Raja Chaudhary in 1998. And it indeed was a love marriage. Shweta met Raja via a friend who was Raja's cousin. They soon became friends and in no the love phase began and they started dating. They absolutely loved each other's company and their relationship became strong enough that they took the decision to get married.
Raja Chaudhary was then a struggling actor and Shweta's mother was against this marriage. But blindfolded in love, Shweta paid no heed to her mother's concern and finally got hitched to Raja at the tender age of 19 in 1998. She even became a very young mother as she gave birth to Palak in 2000.

Palak entered Shweta's life as a sheer lucky charm and in 2001, Shweta got the much remembered role of Prerna in Kasautii Zindagii Kay. With this television show, not only did she become a household name but her journey of stardom also kick-started.
The Troubles

Just a few years into marriage, Shweta witnessed the real side of her husband who would assault her, both physically and emotionally. Their marriage became toxic and the talented actress became a victim of domestic violence. Verbal abuses, heartaches, spats, arguments had become everyday things which made their marriage loveless and hostile. But like most of the woman, the actress didn't give up and put up with him for the sake her of her little daughter.
After being much tolerant, Shweta finally reached a saturation point where she couldn't just take all the mess anymore. Even after giving her everything to the marriage, she simply couldn't stand Raja's erratic behaviour anymore. It was high time that she now wanted to distance herself from the constant yells, threats, torture and mental illness.
And finally, she soon took a stand and opened up in public about what she was facing. The reality of Raja Chaudhary was now publically exposed and by this time, she was very much clear to get separated.
Separation:

The couple left each other and started living separately. But even after this separation, Raja still used to mistreat her with threats, bizzare behaviour and arguments. ""Even after getting separated after seven years of marital bond-age with Raja, the following six years have been full of the same ruckus as he would trouble me incessantly," Shweta once said.
So, now she was keen to have an official separation. She made two offers to Raja and asked him to choose between a house to which he will have the sole ownership or the daughter. Raja readily chose the house. "I made him two offers, either take a house, which would be co-owned by our daughter Palak, or to take the sole ownership rights of a house, and stay away from Palak; he immediately lapped up the latter one," Shweta revealed.
A Blessing in disguise:

"Today or later, time surely changes." So did Shweta's. After facing strenuous time for more than a decade, Shweta's life finally took a good turn, filled with happiness. She met Abhinav Kohli on the sets of Jaane Kya Baat Hui who became her strength of pillar and also her second love. But their budding closeness didn't go well with Raja and he filed a complaint against Abhinav and also started harassing her for having an affair with him. But Abhinav handled and helped Shweta in getting a legal separation from Raja in every aspect; property, custody of daughter or emotional traumas. And with Abhinav's sheer support, Raja and Shweta finally got divorced in 2012.

And now, a happy life waited for Shweta. And after being nervous initially, she decided to tie the knot with Abhinav whose immense respect for women charmed her the most. Since then, it is a happy married life for them. Palak also goes really well along with her second father, who took care of her when Shweta was away for Bigg Boss season 4.
Now, the actress is yet again living her motherhood as she gave birth her son, Reyaansh from her second marriage.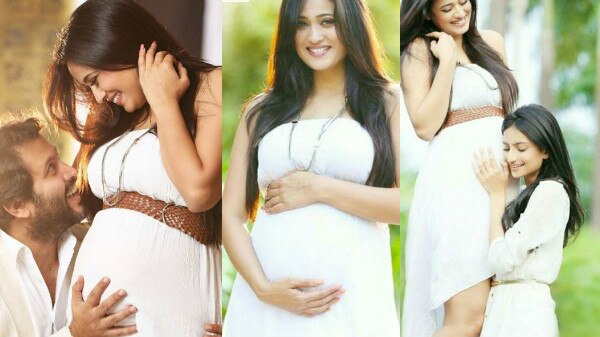 We are so happy for her. 🙂