Archery World Cup: Indian Women's Recurve Team Creates History By Defeating Mexico
Indian women's recurve team created golden history in the ongoing Archery World Cup in Paris, the capital of France. The Indian women's recurve team of Deepika Kumari, Ankita Bhakat and Komolika Bari won the gold medal by defeating Mexico in the final of the third leg of the Archery World Cup on Sunday.
The trio of Dipika Kumari, Ankita Bhagat and Komolika Bari lost a set to beat sixth-ranked team France 6-2 in the semi-finals. The third stage of the World Cup is not an Olympic qualifying tournament. The Indian trio took some of the disappointment of a first-round loss in the last qualifier of the Olympics earlier this month with their title win. Their 5-1 win gave India its second gold medal in the third leg of the World Cup. Earlier on Saturday, Abhishek Verma won India's first gold medal in the compound individual event.
Archery
On this victory of India, it was tweeted by the official Twitter handle of World Archery, saying, India has won the gold medal in Paris. The World Cup Stage 3 competition has been organized in Paris. This is not a qualifying tournament for the Olympics.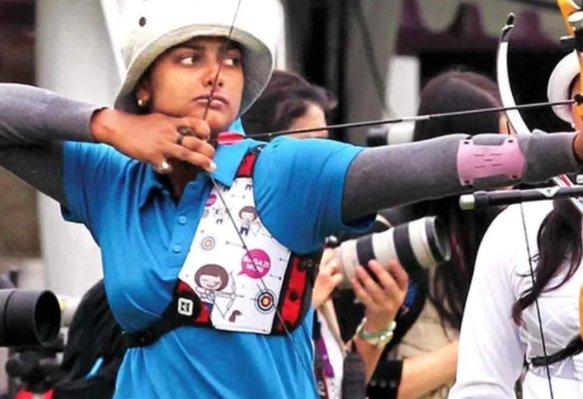 Archery
Deepika is also in the final of the mixed pair event along with her husband Atanu Das. She has also reached the semi-finals of the Recurve individual category. The Indian team got a bye in the second round, after which they defeated 15th seed Spain in straight sets and then beat seventh seed Turkey 6-0 in the quarterfinals.
The men's team of Das, Tarundeep Rai and Pravin Jadhav lost to Germany in a shoot-off in the last eight matches. Both the teams were eliminated in the early rounds in the compound. In individual, Abhishek Verma has reached the semi-finals.