Ayan Mukerji On The "Ranbir Kapoor Not Entering Temple But Pandal" Scene From "Brahmastra"
According to Ayan Mukerji, the Brahmastra sequence in which Ranbir Kapoor was wearing shoes and rang what appeared to be a temple bell took place at a puja pandal rather than a temple.
In his upcoming movie Brahmastra, director Ayan Mukerji clarified a scene in which actor Ranbir Kapoor wears shoes while ringing a bell. In the Wednesday-released Brahmastra trailer, Ranbir could be seen rushing toward a festive location where the words "Dussehra Mahotsav" were written. He rang one of the bells before entering the space, and a string of bells was strung over the entrance door.
Ayan posted a lengthy letter and the Brahmastra trailer in "4K" on Instagram on Sunday. Additionally, he uploaded a movie poster with Ranbir. The post's description read, "Our 4K trailer! For a better, sharper, and clearer watch, kindly click on the link in the bio. Today I want to say two things: 1) A lot of people have questioned why we didn't load our trailer in 4K. Of course, the best way to view these photographs that we worked so hard to produce is with a higher resolution! Thus, here it is, belatedly. And… Thank You for the comments that inspired us to take this action."
Also by Ayan: "2) A scene in our trailer when Ranbir's character is wearing shoes while ringing a bell caused some individuals in our community to become offended. I felt compelled to apologize for what occurred as the director of this movie and a fan. Ranbir enters a Durga Puja Pandal in our movie, not a temple. A comparable Durga Puja celebration has been held by my own family for… 75 years! One, of which I have been a part since I was a young child, "Added he.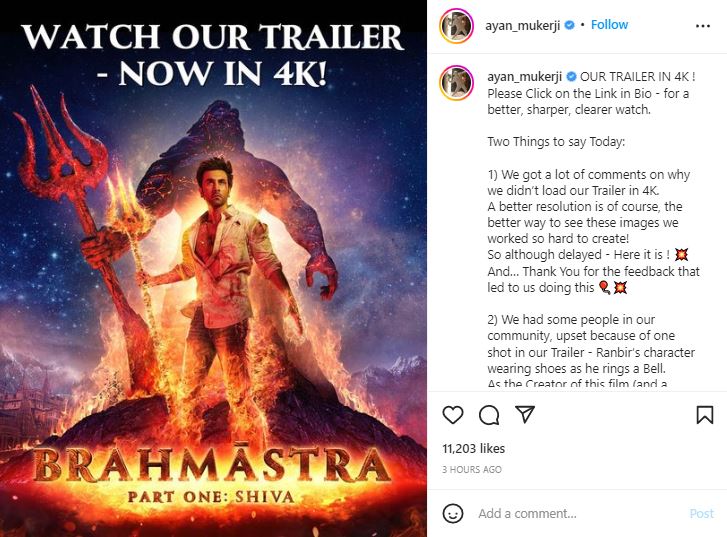 Ranbir Kapoor, Alia Bhatt, Amitabh Bachchan, Nagarjuna, and Mouni Roy play the key characters in Brahmastra. For the first time, Ranbir and Alia will appear in a movie together. On September 9, 2022, the movie will be available in 2D and 3D theatres.