B-town Is On Holiday In London, Veteran Actress Shabana Azmi Discovered- Checkout!
As the social media accounts of several celebrities filled with London diaries, not only users but veteran actress Shabana Azmi also noticed that. Nowadays, Bollywood is in the mood of vacationing and London is their place. Over the last few days, many celebrities shared photos and videos from their London trip. Some of them are still enjoying it while others visited this place just a few days ago. However, it is a coincidence but, amazingly, B-town is in H-town.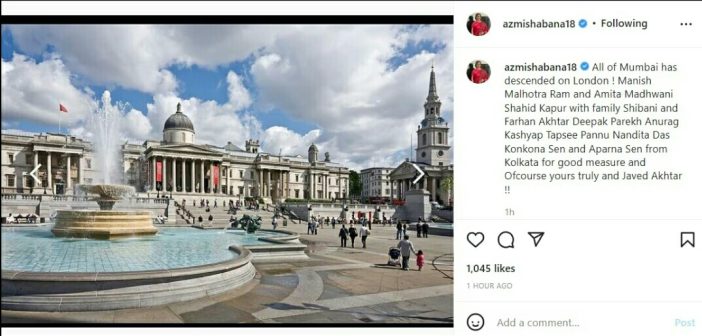 The veteran actress 'Shabana Azmi' also noticed the same coincidence and took her Instagram.  She shared a photo of The National Gallery London and captioned it, "All of Mumbai has descended on London! Manish Malhotra, Ram and Amita Madhwani, Shahid Kapoor with family, Shibani and Farhan Akhtar, Deepak Parekh, Anurag Kashyap, Taapsee Pannu, Nandita Das, Konkona Sen, and Aparna Sen from Kolkata for good measure, and Of course yours truly and Javed Akhtar!!"
However, fans are much more aware of the list and commented back on her post. A fan wrote, "Ma'am To add to your list – Karan Johar, Alia Bhatt, Kareena Kapoor, Saif Ali Khan, Karisma Kapoor, Amrita Arora, Sara Ali Khan…amongst others." Another fan wrote, "Shilpa Shetty, Kareena, Saif, Taimur, Jeh, Karisma, Sanjay, and Maheep Kapoor and so many – welcome to the UK."
We would like to add more names like Akshay Kumar and Twinkle Khanna, who are also in the town. As the place is crowded with Bollywood stars, colliding with each other is common. Many of them encountered in London and shared their photos and videos via social media accounts. Karan Johar and Sara Ali Khan were trying to get a table in a restaurant by the name of Alia Bhatt. Alia Bhatt is also in the town for the last few weeks for the shoot.