Bigg Boss OTT: Shamita Shetty's Mother Sunanda Shetty Calls Raqesh Bapat A Sweet Gentleman.
These days Finale Week is going on in Bigg Boss OTT and soon the show is going to get its winner. Before that, Bigg Boss made the contestants meet their close friends, with whom the contestants looked very emotional. In the September 13 episode, choreographer Puneet Pathak reached to meet Nishant, his niece came to meet Raqesh Bapat and his sister came to meet Neha Bhasin, while his mother Sunanda Shetty reached to meet Shamita Shetty who won everyone's heart.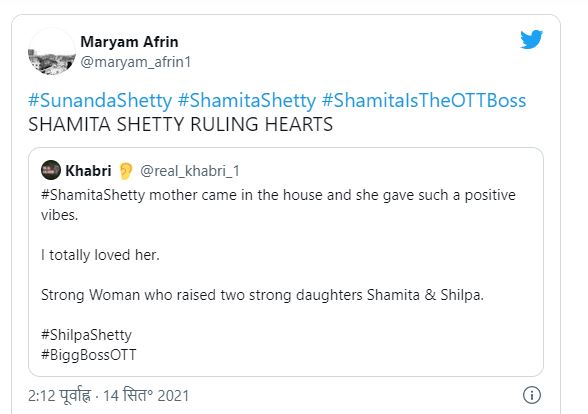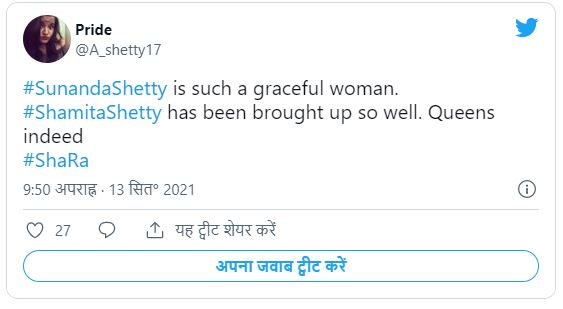 In the episode telecasted on Monday, it was shown that as soon as Shamita sees her mother Sunanda, she comes running to meet her and starts crying. After this Sunanda takes care of Shamita and encourages her. Sunanda says that she is proud of her daughter. Not only this, she calls Shamita Rani. When Shamita asks if she is a bossy lady, Sunanda says 'No you are a simple girl like everyone else. You have your own qualities, you do not need to change them at all, let people speak what they have to say, with time people's thoughts also change. The video of Sunanda and Shamita's conversation is becoming quite viral on social media in which people are seen praising Sunanda. People are praising her a lot.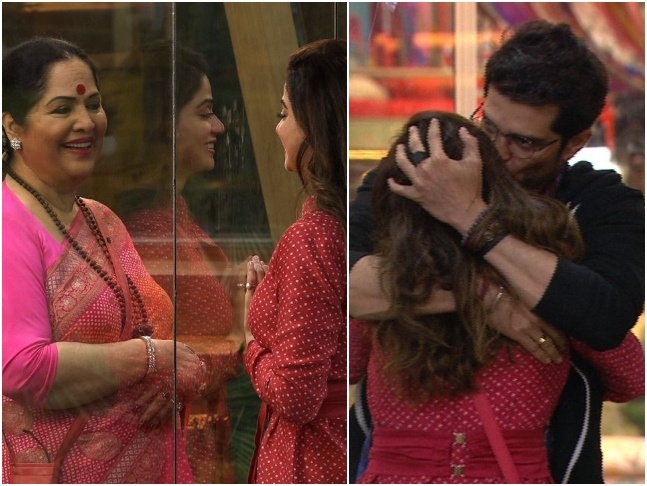 On reaching the show, Sunanda Shetty praised the game of daughter Shamita. Not only this, but she also praised Rakesh Bapat and called him a very sweet person. In Bigg Boss OTT, Sunanda Shetty praised all the contestants, but most of all she praised Neha Bhasin and Raqesh Bapat. During this, Shamita Shetty asked her mother Sunanda that Raqesh Bapat is very sweet, isn't he? To this Sunanda replied, 'He is very sweet and gentleman.'Talking about Shamita's Bollywood career, she made her debut with the 2000 film Mohabbatein. The film also became a hit. After that Shamita has worked in films like Fareb, Zeher, Cash. She was last seen in Black Widow. However, her career did not go so well. As much as her sister Shilpa Shetty has gone.