"Can Katrina Kaif Act?" Here's What Filmmakers Have To Say About Her
Katrina Kaif was fairly an outsider as she entered the Bollywood industry. Soon later, she was already taking up roles like a storm. From a political drama to an action movie, you name it and chances are that she's done it all. However, it wasn't all a cakewalk for her, since Hindi does not happen to be her first language, which was very much a reason as to why she struggled at first.
So what makes her the casting choice for directors? With that innocence on her face, and dedication in her heart to strive for the best, Katrina has made it really far. Read the excerpts below of filmmakers that have believed in Katrina since the beginning of her career:
Raj Kanwar was the first director to cast Akshay Kumar and Katrina Kaif, in his film Humko Deewana Kar Gaye in 2006, he says, "Katrina is a very hardworking girl. She knew she had a language problem but she used to fight every day to overcome the barrier. When I met her, I sensed her desire to make it to the top; she had the determination to reach the number one spot and she has done it. The best thing about her is that she understands things well and is very intelligent. She is also very kind-hearted and has no airs about her beauty. It was a thrill for me to introduce the hottest pair in Bollywood today. I knew she would get to this position and I am not surprised at all."
Anil Sharma cast Katrina back in 2005 for his project, Apne, which released in 2007, and he had this to say:
"Some photographs of Katrina dressed in Indian clothes had been sent to my office when I was casting for Apne. She used to visit my house and office regularly in the hope that I would cast her in the film. I saw the need and desire in her to make it big every time she met me. I always told her to learn Hindi and converse with me in the language whenever she came to see me. She tried and would try her best to speak to me in broken Hindi sentences. It's not easy to get films in Bollywood. So I had decided to take Shilpa Shetty opposite Sunny Deol and for Bobby, I took Katrina because she has an innocent look about her and exposure doesn't look vulgar on her. The role suited the foreign-returned character in Apne perfectly."
He continued, "Katrina is a natural actress, if the character is close enough to her real self, and if the director works a bit on her, she delivers a good performance. She has a very affable nature, so it is very easy to go the extra mile for her. She has no ego and is very sincere towards her work. I was sure she would become a big star because she has the personality, screen presence and right amount of sexuality and sensuality."
Vipul Shah cast her in Namaste London in 2007 alongside Akshay Kumar, followed up with Singh is Kingg in 2008.
"What struck me when I first met Katrina was that she was extremely determined to make it in the business and she worked 24/7 to make it happen. With every release, I can see she has improved in her work, like in Raajneeti, her Hindi is the best since she started out because she worked very hard on it."
"Katrina is not a satisfied actor – she wants more. She isn't complacent about her success even though she hasn't seen a flop for a long time. She has the hunger to achieve far more than she has today. I had given her the script of Namaste London in advance and asked her memorise every line in it before she came on set for the filming and she did. For a 7am shift, she rises at 5am, sometimes 4am to get her makeup and hair done just so she doesn't keep anyone waiting, whether it is a senior star like Rishi Kapoor or Akshay Kumar."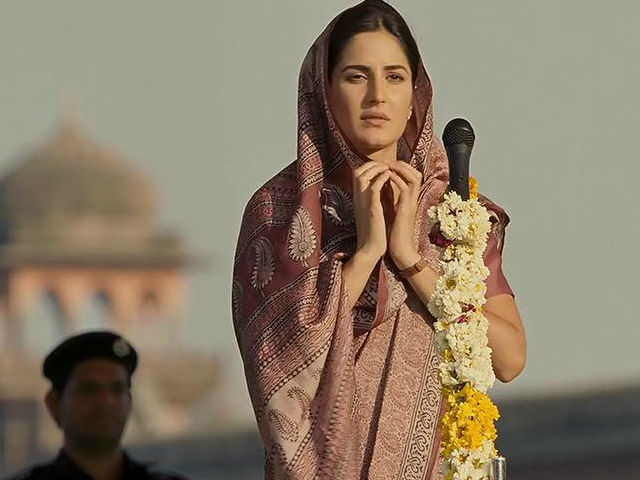 Prakash Jha is known for his issue-based films and he cast Katrina in a role that very few could have imagined her essaying. Katrina played a politician in Raajneeti,  wherein she delivered all her Hindi dialogues herself without the help of a dubbing artist.
Prakash says, "I will not take any credit for Katrina's able performance in Raajneeti. It is her hardwork and sheer dedication that reflected on screen and I feel she is capable of a lot more. I go by my intuition and I saw inner strength and beauty in Katrina that I needed in the character in Raajneeti. She works extremely hard in anything she does, and it shows. As far as success goes, please don't talk like she's getting out of our reach with the stardom she has achieved. Let her be around in our orbit please!"