Chris Hemsworth Confirms That His Children Are A Part Of Thor: Love & Thunder
During the promo interview for the flick, Chris said that it wasn't just him who had his kids in the movie. Chris Hemsworth has revealed that two of his children will appear in Thor: Love & Thunder. In a new interview, the actor revealed that one of his twin sons, Tristan and Sasha, as well as his daughter, India, whom he shares with his wife Elsa Pataky, appear in the Marvel film.
During the film's promotional interview, Chris revealed that his children were not the only ones who appeared in the film. "Taika Waititi, the director had his kids in there." Christian Bale already had one. Natalie Portman had…her children as well," he revealed. While one of Chris's sons can be seen in the Thor running montage, he also revealed the name of India's role.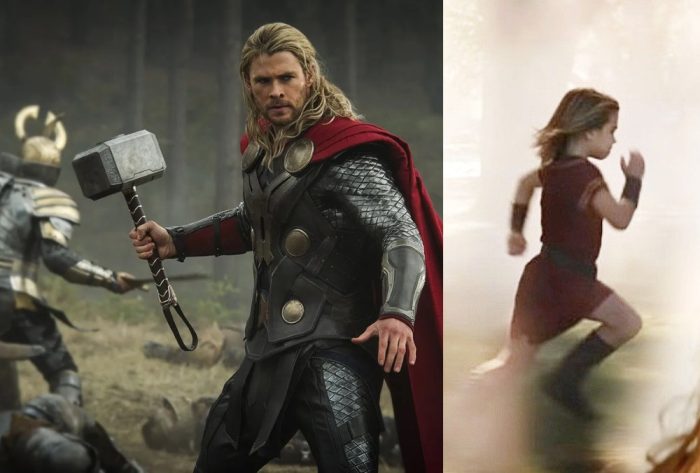 Thor: Love and Thunder is Hemsworth's fourth standalone film like the God of Thunder, following a string of memorable performances in the Marvel Cinematic Universe. The first Thor: Love and Thunder trailer featured a brief clip of a younger Thor, who many quickly pointed out resembled Hemsworth's young son.
Hemsworth was asked about his son's appearance in the trailer during a recent interview with @KevinMcCarthyTV, and he opened up about how his fellow co-stars' children were also involved in Thor: Love and Thunder. The actor, who has three children with his wife Elsa Pataky, revealed that his children were eager to be in the film, and that in addition to his son playing a younger Thor, his daughter also plays a character named Love. The actor described filming Love and Thunder as a "one-off fun family experience." 

Hemsworth has spoken openly about how much the character means to him and how the beloved comic-book hero has been a constant in his career throughout his time as Thor. Working with his children is likely to have enhanced Hemsworth's enjoyment of the experience of filming Love and Thunder.
It's heartwarming to hear that not only Hemsworth's children but also the children of his co-stars, were directly involved in the creation of Love and Thunder, as it's clear how much this ultimately means to the actor. While it is unknown what the MCU's future holds for Thor after the events of this next installment, comments made by both the film's cast and director throughout its promotional run have made it clear that the film has been a true passion project for everyone on the team. As Hemsworth's children prepare to make their incredibly exciting MCU debut, audiences only have a few weeks until Thor: Love and Thunder hit theatres on July 8.