'Corona Mata' Temple Comes Up At UP Village To 'Prevent' Covid-19, Demolished
In these unprecedented times of coronavirus, People take various measures, some of which even amused the others, to combat this deadly virus. As the country is still grappling with the COVID-19 pandemic, a small village in Pratapgarh district, Uttar Pradesh built a 'Corona Mata' temple and started worshiping it to avoid virus spread as well as to keep their village safe from this deadly disease, claimed the villagers. However, the 'temple' has reportedly been demolished by the authorities yesterday as it was built illegally on government land.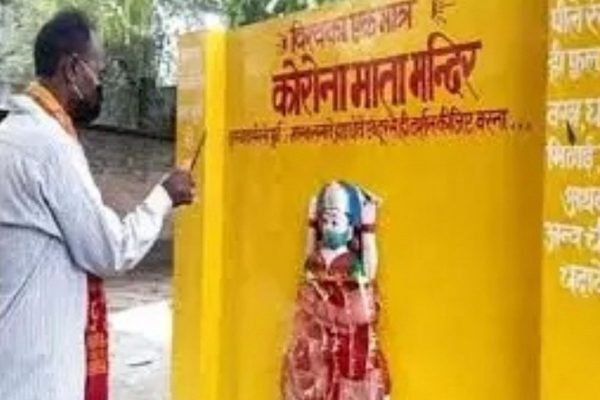 'Corona Mata' temple comes up under a neem tree at a village in Pratapgarh district "Villagers collectively decided & set up the temple with belief that praying to the deity would definitely offer respite to people from Coronavirus," a villager said yesterday, ANI news agency posted on its official Twitter handle on Sunday.
Twitter users found this news surprising and many wrote that this is happening in India due to the incessant rise of illiteracy level especially in rural areas. Locals said that temple was built on June 7 by Lokesh Kumar Srivastava with the help of donations from residents and it was demolished by district police, which allegations, saying it was constructed on a disputed site and the second party involved in dispute might have razed it.

Villagers told the media that he installed an idol of the "Corona Mata". Radhey Shyam of the village was appointed its priest, after which people started offering prayers there. They sang mantras and used to gather at the sight to pay their obeisance at the temple. However, police deliberately demolished it and they demand action against culprits, locals told the media.
A user wrote on Twitter, "Height of ignorance. That's why education is important." Another wrote," Need to get out of all these superstitious activities that's why our country is far behind. "