Sonam Kapoor keeps her personal life at bay from her profession. She has often made it clear in several interviews that she doesn't want her personal relations are very close to her heart and she doesn't want them to become mere headlines or interest of gossip. For the same reason, the fashionista has never publically opened up about her relationship and has always preferred to maintain a dignified silence.
But come on, we all know she is dating a Delhi based business man Anand Ahuja and their love banter's news came out quite a long time back. The two have often been spotted together at family dinners, holidays and outings. PS – when family is also involved, it makes it obvious that things are pretty damn serious! And they just look so happy together!
Remember, when Anand Ahuja was the perfect cheerleader as Sonam received her first National award? Or the time when he was absolutely blown with Sonam's sizzling fashion at Cannes that he kept posting her pictures on his Instagram account and commented on every picture that Sonam posted. Truly an admirable boyfriend, isn't he?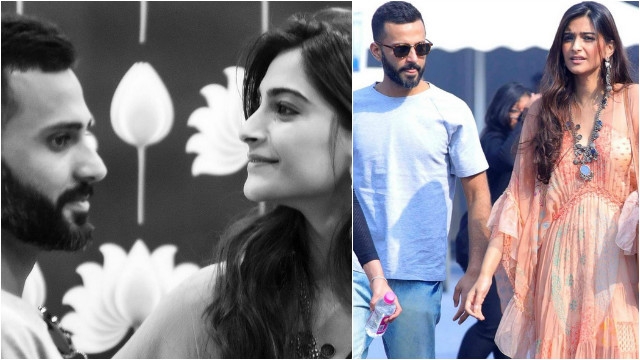 Sonam's boyfriend does make us go green with envy but Sonam herself is a very doting partner. Right from making him a part of all crucial events of her life to giving him special treatment, she does it all. She further forgets her celebrity stature when she is with him and heartily likes and comments on Anand Ahuja's almost each and every proof.
Lately, what she did for Anand literally wooed us all. Anand was featured in a reputed magazine for his exceptionally good dressing sense. It was a proud moment for him and all his closed ones. Especially, Sonam. She took it to social media to share the photograph and wrote, "Well hello there Mr. Ahuja @anandahuja Jacket by @zegnaofficial // Jumper by @hermes // Chinos by @bhanelove // Sneakers by @adidas(@purevnv): Styled by @tanster24 for @gqindia #everydayphenomenal#gqbestdressed"
https://www.instagram.com/p/BVADK1ZFiaF/?taken-by=sonamkapoor
A good partner is one who rejoices in your success and Sonam is truly one such.