DIY Whip Body Butter Recipe
For years we have heard about natural body butter's amazing benefits. From Shea butter and cocoa butter to many more, there is plenty of body butter around us that we can trust for our skin. Out of all, one is whipped body butter. Nothing beats the very soft, velvety, and creamy texture of whipped body butter. 
If you are someone who desires long-lasting moisture and ultra-smooth skin, then look no further. Today in this blog, we are going to discuss whip body butter, its DIY recipe, and its myriad benefits for our skin.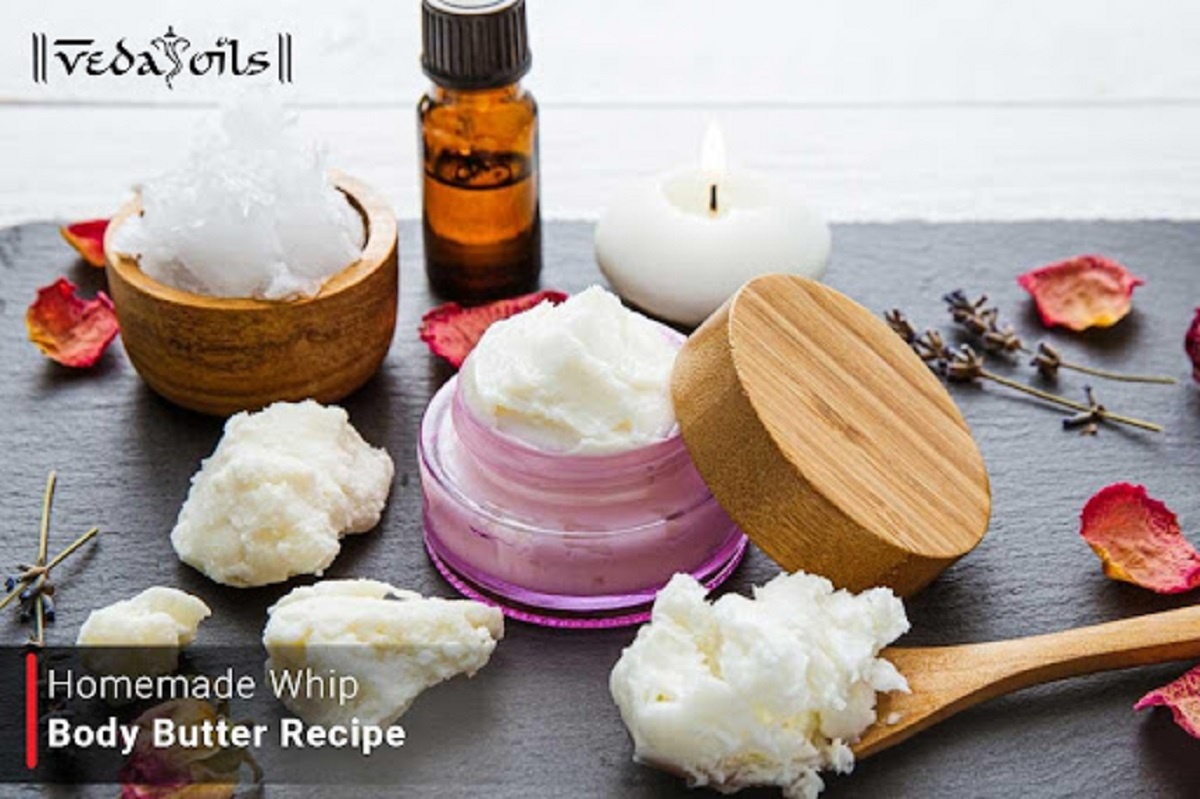 What Does Whipped Body Butter Do?
Whipped butter is very much loved for skin because of its ability to keep it moisturized and super soft for longer periods of time. In addition to that, whipped body butter also forms a protective layer around your skin that helps keep all the moisturization and hydration locked in the skin. Using just a little amount of whipped body butter goes a long way and helps keep skin soft and smooth. 
Benefits of Whipped Body Butter
Whipped body butter is a versatile, creamy lotion that comes loaded with tons of benefits for the skin. But how does it help our skin? That's what we are going to discuss in this section. Here are some of the best benefits of whipped body butter for our skin. 
Reduces Wrinkle
Whipped body butter is rich in antioxidants and fatty acids that help it in increasing collagen production in the skin cells. As a result, it helps reduce wrinkles and fine lines that come on your face as you move towards aging and pollution. You can use pure whipped body butter on your face to eliminate wrinkles. 
Deeply Hydrates
As we mentioned earlier also, whipped body butter is made of essential fatty acids. It penetrates deep into the body's skin and helps create a protective barrier. This particular barrier or protection helps prevent moisture from evaporating from your skin. Additionally, all body butter is hydrating and designed to minimize dryness on the skin. 
Soothes Skin Rashes
You might have heard that whipped body butter is a superb option for sensitive skin. That's because the body butter is ideal for sensitive skin as it is rich in anti-inflammatory properties. It helps slows the generation of cytokines and other inflammatory cells on your skin. This helps soothe skin rash or other sorts of skin irritation caused by environmental factors. 
Prevents Stretch Marks
The body butter's vital fatty acids improve your skin's suppleness and help naturally eliminate stretch marks. For instance, shea butter-based stretch mark creams can be used to minimize stretch marks and restore the youthfulness and natural radiance of your skin and face.
Heals Cracks
You might not know, but the whipped body butter is also very helpful for our feet' health. Yes, the minor cracks appearing on the feet and cracked dry heels can cause you discomfort while walking. By applying whipped body butter or any other mixture of VedaOils body butter, you can make your heels soft and free from cracks. 
Provides Nourishment
Body butter is extremely moisturizing and leaves your skin feeling soft and silky. They also aid in the recovery of dry, cracked skin. People with troubled skin might also benefit from body butter because some essential oils help repair the skin. It is also ideal for use on dry areas like your elbows and feet.
Soothes Sunburn
As an emollient and humectant, whipped body Butter which is used in its production of various lotions and creams, will help keep your skin hydrated and relieve the painful symptoms of a sunburn. After excessive sun exposure, you can use After Sun Burn for sun-damaged skin to provide quick relief.
DIY Whipped Body Butter
Now that we know that there are so many benefits of whipped body butter for our skin, then why not use it in our everyday skincare routine? Yes, we can very easily do that, and that too in the form of a DIY body butter cream. Here's an effective and very simple DIY whipped body butter recipe. 
Ingredients

: 
Virgin Coconut Oil

– 1 Cup 

Shea Butter – 1 Cup 

White Chocolate – 2 Tablespoon

 Lavender Essential Oil – 10-15 Drops

 Citrus Body Butter – 1 Cup 

 Vanilla Body Butter – 1 Cup 
Directions 
Gather all the ingredients and measure them as per the quantities. 

Now put them in a glass or porcelain bowl. 

Melt all the butter using a double boiler or over a pan of boiling water. 

Whisk all ingredients together until completely melted. 

Remove from the heat and let it cool off. 

Put the bowl in the fridge for 1 hour. 

Remove from the fridge and start whipping the mixture. 

While whipping, the texture of the butter mixture will begin to change/ 

Now, spoon it into a lovely jar and apply it to your body after showering. 

Enjoy soft, supple, smooth skin every day. 
Conclusion 
We all need to agree to the fact that our skin needs attention and care. However, VedaOils one of the best ways to provide your skin the ultimate nourishment is by providing them without hurting the texture or natural glow of your skin. A whipped body butter is one perfect skincare element that helps prevent the formation of dark spots, fine lines, pigmentation, etc., on your skin. So, add whipped body butter to your everyday skin routine and see the magical glow yourself.