Sonam Kapoor's stunning red Sabyasachi anarkali ensemble is redefining ethnic style with sheer elegance and grace. Let us decode her appearance!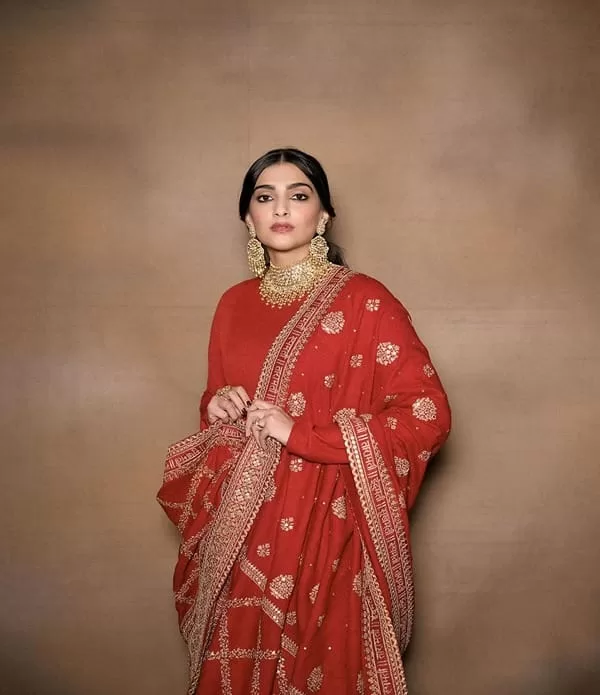 Sonam Kapoor is here to show you how to rock a anarkali like a pro. The actress is a fashionista who can pull off any look. Sonam knows how to turn heads in either a casual dress or a sartorial saree. Her most recent ethnic ensemble is no exception, and it is sure to inspire your festive wardrobe.
In the world of riches and grandeur, every detail matters. We can not get enough of Sonam Kapoor's regal Anarkali kurta set look. With its beautiful needlework and rich colours, this set exudes elegance and refinement. The stunning jewellery, which is studded with sparkling diamonds, adds a touch of glitz to the ensemble. And this outfit demonstrates her excellent fashion sense and ability to pull off any look. It is reasonable to assume she is the queen of the fashion world.
Sonam Kapoor Anarkali kurta set exuded opulence and regal charm like none other. Kapoor, who has an uncanny ability to make any dress look like a million dollars, achieved the same effect with this royal Anarkali kurta ensemble. With her flawless style and confident demeanour, the actress transformed this look into a fashion masterpiece.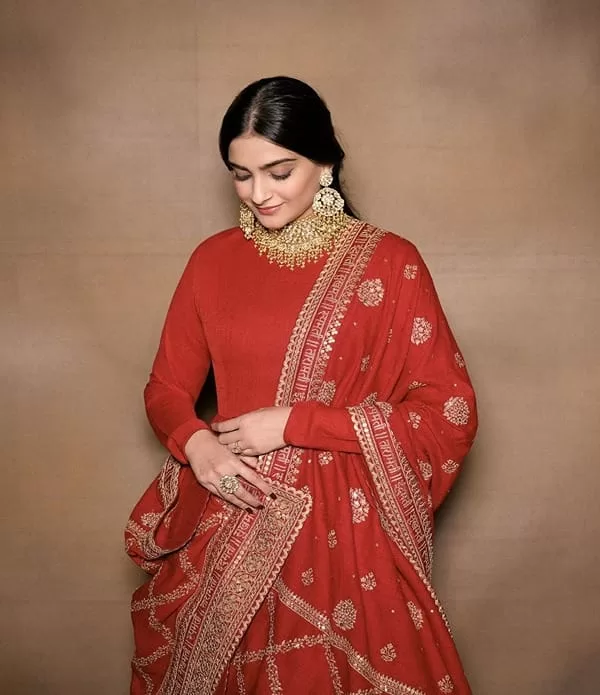 Sonam Kapoor has always dressed extravagantly. And her grace shines through when she dresses in traditional attire. After all, anarkalis never fail to make a statement in terms of style. Festivals are joyful occasions that allow us to display our most beautiful ethnic numbers. Scroll down for some fashion advice from the diva.
Outfit Details
Sonam chose a stunning anarkali kurta ensemble from the shelves of ace fashion designer Sabyasachi for her glamorous ethnic look. Her dress has full sleeves, a fitted bodice, and a flared bottom with intricate gold embroidery. She wore it with straight-leg trousers and a matching dupatta with intricate gotta patti work. Sonam Kapoor was transformed into an absolute vision by this ensemble's creative and flawless sense of style.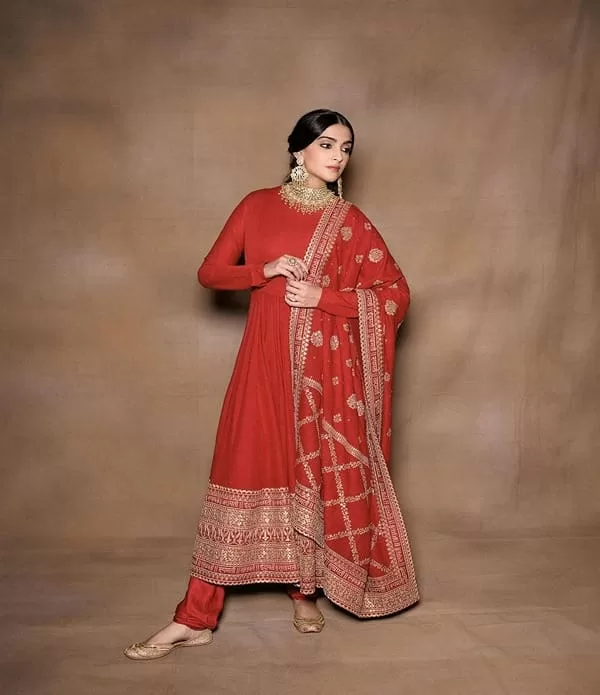 Kapoor glammed up her red Anarkali kurta with a golden glittering embroidered dupatta. She refined the look by carefully tucking the dupatta on the left, leaving it cascading over her shoulder.
Accessories
Finally, the incredible accessories that complement Sonam Kapoor's stunning ensemble should not be overlooked. She stepped up her style game by accessorizing her traditional look with large earrings and a choker. The combination of these prominent items contributed to her overall look's grandeur and refinement. The ethnic ensemble was completed by a pair of golden juttis.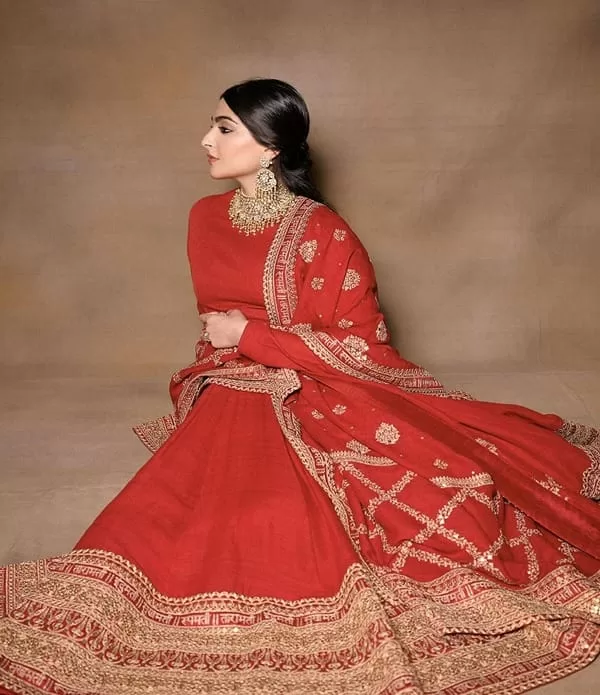 Glam Picks
Sonam's makeup was equally fascinating. With her dark kohl-rimmed eyes, She exuded mystery and allure. Sonam Kapoor wore a cool red ultra matte liquid lipstick that complemented her outfit perfectly, adding a strong and assertive accent to her regal look.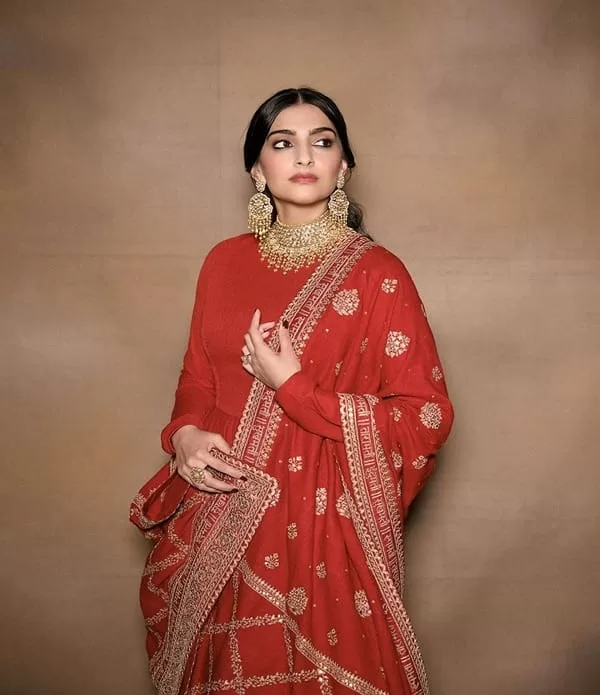 Sonam styled her lush locks into soft curls and left them loose in a low ponytail parted down the middle to complement her stunning look.