Fans Furious Over Prateek Sehajpal Not Getting The Trophy, Trending On Twitter, "Tatti Channel Colors Tv"
The most controversial Television show Bigg, boss, 15 is over now and the winner who got the Bigg boss trophy with 40 lakh prize money is Tejaswi Prakash. On Sunday, It was the grand finale of Bigg Boss season 15. Now After winning Tejaswi Twitter is flooded with the anger of users as They believe Pratik was most deserving.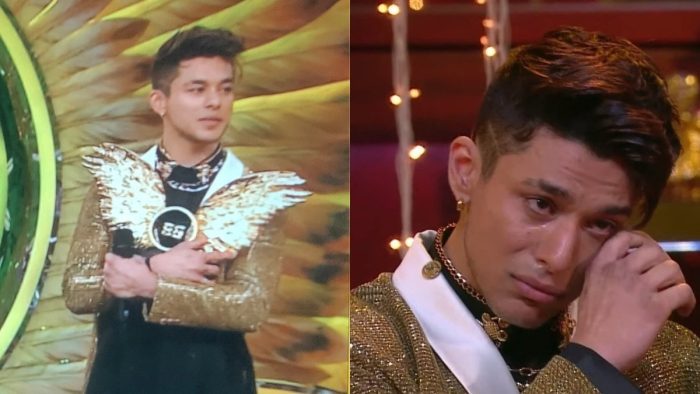 There were Top 5 finalists at the Beginning Shamita Shetty, Nishant Bhatt, Karan Kundra, Tejaswi Prakash, and Pratik Sehajpal. But Nishant Bhatt took a suitcase of rupees 10 lakh and quit the Race of winning trophy and then Shamita Shetty was out of the Race. Now They had 3 finalists Karan, Tejaswi, and Pratik but in the end, Karan Kundra also was out of the race of winning the trophy. Between Pratik and Tejaswi Tejaswi won this show along with the lead role in "Naagin 6".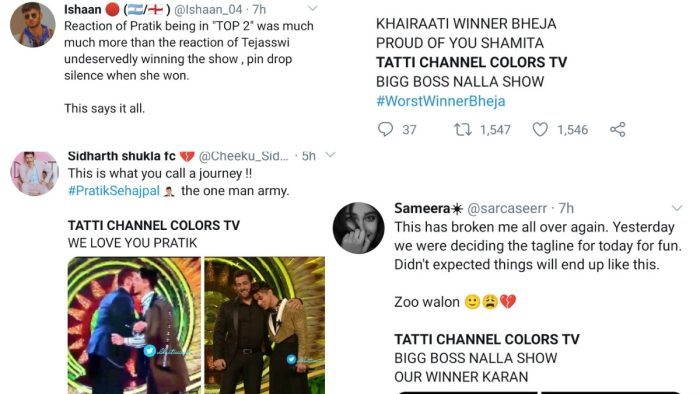 Instead of winning Tejaswi Prakash The whole Twitter and other social media are trending with Pratik Sehajpal as the deserving winner of the trophy.
Many users wrote "kahirati winner Bheja".Not only these many well-known faces are also disappointed with this season. Television actress Mohena Kumari wrote in the live feed of Bollywood bubble host Nayandip Rakshit, "I don't think I have ever been so disappointed for the winner of Bigg boss. Nayandip said in a video about Tejaswi that she did worse in the show. And the role of Naagin will suit her. She is evil and annoying.
A user wrote that even Salman khan knew that Pratik was the real winner, that's why Salman told Pratik to hold the trophy once. Another user wrote a look at the ghamand and attitude on her face. While many said Bigg boss as Nalla show.
Bollywood celebrities like Deepika Padukone, Ananya Pandey along with Gehraiyaan team reached there for the promotion of her upcoming movie. Many of the Ex Bigg boss winners also arrived there. Everyone was expecting Pratik as the winner but Tejaswi's win shocked everyone.