Fans Spot A 'Virat Kohli' And 'Bobby Deol' In Netflix Series Money Heist's New Season; See Here!
Season 5 of the famous Netflix series La Casa De Papel aka Money Heist has been creating hype since its trailer dropped for the first time. The show finally arrived on Friday ending the wait of fans and followers of the show. Soon after its release, Indians started binge-watching it.
Money heist viewers in India while watching it noticed a peculiar thing. They spotted an actor in it who was looking strikingly similar to Indian cricket team captain Virat Kohli and Bollywood actor Bobby Deol at the same time. This triggered a meme fest on Twitter and fans flooded the social media with the most hilarious jokes. 
In the first of the five episodes released on Friday, Money Heist fans sat at the edge of their seats as they watched a group of officials chasing Marseille, who was trying to escape in a military helicopter. After landing on the ground, he vanishes before the team of officials arrives. One of the officers, who was questioning a farmer for Marseille standing close to the location reminded fans of Virat Kohli and Bobby Deol.
Watching this mix of Virat and Bobby, a fan tweeted, "Finally Bobby Deol got the much-needed break #MoneyHeist."
"Virat Kohli's cameo in #MoneyHeist," another joked.
Some even joked that the actor was Bobby and Virat's son. "If Bobby Deol and Virat Kohli had a child," a fan wrote.
Here's A look at some of the most interesting ones we found on Twitter: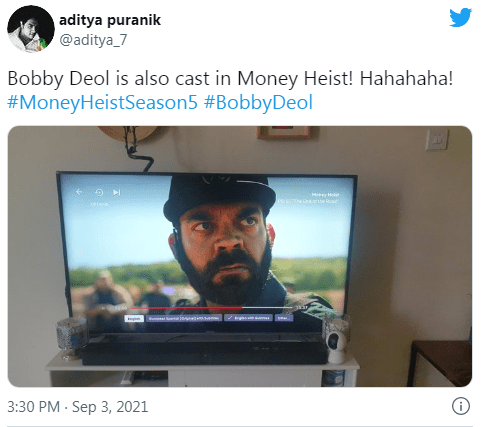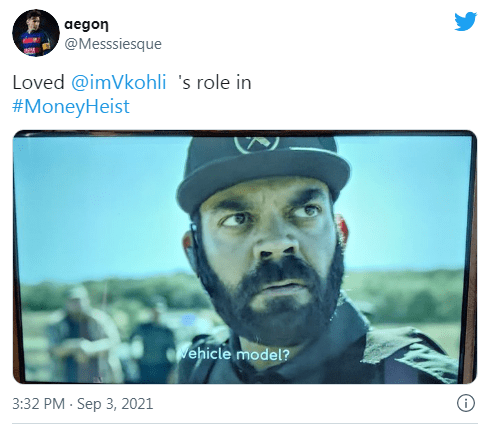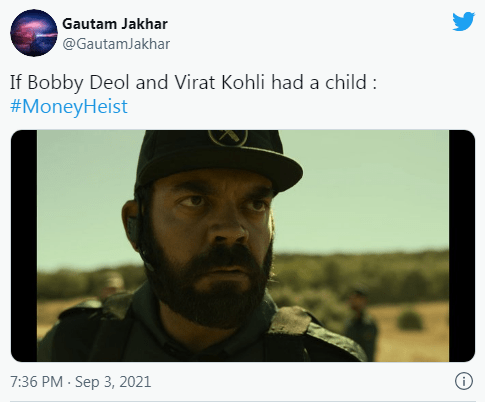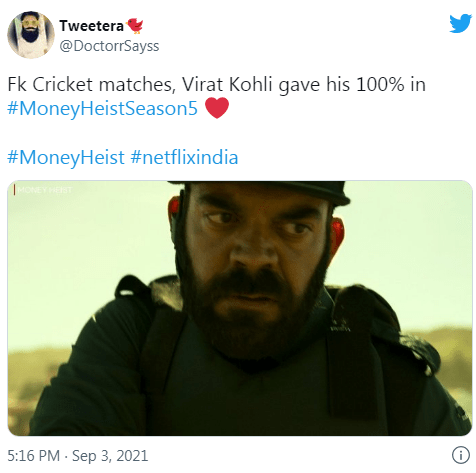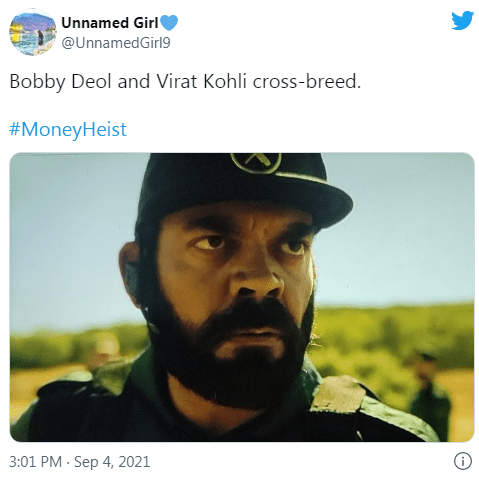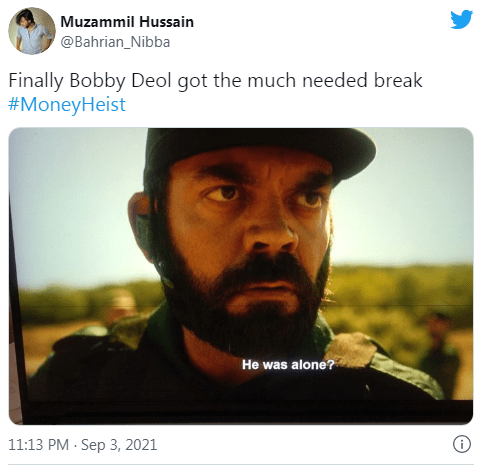 Money Heist's season 5 is divided into two volumes. The first volume has already been released on Friday. It opened to positive reviews worldwide. Now fans who have completed the first part of season 5 which consists of five episodes, are eagerly waiting for volume 2 which will release on December 3.
Spoilers Ahead
One of the most talked-about theories was about Alicia Sierra's pregnancy. Several fans thought that she was faking her pregnancy, but this new season has proved the theory wrong. In this first volume of season 5, we see her giving birth to a daughter with the help of the Professor.
Season 5 of Money heist has also brought in Berlin's son Rafael, played by Patrick Criado. He is an engineer by profession who is later trained for robbery by his father, Berlin. Something which fans are yet to come to terms with is Tokyo's death. The finale episode showed the series' longest-running character, sacrificing herself to protect her team. This also reminds us of Berlin's death that took place in season 2.