Nusrat Jahan, the timeless diva stunned everyone by her ethnic saree collection in Bhai Phota 2023. The diva in Kolkata defines her style and make the style statement like never before in Bahi Dooj 2023.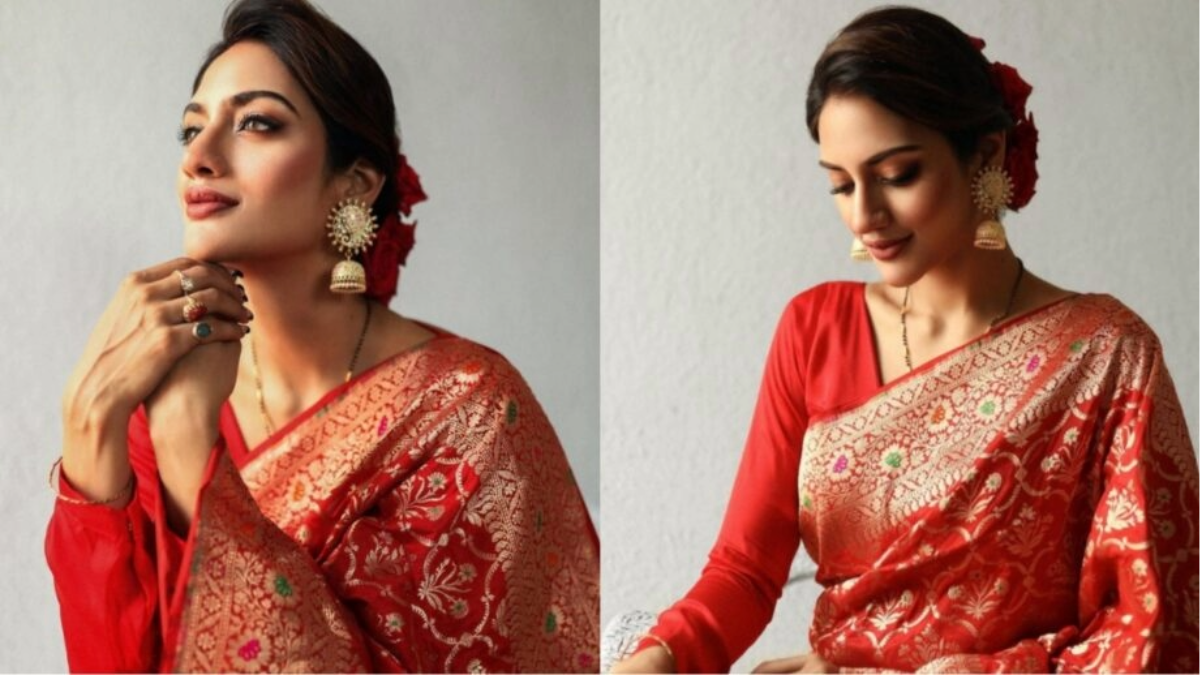 Nusrat Jahan is an actress and politician who works in Bengali cinema and participated in active politics from 2019. She was elected as Member of Parliament, Lok Sabha as an Trinamool Congress Candidate. She worked as a model, became Miss Kolkata and Brand Ambassadors of lots of brands.
The renowned movies she bestowed in Bengali cinemas are Khiladi, Asur, Shatru, Har Har Byomkesh and Zulfiqar. Apart from this, she is a producer. Here we will see her gorgeous appearance and style statement that makes her the epitome of beauty and grace within the festive wind. Let us have a look on her royal appearance of Bhai Phota or Bhai Dooj  2023. 
Blush Pink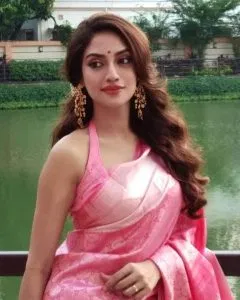 Complete your Bhai Phota or Bhai Dooj look with the Blush Pink saree with Holter neck Blouse like never before. Pink is the colour of charm and softness and Holter neck Blouse dignifies the personality, especially for the slim figured one. Nusrat Jahan, the magnetic beauty assembles herself with the knit of soft blush pink saree with stylized accessories like long studded earrings that provides a sheer elegance into her appearance. What are you thinking? Do you want to be like her? 
Dazzling Black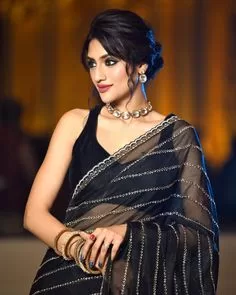 Black is always the New Elegance! Embrace yourself with the sheer madness and the touch of rebellion aura in the evening party of Bhai Dooj. Nusrat choose the Black sheer black bedazzled saree for the evening party, and she matched with large Kundan choker and bracelets. Black always add the extra glam inside the party hall and carrying black denotes the sense of queen appeal! Want to be stunning with captivating Black? Follow the elegance of Nusrat and be the Badshah inside the festive aura of love, hope and glam! 
Timeless Red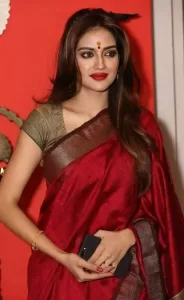 Red is the colour of optimism, the colour of energy, the colour of love and the colour of spirit! Embrace the festival spirit with the aura of sizzling Red. Here Nusrat wears a classic red Banarasi Saree with bindi. Elevate with look with the warmth of love and appearance for your siblings for this season! Want to know the perfect time to wear Red? The time is NOW! 
Blue Grace 
Glam up the festive day with your captivating, everlasting approach of blue classic. Always classical; the symbol of sophistication and elegance; blue denotes the sense of limitlessness. Here Nusrat pairs her Blue Bandhani Saree with a golden sleeveless blouse. Stylized with large bracelet along with minimal accessories, she became the perfect blending of traditional and modern retro epitome where concept mixes with approach! Here the winning of Nusrat Jahan! The spirit of Bhai Dooj is assembled inside her ultra-fusional look and sheer glam like a brightening Diya. Want to brighten your festive look on this conjunction of siblings' love? Follow her style quotient!