Has Third Wave Of Covid Arrived In India Or Not?
Predicting the possibility of a third wave of Covid-19 in India, context to which many claims are being made including mathematical models, ICMR research reports, AIIMS director time to time updates, all of which have stated the scenarios of the third wave of the corona. The third wave may have arrived in India due to relaxed restrictions and slow-paced immunization and thus it is been predicted that the third wave may be even bigger than the second wave, even research by IITs predicted the same.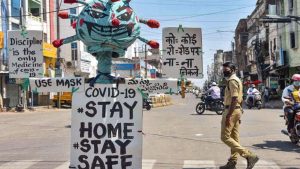 However, according to some experts if there is a fine balance between restriction and reopening then the wave might not be as damaging as being predicted.
As the trend is observed in many countries regarding the third wave and degree of its intensity, however, the degree of its damage is also not that severe. We have the time in our hands to modify the vaccine in case a new variant emerges.
Although the news channel is reporting the lessening in cases, a kind of spike is being seen in places such as in northeastern states and in Kerala. The verdict is still out whether the third wave has arrived? or the second wave is still loitering around.
The government and healthcare agencies are still advising people – not to observe crowding, avoid social gatherings, getting a vaccination, wear masks and practising social distancing.