Hema Malini Came Forward To Support Patients' Caregivers! Read Here To Know More!
Bollywood veteran, Hema Malini who is also an Honorable Member of Parliament from Mathura and Vrindavan constituency recently attended an event for a very noble cause. She took to Instagram to post pictures from the event wherein she inaugurated a new wing at the Ramakrishna Mission Hospital. Through her posts, he informed her fans that this new wing which is named "Rehan Basera" will provide accommodation for patients' attendants and quarters for resident doctors.
See the post here:
View this post on Instagram
The post is liked by more than 6K people and the comment box is filled with messages of appreciation. One of the fans wrote," Dear Hemaji, please continue your Seva with Lord Krishna's grace and blessings for a long time to come. You are genuinely beautiful in every aspect." In her post, Hema Malini appreciated the organizers of the event and termed it a "well organised function". She totally loved the atmosphere at the Mission hospital. The actress also extended her salute to the monks for their dedicated service with no personal expectations.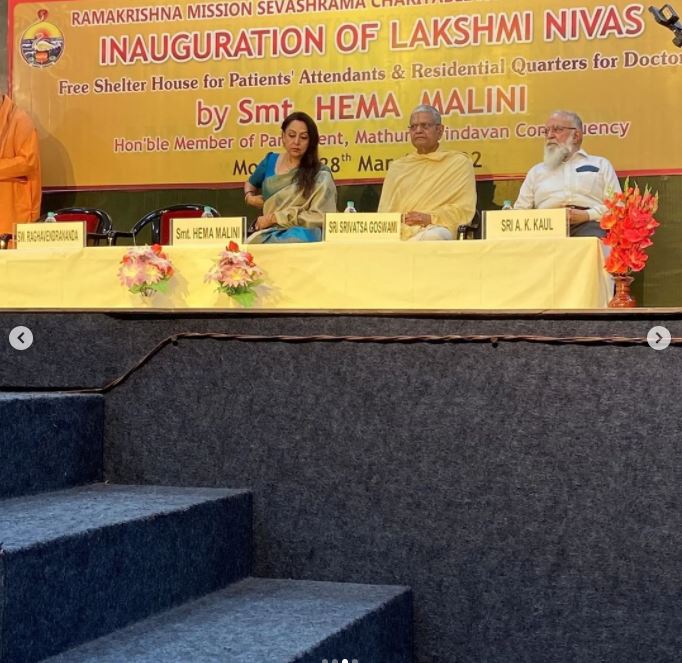 Hema Malini remains in touch with her fans through her Instagram handle "dreamgirlhemamalini". A few days back, she had posted pictures of herself from a dance event where she performed the ballet Radha Ras Bihari in Nagpur. The two-hour non-stop performance was organised by Road, Transport and Highways Minister, in the Govt. of India, Mr. Nitin Gadkari. Hema Malini is famous for her roles in movies like Sholay, Seeta Aur Geeta, Baghban, Dream Girl to name a few.
Also read: https://womansera.com/summer-skin-care-tips-to-help-you-face-sun-head-on/