Raveena Tandon and her daughter Rasha Thadani recently encountered a horrible fan while she received Padma Shree award, which infuriated her. Here's how she reacted to the incident!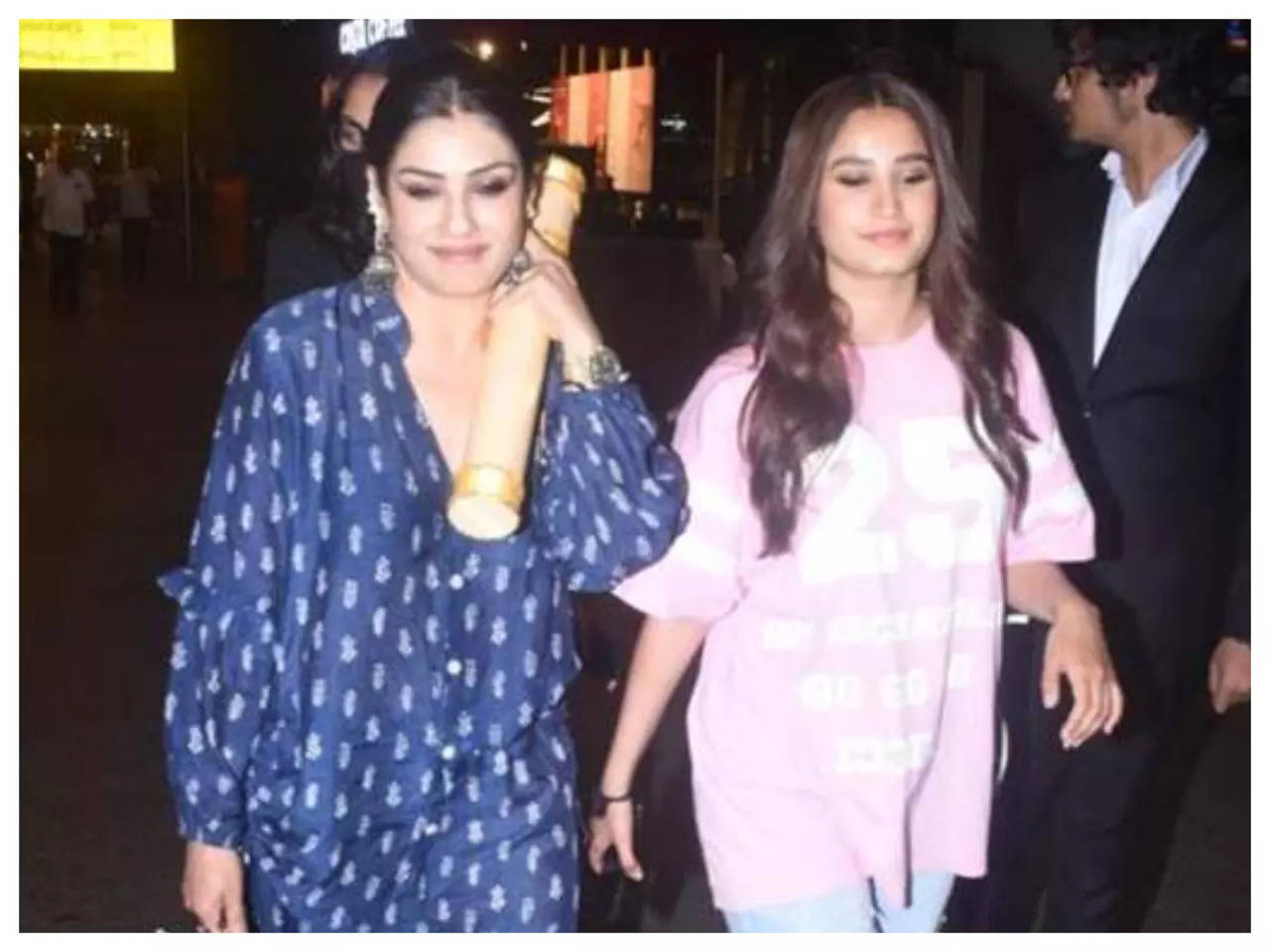 Raveena Tandon is a multi-talented woman in the entertainment industry. She has won a National Film Award as an actor, but she is also renowned for being a humanitarian who supports several organisations. She has been recognized by the Women and Child Ministry for her efforts on behalf of women and girl children as well as the significant roles she has played throughout the years in empowering women.
After making her acting debut in 1991, Bollywood actress Raveena Tandon went on to establish herself as one of the most gifted performers in the entertainment industry. She entered into arthouse cinema and television and won three Filmfare Awards in addition to a National Film Award. On a personal note, Anil Thadani and Raveena Thadani got married on February 22, 2004. The duo welcomed two children into the world: Rasha Thadani in 2005 and Ranbirvardhan Thadani in 2007.
Raveena Encounters A Fan At The Airport
Currently, a video from Raveena and Rasha's airport sighting is making the rounds online. The actress was also seen by the paparazzi grinning with joy as they overwhelmed her with congratulations. However, they had a bad run-in with a fan, which Raveena didn't take well to. Fans started approaching the actress for a selfie as Ranveena and Rasha walked towards their vehicle. Rasha walked in front of her to their car as she obediently posed for photos with the crowd.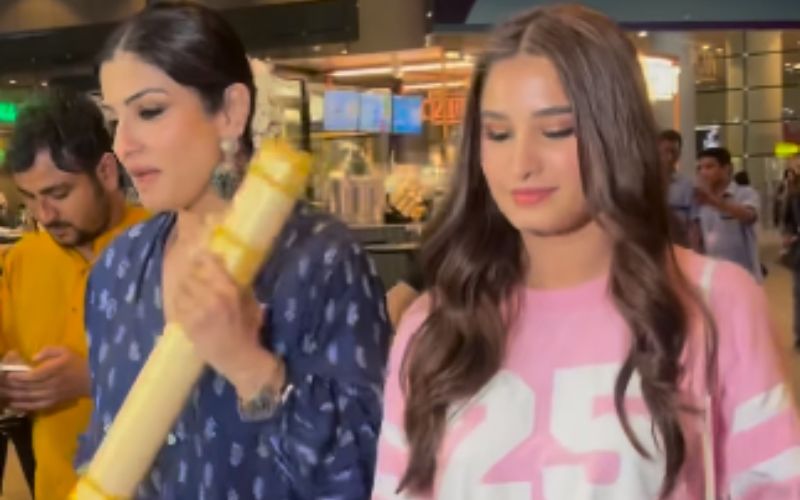 When she arrived to the car, a fan started to invade her personal space to take a picture with her, which made Raveena feel awkward. In addition to this, he pushed Rasha, which enraged the actress. Raveena requested him not to push her while nudging the fan away from her daughter. They jumped into the car and took off after that. They overheard her saying: "Aap dhakka mat dijiye bhaisahab, bacchon ko dhakka mat dijiye."
Raveena Tandon receives a Padma Shree Award
Raveena Tandon has received the Padma Shri, India's fourth-highest civilian honor, from Indian President Draupadi Murmu. The actress and her children, Rasha and Ranbir, arrived back in Mumbai on April 6, 2023, and the family was sighted by paps at the airport. In a blue-hued patterned co-ord outfit, Raveena flaunted her gajra-adorned hairstyle and looked as stunning as ever. Rasha, on the other hand, looked lovely in a pink-hued shirt and tough denim.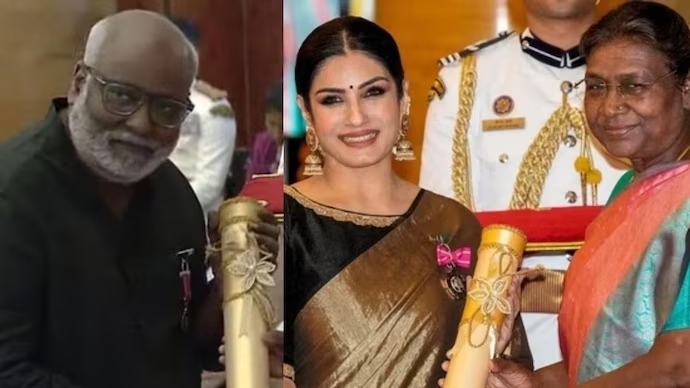 Mentioning about the award, Raveena described her feeling of being honored and extremely grateful. She thanked the members of art and craft of Cinema who supported him throughout.
After she adopted two daughters and went it alone as a single mother at age 21, she was dubbed a pioneer. She was a delegate at the famous W20, the Women's Empowerment engagement arm during India's G20 Presidency, after being selected by the ministry. For those who are unaware, Raveena was once honored to represent 675 million Indian women in India as part of this delegation.
When Rasha won a black belt in Taekwondo competition
Raveena Tandon never misses an opportunity to cheer for her adorable daughter Rasha Thadani and recognize her each and every accomplishment. For instance, Rasha Tandon, daughter of Raveena Tandon, earned a black belt in Taekwondo on February 26, 2021, making her mother incredibly proud and ecstatic.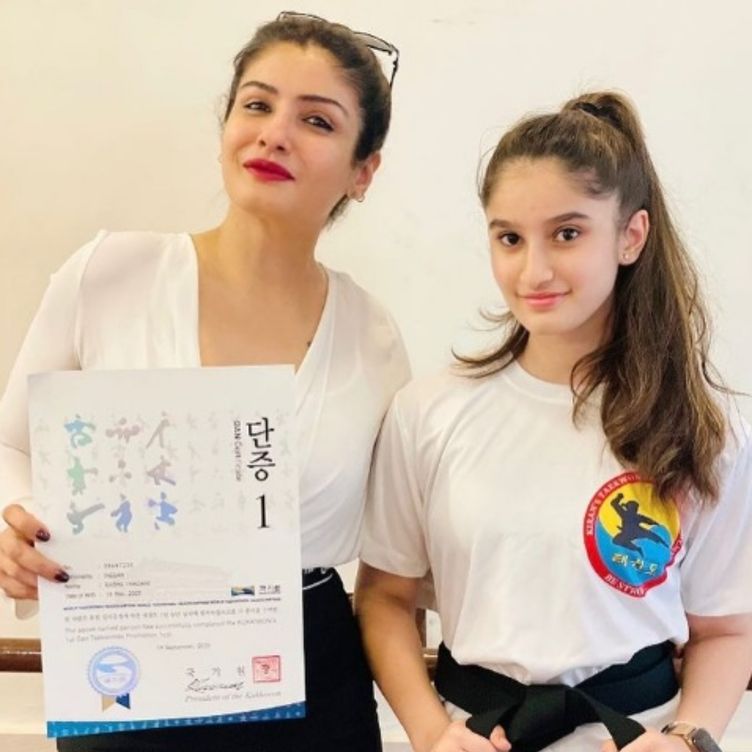 The stunning actress posted a statement of thanks on her Instagram account to commemorate the joyous occasion. When posting images from the memorable day, Raveena had written: "Meri beti Blackbelt! @officialrashathadani proud of you! Love the way you don't remove your mask and are following all safety protocols! Safety first during these times of exams. Love the way you say Kal school jaana hai."
Raveena Tandon's professional work front
Regarding her work, Raveena Tandon enthralled everyone with her appearance in KGF: Chapter 2 alongside Yash. The actress is now anticipating the debut of her forthcoming movie, Ghudchadi. Aruna Irani, Parth Samthaan, and Sanjay Dutt will all play significant parts in the romantic comedy. In addition to this, Raveena is working on projects like Patna Shukla and Agni Varsham.
Raveena Tandon has devoted her life to promoting women rights . She has worked with a number of organizations, including UNICEF, Cry, the White Ribbon Alliance for Safe Motherhood, the Spina Bifida Association, and the Smile Foundation. After being evicted by their landlord, she single-handedly kept 30 girls in her home and constructed an orphanage in Vasai for them.
Trending Now:
Pregnancy Tales: Mom-To-Be Ishita Dutta Shares Her Unique Cravings While Expecting; Read On!
Is Rana Daggubati's Wife Miheeka Bajaj Pregnant? Actress's Deleted Clip Fuels Rumors!
Urvashi Rautela Reacts To The Viral Placard After Rishabh Pant's Return; Netizen Says 'Bas Kar Behen'