How Cute! Soha Ali Khan's Daughter Inaaya Naumi Kemmu Writes Letter To Santa Ahead Of Christmas!
Bollywood star Soha Ali Khan took to Instagram to share a photo of her daughter Inaaya Naumi Kemmu for the Christmas festivities. She posted a handwritten note to Santa Claus by Inaaya. Many fans reacted to her post.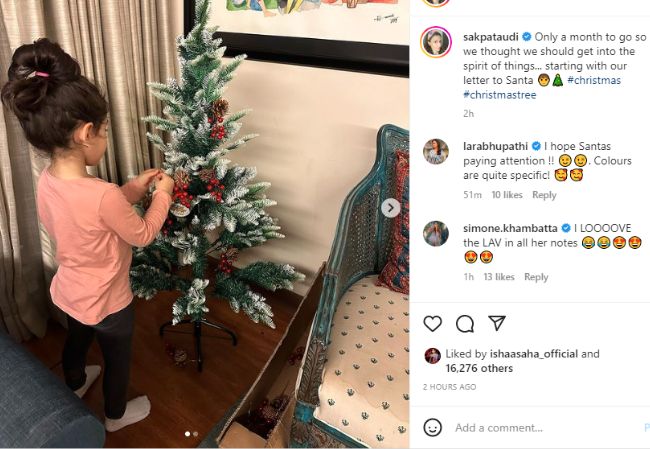 On Instagram, Soha shared a picture of Inaaya with a Christmas tree. She decorated the tree with red baubles. She wore a pink full-sleeve t-shirt. She wore black pants. In another picture, Soha shared a handwritten note from her daughter for Santa Claus.
It read, "Dear Santa, I hope too are happy. This is mi list of presents: 1. Dress calr bloo, 2. For mama (sketch of a dress), A Book (sketch of a book), 3. For Papa shoes (drawing of boots) kalr red. Lav Inaaya." The handwritten letter was placed on the table. There was a toy too.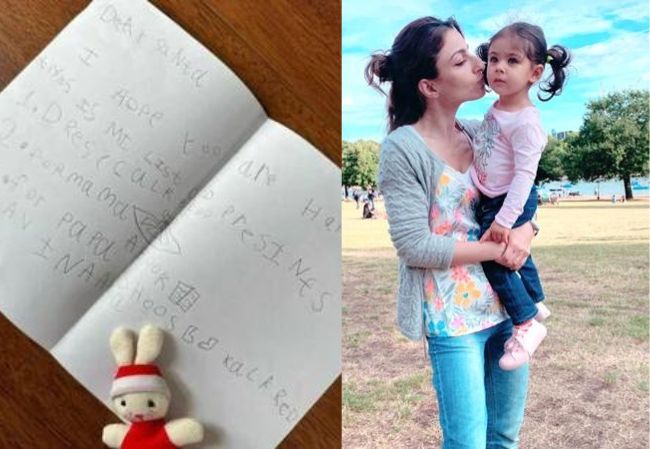 Soha Ali Khan wrote, "Only a month to go so we thought we should get into the spirit of things… starting with our letter to Santa (santa and christmas tree emojis)." She used 'Christmas' and 'Christmas tree' as hashtags in the post. Actor Navina Bole wrote, "How cute is this!! (Smiling face with red eyes emojis)."
Fans commented, "Such a cute letter to Santa," "What a well raised child! Starts with – I hope you are happy! Pristine!" "Bloo makes so much more sense than Blue (laughing emoji)," "Awww her letter just made me cry," "Lovely note, dear Inaaya. God bless and may santa fulfill all in your list,"Aww! LAV her so much…May Deear Santa fulfill her wishes" etc.