"I Show Cleavage Out Of Respect For My Breasts," Says Chhavi Mittal After Battling Breast Cancer!
Television actress-cum content creator Chhavi Mittal has been hitting headlines since the time she started sharing her journey of recovery from breast cancer. Her social media handle is filled with many stories of her fighting the big C. Chhavi's path to get back to a normal state is being applauded by millions of her fans and followers. Through her road to recovery journey, the Tumahri Disha actress is raising awareness in a big way. But some insensitive people keep trolling her for the same.
In a recent interview, Mittal, who has slammed trolls with a strong, not on Instagram, spoke about the intention behind doing it. "It was not to be harsh to those trolls but to reiterate the message that this is my life, my body, and I am proud of it. Hence, when I show my cleavage, it's not out of disrespect for myself, but because I respect my breasts and believe they are warriors for having survived such a massive surgery," stated Chhavi.
Showing her disappointment with those who find her posts just 'mere display of breast, Chhavi said, "If I share a post, which is so honest, speaks about freedom, being carefree, not worrying about a thing in the world, and somebody only notices the superficial things like what I am wearing in it, it defeats the whole purpose of the message that I am trying to communicate."
Besides this, she also recalled how worried she was before her surgery and kept asking weird questions from the doctor. She shared, "When I was first diagnosed with cancer and my doctors gave me full confidence that my cancer was curable, I was sure that I would be fine. But my only concern was what my life would be like post-cancer. I had 100 questions in my mind such as how would I look post-cancer, how my breast would look, whether I would be able to exercise and go to the gym, would my breasts be sensitive post-surgery or not, and would they look pretty (because I want them to look good). I want to feel pretty and why is nobody talking about it? Cancer can be threatening and the priority is to remove it and save the life, but what about the life after that?"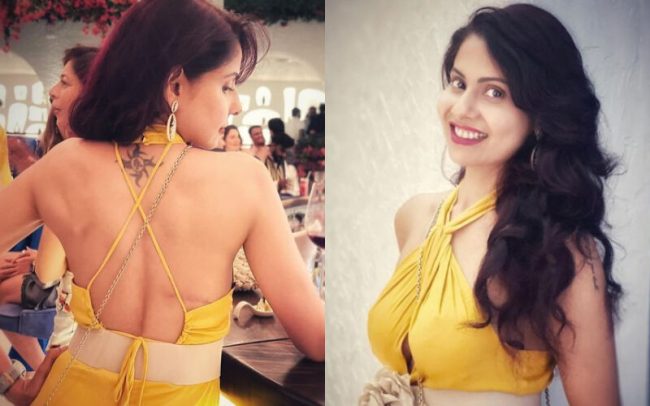 On a concluding note, the beautiful mother of two wished all those who comment harshly on her pictures good luck. She quoted, "You don't know what that person is struggling with in his/her life. Maybe he/she is depressed or is body conscious. So, whenever they comment something bad, I understand that they must be struggling through life and may God bless them."