Bollywood actor Imran Khan, once a prominent face in the industry, has largely remained hidden from the public eye over the past few years. However, a recent and rare public appearance at Kriti Kharbanda's birthday celebration on October 30, 2023, has reignited curiosity and stirred the gossip mills once more. Notably, he attended the event in the company of his alleged girlfriend, Lekha Washington, who has often been the subject of dating speculations with the actor.
The Reappearance and the Relationship Rumors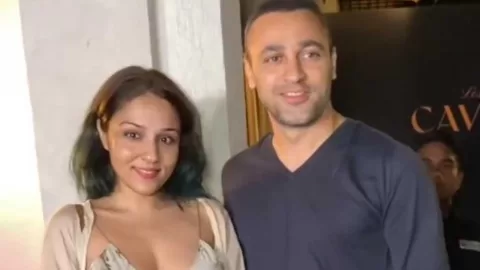 Candid photographs and video clips shared across various online platforms capture Imran Khan enjoying the evening with Lekha Washington by his side. The actor looked dapper in a black full-sleeved T-shirt, grey trousers, and white sneakers. On the other hand, Lekha exuded elegance in a flowing gown featuring a plunging neckline adorned with a shrug. Her makeup was subtle, and her hair cascaded freely, completing a striking appearance.
This public display of camaraderie between the two has unsurprisingly fueled the ongoing dating rumors. Notably, this isn't the first time they have been seen together in public. Earlier this year, the duo was spotted holding hands as they exited a venue, sparking considerable intrigue among fans and media alike. While Imran and Lekha have never officially acknowledged their romantic involvement, the undeniable chemistry and frequent appearances together have consistently hinted at a deeper connection.
Imran Khan's Complex Personal Life
Imran Khan's personal life has remained a topic of significant interest for the past few years. He made headlines when he separated from his estranged wife, Avantika Malik, in 2019 after eight years of marriage. The couple shares a daughter, Imara. Speculations have suggested that Imran's close association with Lekha Washington affected the breakdown of his marriage with Avantika. However, neither Imran nor Lekha have offered any comments or confirmations regarding these allegations.
The Uncertain Return to Bollywood
The biggest question remains whether Imran Khan will return to the silver screen. While his film career seemed promising during its earlier stages, his retreat from the limelight and the tumultuous turn of events in his personal life has kept his fans guessing. Recent public appearances alongside Lekha Washington have spun the gossip wheel again, leaving many to ponder whether a comeback to the industry is on the horizon. Fans and industry insiders eagerly await confirmation of his career plans and, perhaps, an official statement about his relationship with Lekha.
In conclusion, Imran Khan's reappearance at Kriti Kharbanda's birthday bash with Lekha Washington has reignited public interest in his personal life and career prospects. While the dating rumors persist, fans hope for more clarity on his professional endeavors. As the enigmatic actor continues to shroud his plans in mystery, the anticipation for his official announcements remains palpable in Bollywood.