Kangana Ranaut Now Targeted This Journalist; Said, 'Only The Showmanship Will Get Cheaters & Thugs'
Bollywood's outspoken actress Kangana Ranaut openly expresses her opinion on issues like religion, caste, politics, and entertainment and she is always in the news due to her sharp statements. Often someone or the other comes on their target. Now the actress has said something about journalist Rana Ayyub, due to which she has once again come into the headlines. Kangana Ranaut has given her opinion while commenting on the controversy related to Enforcement Directorate (ED) and Rana Ayyub. Kangana shared her 'four rules of life' in an Insta story, reposting a tweet on the Rana Ayyub issue.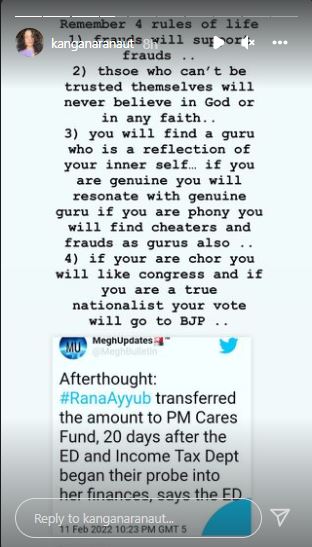 The actress wrote in the post, "Remember the four rules of life. 1) Cheating supports cheating.. 2) Those who can't trust themselves will never believe in God or any faith. 3) You will find a guru who is a reflection of your inner self. If you are sincere then you will get the support of a true guru. Will like and if you are a true nationalist then your vote will go to BJP. Central probe agency ED has accused Rana Ayyub of misappropriating funds raised by him for relief work through crowdfunding platforms and Ayyub using this money for personal expenses. However, Rana has denied all these allegations.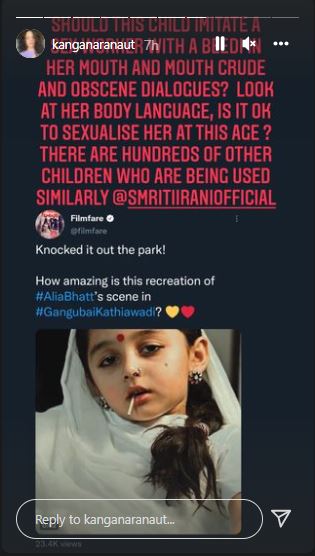 Actually, before the release of the film, a video of a girl child is going viral on social media. In which the girl is seen speaking her dialogues in Alia Bhatt's getup. To which Kangana has objected. Kangana wrote, 'Should this girl imitate the prostitute while speaking obscene dialogues with a beedi in her mouth? See his body language? Is it okay to be shown sexism at this age? Hundreds more children are being used like this. Along with this, Kangana tagged Women and Child Development Minister Smriti Irani.