Kangana Ranaut Says, Turn The "Villains" Into "Comedians"- Deets Inside
Bollywood's most iconic and vocal actress Kangana Ranaut again stirs among her haters and critics via her Instagram story. As we all knew that Kangana is so expressive about her views on thoughts on all topics related to nepotism, Bollywood, feminism, Politics and bla bla. Sometimes, she was captured slammed for such hypocritical or sometimes criticized by her haters.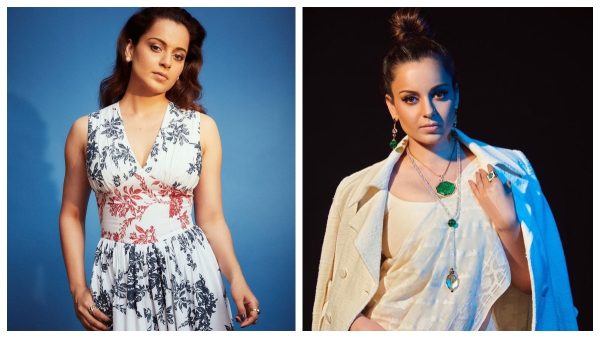 Her statement often creates controversy and buzz among the fans and followers. However, queen Kangana is never been afraid to target anyone and spoke fearlessly about the particular situation or person. Perhaps, this time the actress pens a long note on her social media accounts and said, "the best way to do that was to turn the "villains" in one's life into "comedians."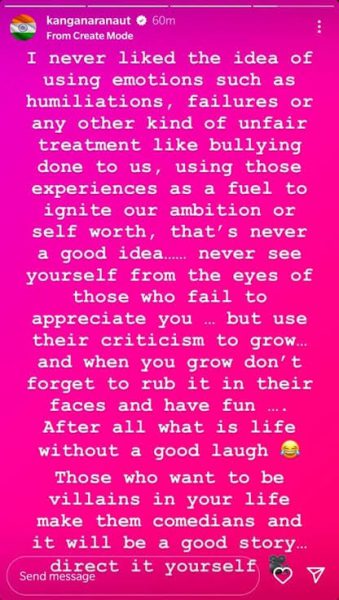 The note read, "I never liked the idea of using emotions such as humiliations, failures or any other kind of unfair treatment like bullying done to us, using those experiences as a fuel to ignite our ambition or self-worth, that's never a good idea. Never see yourself from the eyes of those who fail to appreciate you… But use their criticism to grow and when you grow don't forget to rub it in their faces and have fun. After all, what is life without a good laugh? Those who want to be villains in your life make them comedians and it will be a good story. Direct it yourself."
However, the actress didn't mention any name but we can assume that assume it is a befitting reply to the regular criticism that comes her way. After a huge flop her last release "Dhaakad", as a good actress Kangana Ranaut left the past and was ready to hit another biography 'Emergency' based on the Life of former prime minister Indira Gandhi.