Katrina Kaif, in a glam outfit for an event, and looked like an angel, we came across some stunning images of the ever-so-beautiful diva. Continue reading for a closer look at the diva's ensemble!
Katrina Kaif, Bollywood's reigning diva, is known for her unmatched fashion choices and stunning sense of style. The actress stole the show once more, this time at a high-profile event when she wore a stunning neon gown that left everyone speechless. Furthermore, the actress attended the event wearing an Alex Perry design, demonstrating her amazing sense of style.
Katrina Kaif's ability to effortlessly merge elegance and glamour attests to her renowned standing in the entertainment industry. This occasion was yet another illustration of her ability to push the boundaries of fashion and beauty. This spectacular scene will definitely live on in the minds of anyone who witnessed it.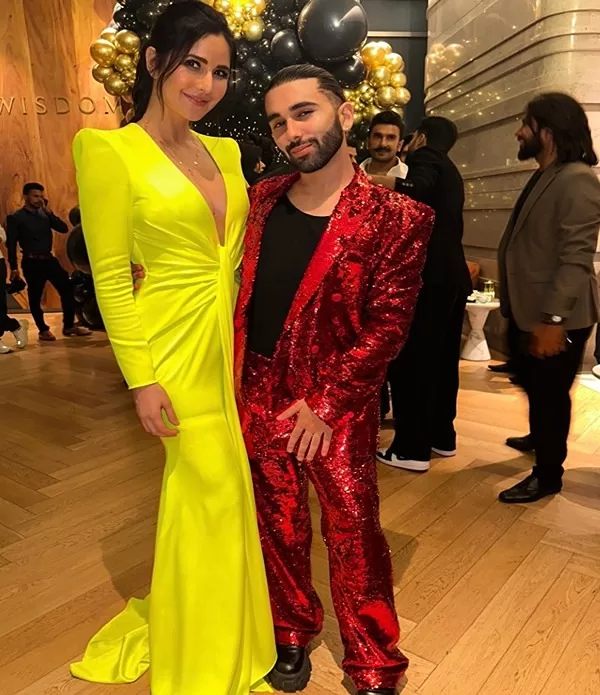 Amit Thakur, a celebrity hairstylist, posted some jaw-dropping images of Katrina Kaif on his Instagram account, featuring her oh-so-glam style, and oh boy, she looked every bit elegant. Let us decode Katrina Kaif's captivating world and her stunning appearance in the Alex Perry gown.
Outfit Details
Katrina Kaif looks lovely in the stunning neon-yellow color of Alex Perry's satin-crepe Quin gown and cost a whooping about Rs. 2,97,375, making the incredibly brilliant actress stand out at the famous Bollywood event. Furthermore, the gown's plunging V-neckline lends a sensual allure while being delicately framed by the 90s formal padding shoulders, which lend a fairly polished look to the serious and definitely vivid ensemble. lovely front ties cascade to a floor-pooling hem, providing lovely ruched details to the item. The poised full-sleeved gown featured an elegant and flowing bottom half, as well as an exquisite train that cascaded behind the excellent actress as she boldly walked ahead.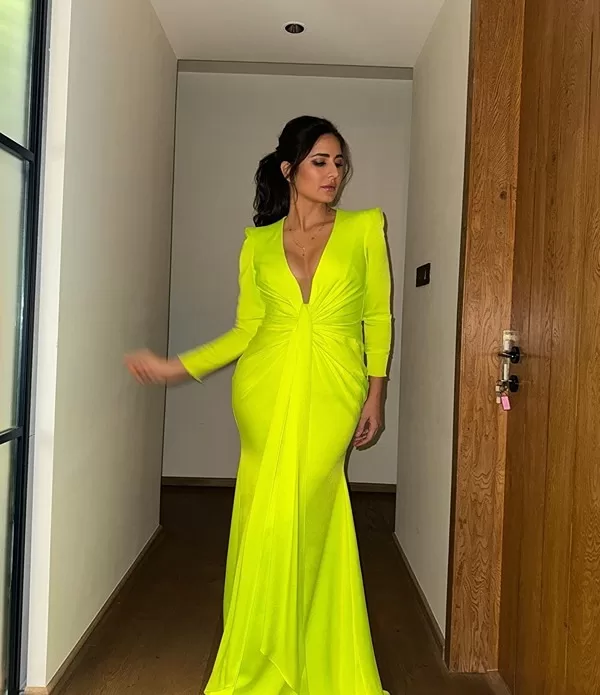 Accessorised The Look
Katrina Kaif went even more simple with her accessories, opting for an elegant and delicate gold necklace to enhance her neckline and the complete neon attire. The actress completed her look with identical heels, which provided a harmonizing appeal to her attractive attire.
Glam Options
Katrina Kaif tied up her hair and styled it into an effortlessly fashionable high ponytail with wavy flicks on both sides that perfectly framed her gorgeous face. The oh-so-glam makeup look of the actress, with well-framed brows, mascara-laden eyelashes, brown shimmery eyeshadow, blush-laden cheeks, highlighter in all the right places, and the perfect glossy nude-colored lipstick, not only complemented but also elevated her stylish ensemble.