Katrina Kaif's excellent style will make an impression every time she appears. Currently, the actress is preparing for the release of Tiger 3, in which she co-stars with Salman Khan. In Leke Prabhu Ka Naam, As she danced to the song, the actress made bold fashion statements.
She truly changed the fashion standards for us, from trendsetting denim shorts to monochrome magic. Let's jump right in and take a closer look at the diva's beautiful ensembles.
Katrina Kaif's Stylish Looks In Leke Prabhu Ka Naam
Sunshine Yellow 
Katrina Kaif donned a variety of gorgeous clothes. She was seen wearing a sophisticated and brilliant yellow-colored floor-length sleeveless dress with a deep and seductive V-shaped neckline in one of these stylish ensembles. It was adorned with floral ruffles and lace to give it a refined and beautiful appearance. Furthermore, the front slit of the dress allowed the diva to show off her toned legs. A closer look at the details reveals her elegant yet statement-making drop earrings, which were another fantastic accent to the look.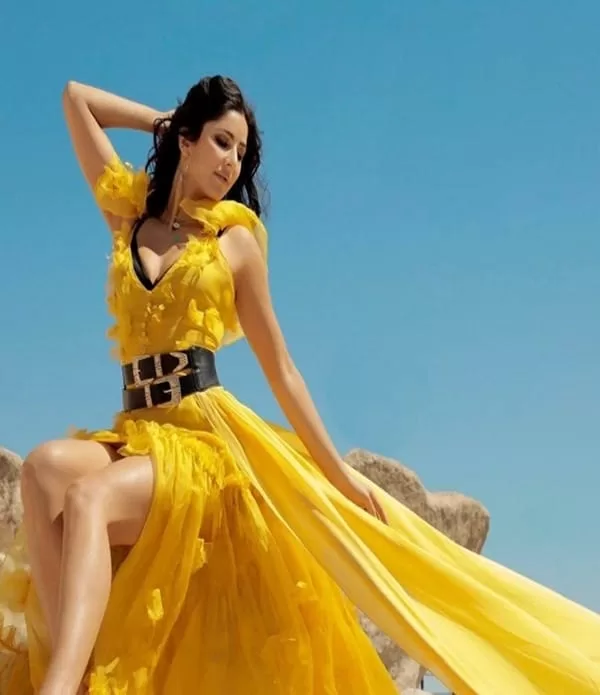 Embellished In Neon
Another look was heavily reliant on neon. In a black co-ord combination consisting of a bandeau top and high-waisted matching mini-shorts, the actress gave an homage to rhinestone adorned shapes. She also wore a fluorescent yellow lace cape with neon matching boots for added drama.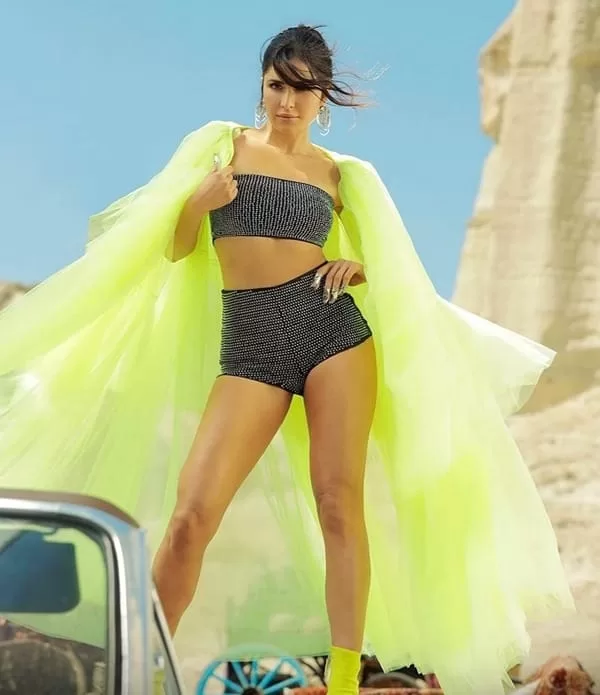 Feathery Drama 
Katrina Kaif opted for another co-ord combination, this time with a sexy red bralette with a distinctive design and stunning white denim shorts. The diva upped the glam factor with a cropped red and white full-sleeved fur jacket and exquisite silver accessories, which she paired with incredibly beautiful boots. The thigh-high boots and over-the-top feather stole truly contributed to the drama.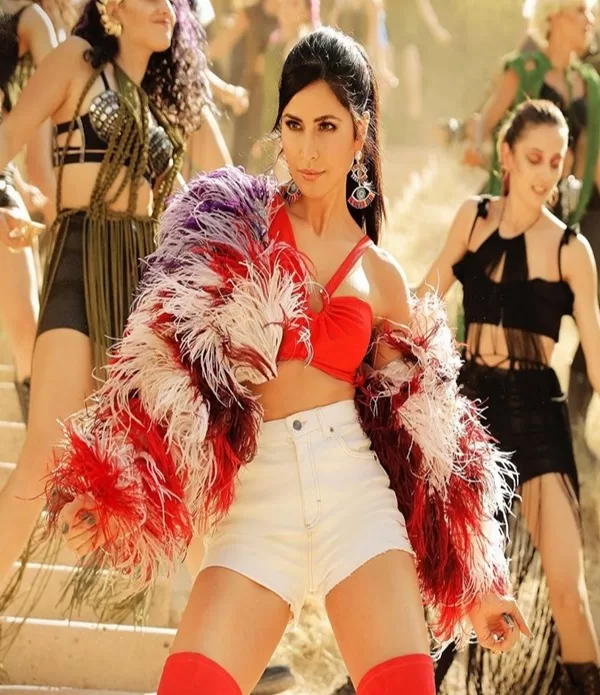 Animal Print
Another elegant look was chosen by Katrina Kaif, who wore an animal print halter-neck crop top with a matching flowy skirt with several slits on both sides to show off her toned waist and  legs. In a printed cutout dress, she gave us a trendy impression. She accessorized her look by a stack of anklets.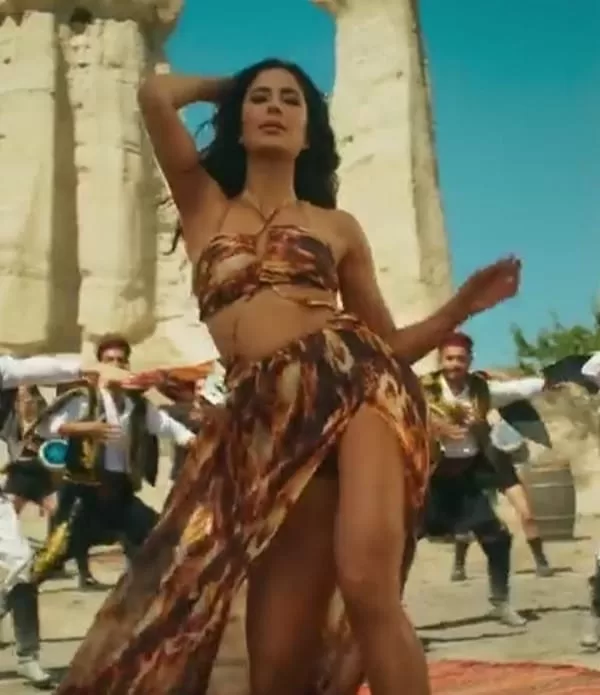 Glitz Glamour
Her holographic top and skirt were the perfect touch of glitz. Katrina Kaif wore a silver metallic co-ord set, which included a cropped blouse with slim straps and a gorgeous cowl neckline, as well as a matching mini-skirt with asymmetrical edges. The diva combined it with a matching striking silver necklace and rings.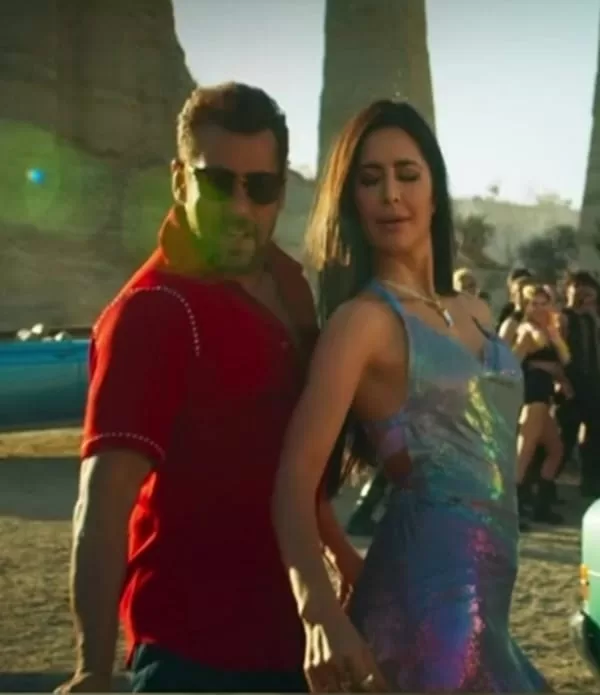 Monochrome Saga
The combination of Katrina and monochromes is unbeatable. Katrina reinvented vacation essentials for us in a peach cutout maxi dress. In contrast, the diva chose to wear a brilliant fluorescent peach cutout dress with one off-shoulder and an asymmetrical edge with a thigh-high slit and an appealing cut-out pattern at her waist. The actress finished off her look with white tie-up  block heels and silver earrings.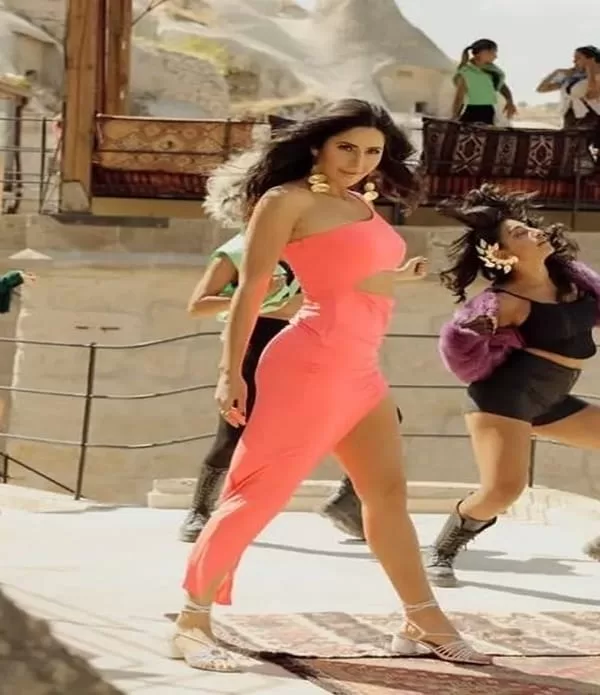 Demin Love
In a slick style, Katrina redefined denim. She wore a fringe crop top with denim shorts and a jacket. That's not everything. The rhinestone embellishment was the real show stealer.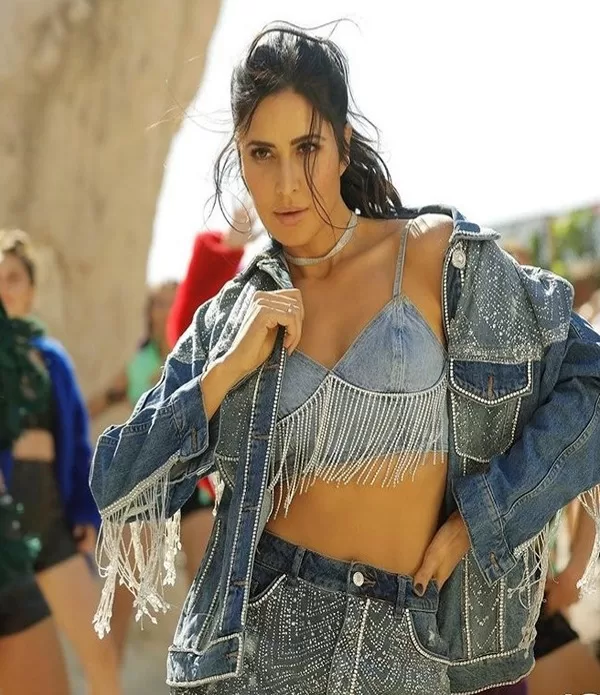 She accessorized with some modern jewelry. Another elegant all-denim ensemble worn by the actress included a distressed denim bralette with a plunging neckline paired with a rhinestone-encrusted oversized denim jacket and matching denim shorts. We're in love with the diva's silver necklace.