In the inaugural Koffee With Karan Season 8 episode, the power couple, Deepika Padukone and Ranveer Singh, delighted their fans with a surprise video of their wedding, offering a glimpse into their intimate and cherished moments. The video touched the hearts of many, showcasing the deep bond between the two Bollywood stars.
Deepika's Candid Revelation
However, amidst the euphoria surrounding the surprise wedding video, an incident from the show stirred a wave of discussion and intrigue. During a segment of the episode, Deepika Padukone opened up about the early stages of her relationship with Ranveer Singh. Her candid revelation shed light on a phase of their love story that many were unaware of.
"Allowed to See Other People"
Deepika revealed that in the initial stages of their relationship, they were "allowed to see other people." She explained that she refrained from committing to Ranveer due to past experiences with complex relationships. She expressed her desire to enjoy a period of independence without emotional attachments, saying, "I just didn't want to be attached, didn't want to be committed." However, fate had other plans as Ranveer entered her life.
HD | deepika padukone and Ranveer Singh's wedding glimpse 🧿❤️ pic.twitter.com/wMX4fgko4m

— Deepika Files (@FilesDeepika) October 25, 2023
Ranveer's Unexpected Reaction
Ranveer Singh's reaction to Deepika's revelation caught the attention of viewers and fans. He seemed visibly perturbed when Deepika mentioned that she didn't remember the individuals she had seen during the initial stages of their relationship. Ranveer playfully but assertively commented, "Abhi toh tumne bola seeing other people, but I would go back to him. Tumko ab yaad nahi hai," which translates to, "You just said that you were seeing other people, but you would always come back to me. You don't remember now?"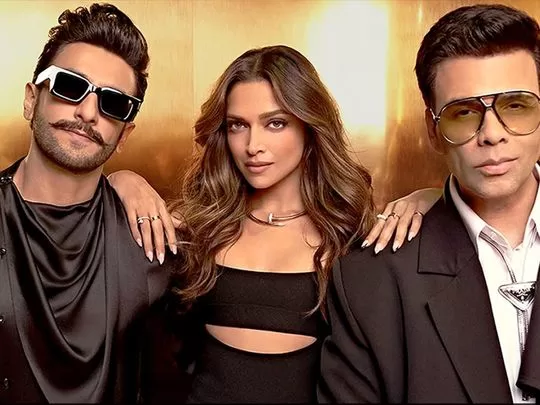 Netizens Weigh In
In the age of social media, it didn't take long for this incident to go viral. The reaction of netizens was swift and varied. Some viewers sympathized with Ranveer Singh, understanding that Deepika's comments might have hurt his feelings. One Reddit user noted, "Ranveer was pissed! The way he said 'Very Clearly'… Dude's hurt and pissed! DP's nose scratch and eyes telling a different story, though!"
Another comment highlighted the timing of Deepika's revelations: "Don't forget she remembered her depression phase right when her movie releases were around the corner."
A Stirring Revelation
Deepika Padukone's unguarded disclosure about the early days of her relationship with Ranveer Singh left him visibly irked on the show. The incident, once viral, sparked various reactions from netizens, with some expressing empathy for Ranveer Singh. This intriguing Koffee With Karan Season 8 episode added a new layer of depth to the couple's love story and made headlines for more reasons than just their surprise wedding video.