Mahaan Tamil Movie Review- Drab Affair!!
Rating: 2.5/5 stars
The much anticipated Tamil action-thriller Mahaan has got released on Amazon Prime on February 10th. The film has national award winner Chiyaan Vikram and his son Dhruv Vikram in the lead. It also stars the ever-gorgeous Simran, and Bobby Simha in pivotal roles. The film is available in the four southern Indian languages i.e., Tamil, Telugu, Kannada and Malayalam. The film is directed by Karthik Subburaj and produced under the banner of Seven Screen Studio.
The movie starts off with Gandhi Mahaan (Vikram) in a bespectacled, prim and Gandhi-worshipping avatar. He even has a statue of the Mahatma in his living room. Nachi(Simran), is his nagging, over-bearing wife who gives him a hard time for watching movies 'that glorify violence, sex, and crime' on the sly.
She is strict for the rules that when her husband has one wild night of drinking and gambling, she doesn't think twice about leaving him and takes their son with her. The distraught Gandhimahaan continues to find solace in alcohol and debauchery and even joins hands with his childhood friend Sathyawan (Bobby Simha) and transforms his small home brewery into an empire.
However, Gandhi's rise to fame, fortune, and political power feels empty and meaningless without his son, Dadabhai, and he yearns to reconnect with him. His wish is granted when Dada enters his life without warning, but as a police officer with a vendetta. Dada's goal seems to take out as many people in the liquor business as possible, including Gandhi's associate and his godson, Rocky (Bobby Simha's son). Gandhi battles emotions of unconditional love for his son and loyalty towards the friend who saved his life. He questions Dada's ideology and Gandhian ways. He points out that while he considers drinking a great sin, he seems to think barbaric violence is somehow acceptable.
Vikram steals the show as the bored and squeaky-clean school teacher who transforms into a swashbuckling liquor baron. Dhruv js handsome and uber-confident in his portrayal of the young cop seeking revenge, but the characterization makes him more deranged than determined.
Simran's talents are wasted as the staunch, peace-loving Gandhian wife and mother. She is shrill, unreasonable and one-dimensional. Bobby Simha shines in his role as a supportive friend, and later on, as a furious father. Santhosh Narayan's background score complements the screenplay well.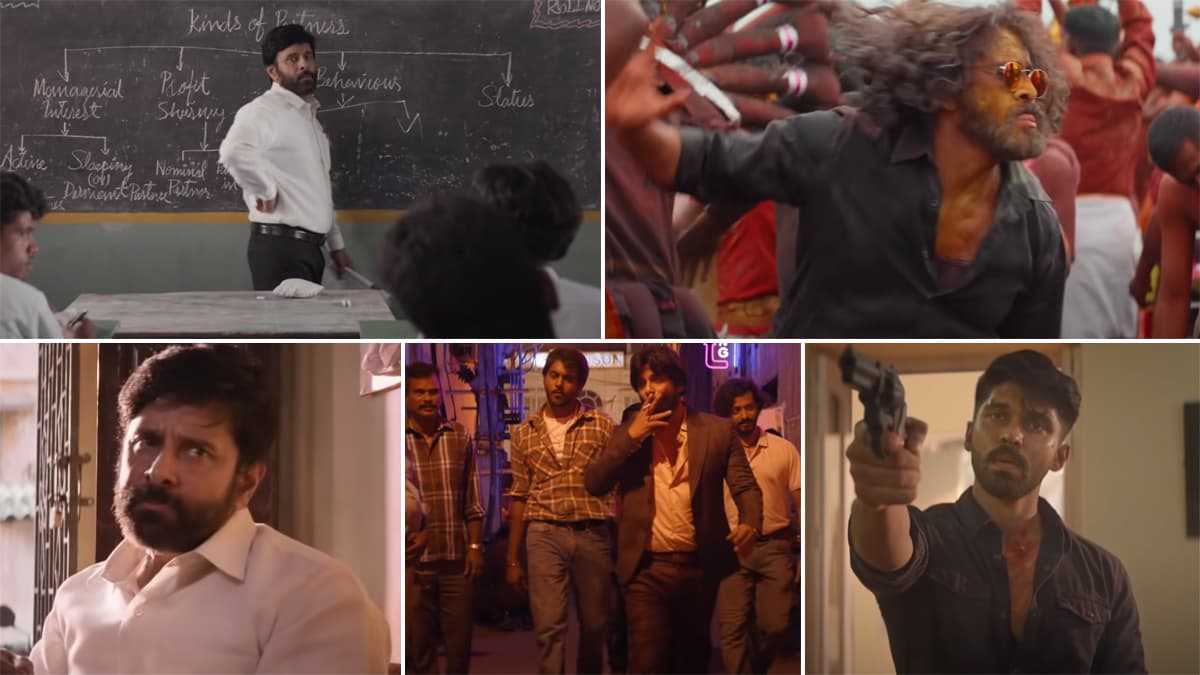 The film could have done away with a twenty minutes of repetitive gangster violence. One wishes that director had focused on the emotional aspect of the father-son duo and capitalized on their on-screen chemistry. After all, it's where Vikram's strengths could be seen as an actor. Mahaan attempts to ask important questions about morality, but the execution lacks depth and nuance.