Michele Morrone Makes His Indian Appearance With Jacqueline Fernandez For Music Video, 'Mud Mud Ke'
With the music video for 'Mud Mud Ke,' Bollywood actress Jacqueline Fernandez and international phenomenon Michele Morrone will light up the screens. The '365 Days' actor revealed the exciting news on his Instagram account, along with the first poster for the single.
"It's lovely to be bringing Michele Morrone to India with Mud Mud Ke," Jacqueline Fernandez said of collaborating with Morrone. Naturally, Michele joins us at a time when the country's musical identity is shifting and the world is becoming smaller. "Congratulations to Desi Music Factory for shaking up the music landscape with this one-of-a-kind collaboration."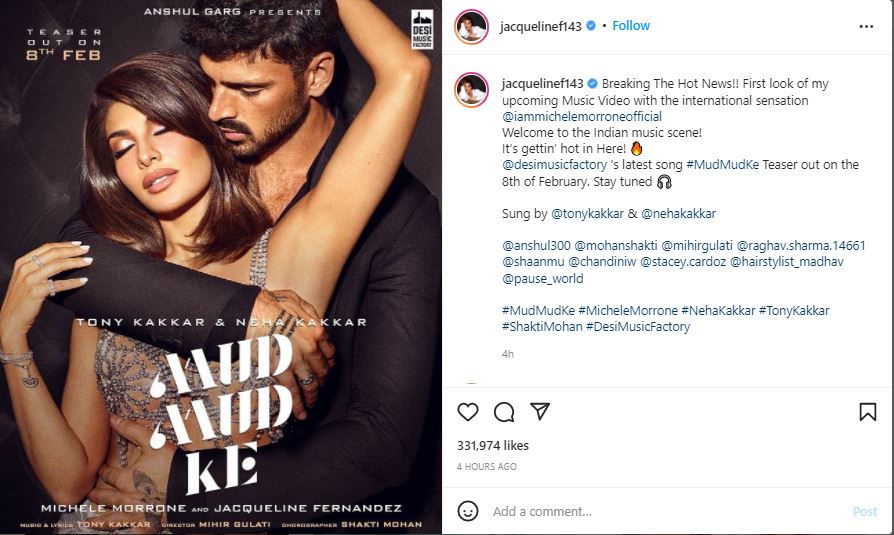 Watch the post of Michele Morrone Here:
Michele featured in the Polish film '365 Days' in 2020, in which he played mobster Massimo Torricelli and Anna-Maria Sieklucka played his love interest, Laura Biel. The production company is planning two sequels for the film. While the actor's performance left the internet 'hungry' for more, he also revealed that he is open to working in Bollywood if a 'great' screenplay comes along.
"I'm glad for such a warm welcome," Michele adds now, after this lovely partnership. I'm aware that Indian music has a large audience and defines the country's heritage. It is a true honour to be a member of the music business, which has captivated audiences all over the world. I'd want to express my gratitude to the creators of Mud Mud Ke as well as everyone at Desi Music Factory."

Tony and Neha Kakkar composed the music for the 'Mud Mud Ke' video. The music was choreographed by Shakti Mohan and directed by Mihir Gulati. The song marks the label's first foray into foreign territory. The teaser for the song will be released on February 8, and the music video will be released on February 12.