Mohsin Khan Urges To Raise Funds For Co-star Vibhu Raghave As He Battles With Rare Cancer
'Yeh Rishta Kya Kehlata Hai' famed actor Mohsin Khan shared heartbreaking news about co-star Vibhu Raghave. The actor took to his Instagram story and shared that actor Vibhu Raghave is suffering from a rare kind of illness. Mohsin confirmed that Vibhu Raghav, who had seen in Nisha or Uske Cousins, YADVI  is cancer positive. He needs a huge amount for the treatment.
To support Vibhu and his family, Mohsin Khan initiates raising funds to support his dearest friend in his hard time. Mohsin made and promoted a crowdfunding page on social media to raise funds for his treatment.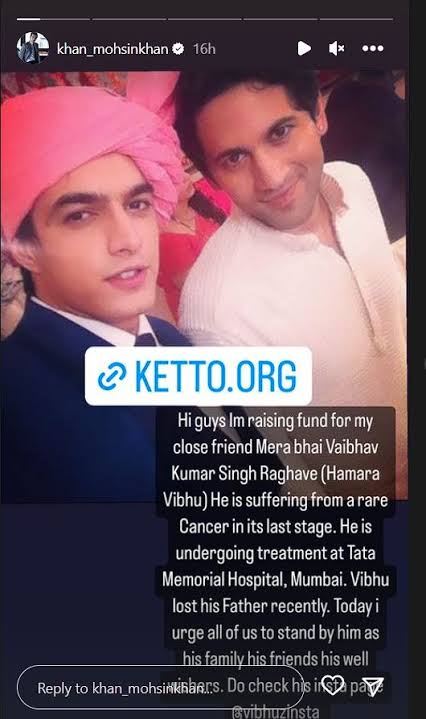 YRKKH's Kartik shared a picture of Vibhu from the hospital and wrote a caption, "Hi guys Im raising funds for my close friend Mera bhai Vaibhav Kumar Singh Raghave (Humara Vibhu) he is suffering from a rare Cancer in its last stage. He is undergoing treatment at Tata Memorial Hospital, Mumbai. Vibhu lost his Father recently. Today I urge all of us to stand by him as his family, his friends, and his well-wishers. Do check his insta page @vibhuzinsta".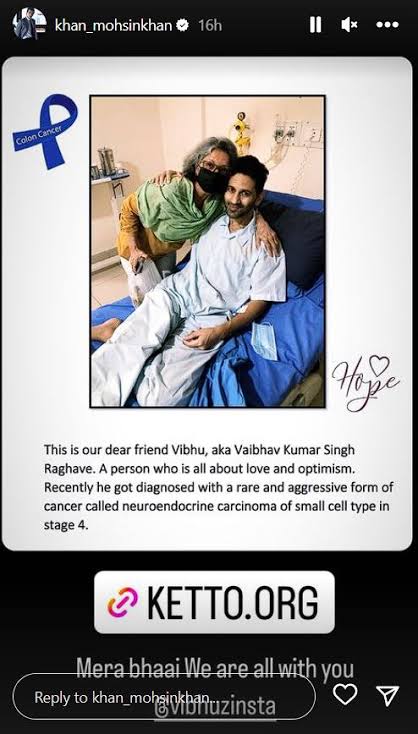 He also explained that the money is needed to treat a dangerous and rare cancer to survive.  "We will need more than 2 tranches of Rs 20 lakhs each, as the medicines, and immunotherapy to be used are extremely expensive. Even though he is at the last stage there is still a strong chance that he'll make it. Your contribution could save a good soul and give a family a chance at long-term happiness." further he added.
Moreover, Vibhu was seen in Nisha or Uske Cousins as the character of lead Aneri Vajani aka Nisha's best friend. On the Other hand, Mohsin played the fiance of Nisha's Cousin Kriti as Heli Daruwala.