Mrs World 2022: Navdeep Kaur Of India Won The Title Of Best Costume, Wore A Dress Inspired By 'Kundalini Chakra'; Read On Here!!!
Mrs India World pageant was recently organized in Las Vegas. The winner of this competition was Shilin Ford of America. Navdeep Kaur, representing India, has made it to the top 15. Alongside, Navdeep Kaur has won the Best National Costume Award. The outfit round required the participants to showcase their home country through their outfit. Navdeep Kaur's pictures and videos have surfaced from the Best National Costume Contest. In these pictures, Navdeep is wearing a golden dress inspired by "Kundalini Chakra".
Navdeep Kaur
This information has been given by sharing pictures of Navdeep on the official social media account of "Mrs World 2022". And the caption read – "Presenting the National Dress of Miss India. In 2021 World, Navdeep Kaur is wearing this avant garde dress inspired by "Kundalini Chakra". From the bottom to the crown, this dress is representing the flow of energy through the chakras of the body.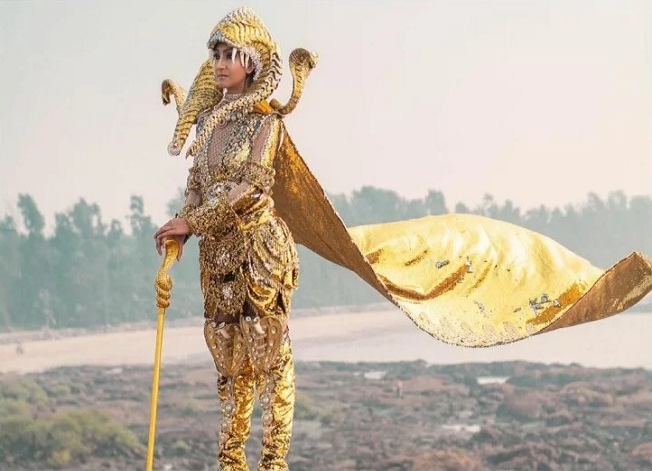 Navdeep Kaur
Earlier, Navdeep Kaur has made our country proud by winning Mrs. India 2020-21. Navdeep Kaur belongs to Kansbahal, a small town near Odisha's Steel City Rourkela.  Navdeep Kaur is not only beautiful but also very intelligent, hence proves the quote, "Beauty with Brain". She has studied Computer Science Engineering. Apart from this, Navdeep has also obtained a master's degree in Business Administration (MBA). Before becoming Mrs. India, Navdeep worked in the bank as an assistant manager and then as an assistant professor. She is mother of a 5-year-old daughter named Jasleen. Not only this Navdeep is involved in social work too. She was the goodwill ambassador of Ladies Circle India.