Nita Ambani's intimate moments with her soon-to-be-'bahu', Radhika Merchant, drew our attention as the entire Ambani family visited the famous Lalbaugcha Raja 'pandal' to seek blessings.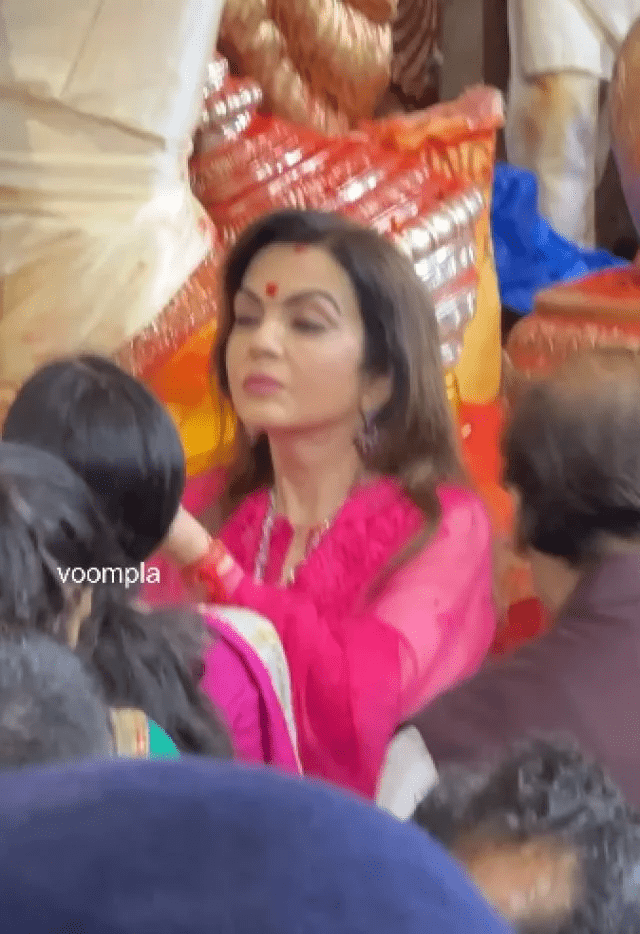 Mukesh Ambani and Nita Ambani continue to spend meaningful time with their children and grandchildren despite having extremely busy schedules, and glimpses of this never fail to win the hearts of their millions of fans and followers. Again, while the entire family went to the well-known Lalbaugcha Raja pandal to ask Ganpati Bappa for blessings, Nita Ambani's private moments with Radhika Merchant, her future wife, drew our attention.
Nita Ambani is papped adoring her to-be-bahu, Radhika Merchant during Ganpati darshan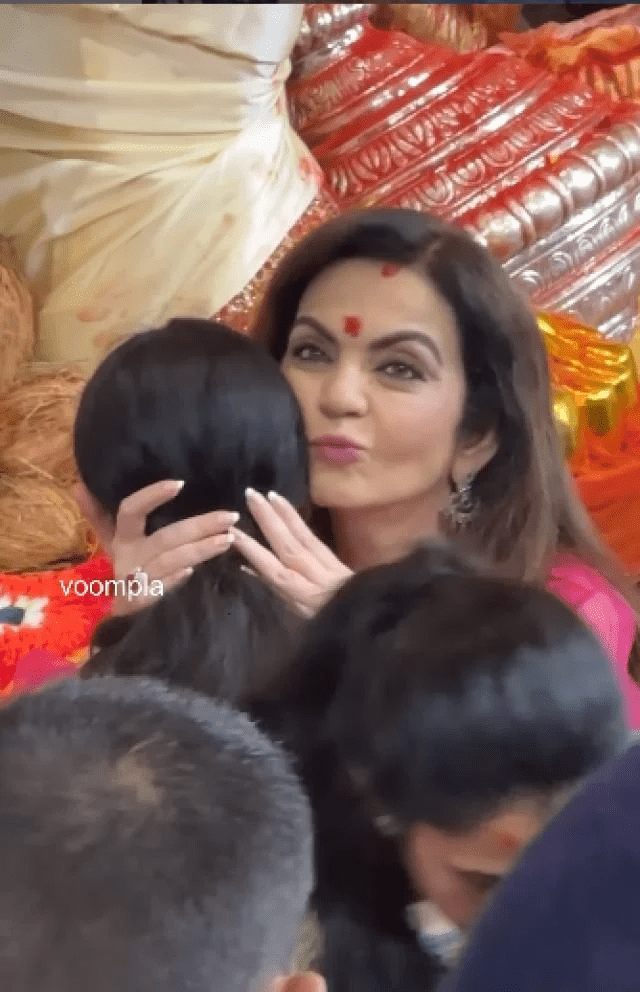 In a video from Nita Ambani's most recent visit to the Lalbaugcha Raja pandal for Ganpati darshan, Radhika Merchant, who will soon become Ambani's wife, can be seen standing next to her with her hands folded. Nita was later seen blessing Radhika and caressing her forehead. In addition, the adoring future husband was seen fondling Nita's feet before the two of them shared an unguarded hug. It was a priceless moment that demonstrated Nita's maternal love for Radhika. To watch the video, click here.
Radhika Merchant and Anant Ambani seeking blessings together
Radhika Merchant and her fiance, Anant Ambani, may also be seen placing flowers and requesting blessings from Ganpati Bappa in a few additional scenes. Anant chose a blue-hued kurta while Radhika looked lovely in a traditional avatar. Together, the two appeared quite lovely.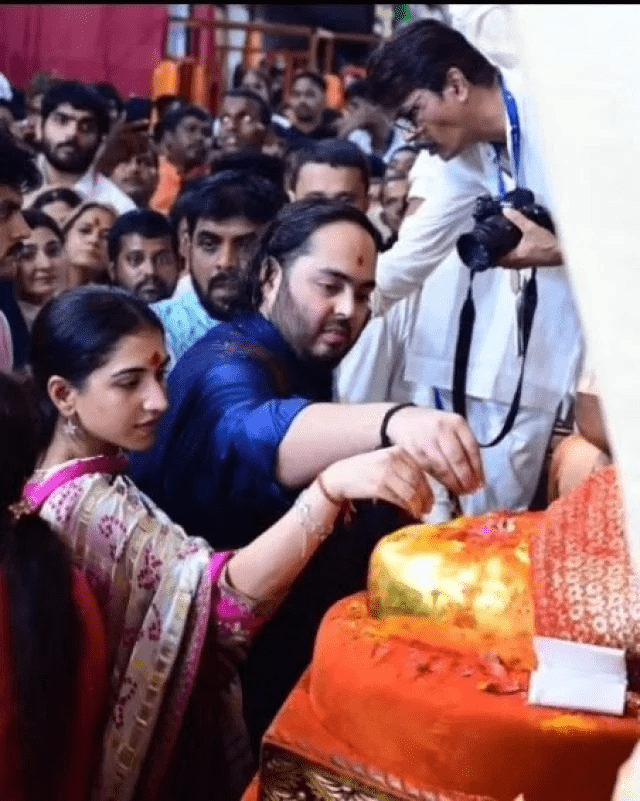 We also came across a couple more amusing images of the complete Ambani family posing for the photographers positioned at the pandal. Following their request for Ganpati Bappa's blessing, the complete family was photographed while grinning broadly. As seen in the pics, Isha Ambani and her badi bhabhi, Shloka Mehta, wore green-hued outfits while Nita and Radhika matched in pink-hued salwar suits. On the other side, Mukesh Ambani looked sharp in a white kurta and a brown jacket, and Anant Ambani was dapper in a white shirt and blue slacks.
Nita Ambani posed with her daughters-in-law, Radhika Merchant and Shloka Mehta at the Ganpati celebrations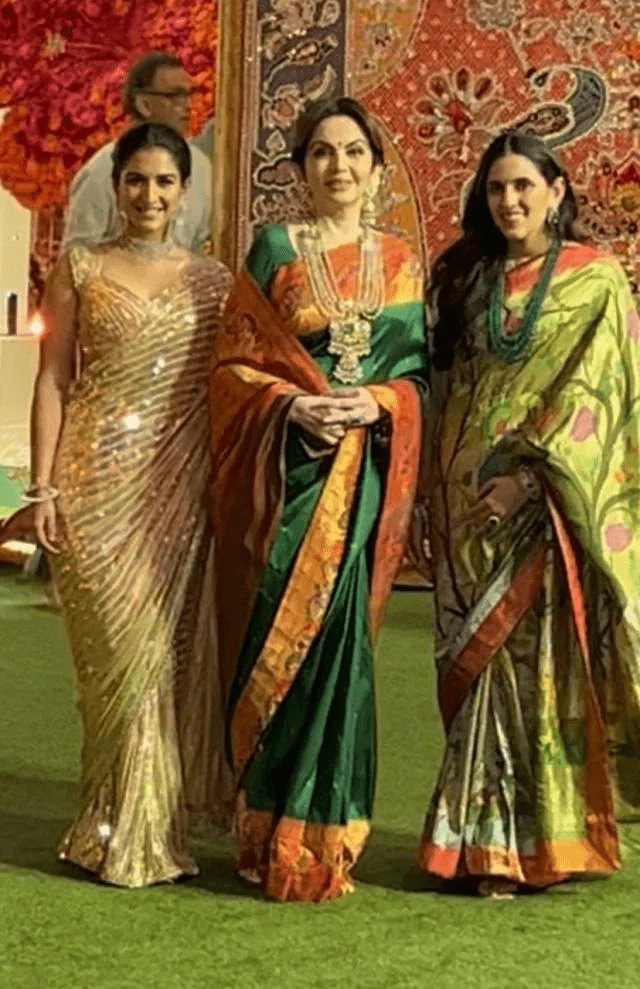 Mukesh and Nita Ambani held a lavish event at home Antilia in honor of Ganesh Chaturthi in 2023 as well. It was unquestionably one of the year's most lavish festivities, and prominent Bollywood celebrities attended. However, Nita Ambani's appearance, along with that of her bahus, Radhika Merchant and Shloka Mehta, also attracted a lot of attention.
During the party, Nita Ambani was seen in a few pictures wearing a lovely green silk saree with a large necklace and jhumkas. Shloka Mehta, on the other hand, was spotted wearing an emerald and emerald-layered necklace, as well as kadas, coupled with a floral silk saree. Radhika chose a golden sequined saree and a blouse to go with it.  Watch the video here!