Nysa Devgan Looks Stunning In Her New Photoshoot; Fan Says 'Like Mother Like Daughter'
Nysa Devgan, Ajay and Kajol's daughter, looked stunning in a red Anita Dongre lehenga in images from her most recent photoshoot. Check it out!
Fans responded positively to Nysa Devgan's images from a recent shoot, saying they reminded them of her mother, Kajol.
Nysa Devgan recently appeared for a photoshoot in a red lehenga. Nysa's set photos were posted by her stylist, who also works with actress-mom Kajol.
Several fans reacted on Nysa's recent images, saying she reminded them of Kajol. Celebrity stylist Radhika Mehra captioned photographs of Nysa Devgan dressed in a red Anita Dongre lehenga with "NYSA." Her caption included the emojis fire, firecracker, firefighter, and red chilli.
Nysa Devgan, the daughter of Ajay Devgn and Kajol, is one of Bollywood's most popular celebrity children. She turns heads whenever the paparazzi catch her in the city or at a party with her pals.
Nysa's frequently offer breathtaking images of her appearance, and she never fails to captivate followers.
Nysa has a good fashion sense, and while we typically see her in western ensembles, she can also pull off ethnic designs with ease. She is seen in images from her current photoshoot wearing a red Anita Dongre lehenga ensemble, and admirers claim she looks just like Kajol in the pics.
Nysa Devgan was photographed staring into the camera and striking various poses. There was also a behind-the-scenes shot of her laughing while holding her tummy and looking away from the camera while a hair dryer was held near her face.
Nysa Devgan In A Red Lehenga By Anita Dongre
Nysa Devgan looks stunning in an Anita Dongre Aadhya lehenga set for Rs 1.75 lakh in photos posted by celebrity stylist Radhika Mehra! The lehenga is dazzling without being garish, and the delicate but detailed design gives it an elegant appearance.
It has stunning sequin embroidery in geometric designs and elaborate motifs over the lehenga's organza fabric.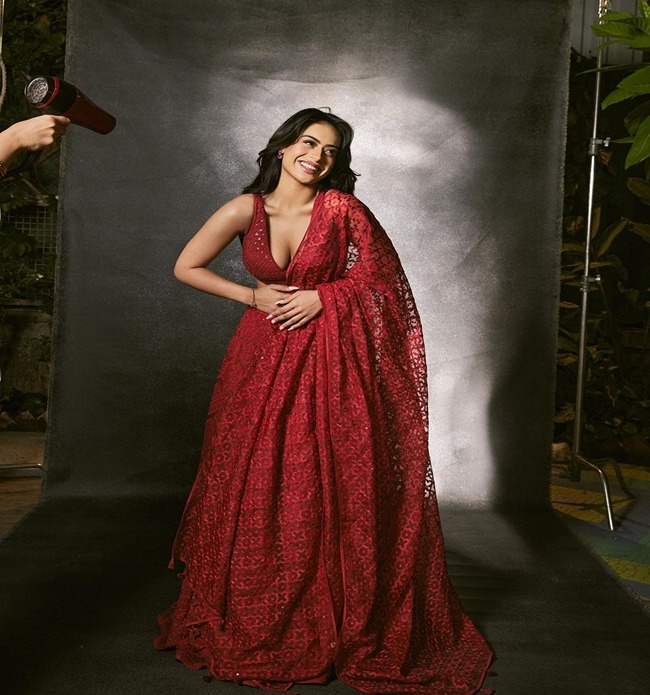 She wore the stunning lehenga with a sophisticated sleeveless matching top with a deep plunging neckline. She wore light pink stone earrings and kept her jewellery to a bare minimum.
Her hair were open in gentle waves, and her makeup was flawless, with smoky eye shadow, bare lips, and finely accentuated cheekbones.
Fans reacted to her pictures, "She looks like her mom Kajol here," an admirer said on Nysa's images.
"Very similar to Kajol… absolutely stunning girl," one fan commented. "Nysa Devgan, pretty like her mom Kajol," commented one Instagram user.
One fan expressed interest in seeing Nysa in films, writing, "I have a feeling she will be better at acting than all these newbies." "She got it from her mother," said another. Others said things like'stunner' and 'amazing'.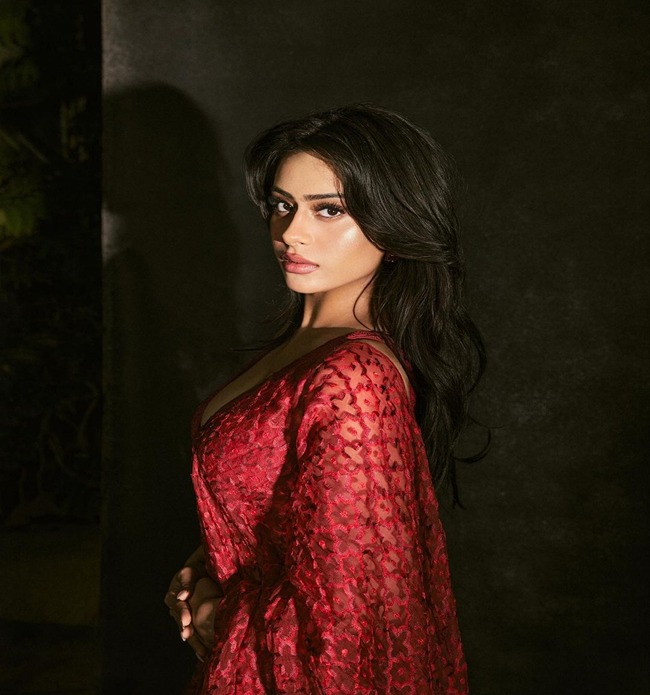 Kajol and Ajay Devgn married in February 1999; Nysa was born in April 2003, and Yug Devgan was born in September 2010. Nysa, who educated in Singapore and Europe, is frequently seen at events throughout the world alongside other celebrities' children.