Being in a relationship might seem like a flowery affair from distance but when you are in it you know what it exactly is. It's not a cake walk as you have to sacrifice, adjust and even experience emotional pain in a relationship. This is why most of the people stick to their decision of staying single.
If you too think that it is important to have that special someone in your life to stay happy then you are wrong. Here are a few reasons why staying single is better than being in a relationship: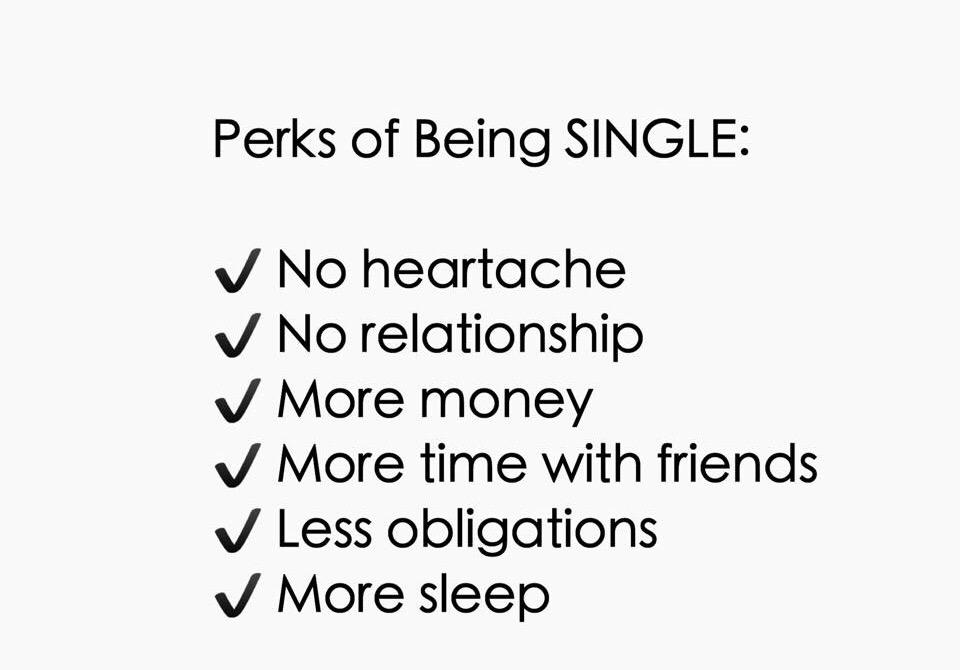 1) You don't have to share your meal with anyone. No splitting of fries with anyone when you can have it all by yourself. Even the last slice of pizza is all yours. You definitely don't need anyone to finish what's on your plate as you can very well do that on your own.
2) You don't owe an explanation to anyone. You are free to talk to anyone and almost about anything that you wish to.
3) You get to sleep for hours. There is no one to interrupt you in the middle of the night just to tell that they love you. Also, you get relieved from being woken up by your partner's alarm that goes off earlier than your usual morning time.
4) You can do without visiting a parlour too frequent and even be lenient about your body maintenance regulations. There is no one who will judge you for cutting down on getting your hairy body waxed.
5) You don't have to compromise over your personal interests for a third person. If you don't like watching boring cricket matches or thriller movies, you can completely do without it and rather watch something that is of your personal interest. There is no one who will force you to do things his or her way as you are the boss of your life.
6) You can flirt with anyone. And that too without feeling guilty about anything. Whether you use the bold and seductive approach or the shy and coy approach, you are answerable to none. But keep this in mind that if someone doesn't flirt back while you are flirting with them, they are probably in no mood for fun. And you should probably stop and move on to someone else.
7) You get time to constantly work on yourself. When there are no distractions, it is easy to build a newer and better version of you. It also becomes easier for you to focus on your goals, work on your body to get in shape and even excel in your job.
8) You can save a lot of money. There is no worrying about how you will pay for that expensive date when you can completely do without it. No matter how many people call you a loner for enjoying fine-dining at a restaurant all by yourself; it is worth it when you still get to save those few extra bucks that others have to pay for.
9) You can stay in your bed for as long as you want without being questioned. And to do away with your day, all you need is a Wifi, Netflix and some snacks to munch on.
10) You get more time to hang out with your close friends. You don't have to divide your free time into too many people when you've got a small bunch of important people around you. Also, you are free to shop or lunch, go for a spa or even for a movie with your friends at any point of time in your life without having to think twice.