Priyanka Chopra who is in Berlin to promote her Hollywood debut Baywatch met Indian Prime Minister yesterday who was also co-incidentally in the same city for his six-day four-nations Europe tour. The global actress enthusiastically shared a glimpse of her meeting along with a thank-you note on all her social media handles. But little did she know that she would end up being massively trolled for wearing a dress to meet the PM.
Looks like, people didn't notice anything else than her dress and showy legs in the photograph and attacked her for not being appropriately dressed to meet the Prime Minister Modi. Doesn't it reflect the trollers' stereotypical mindset? Rather than appreciating the diva's confidence and applauding her for the stature she  has reached that PM Modi especially took out time from his packed schedule to meet her, what they noticed was only her 'legs'.
"Priyanka, you were sitting with the Prime Minister of our country. You should have at least had the basic sense of covering your legs," read one of the shaming comments.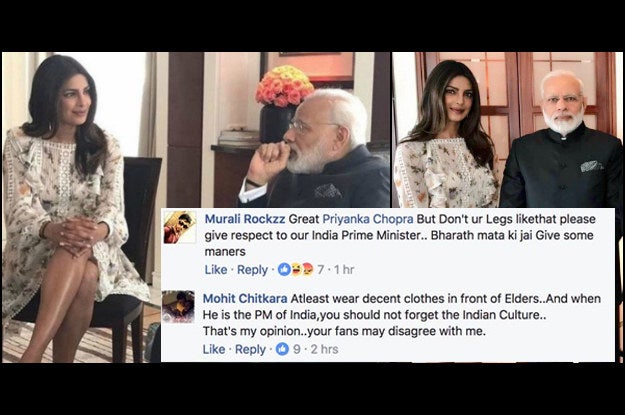 But a true diva that she is, remained unperturbed and rather trolled the trollers in the most epic way! After all the criticism she received for showing too much legs, she yet again posted a photograph wearing even shorter dress and captioned it as "Legs for the day."  The picture also has her mother sitting next to her in a mini skirt.
What an attitude Priyanka! A true troll slayer, you are!