King Charles III is finally crowned and ready to lead the British monarchy on Coronation Day. Dignitaries, ambassadors, and celebrities from all over the world have arrived to commemorate the historic occasion.
It's also a watershed moment for Prince William and Kate Middleton, the Prince and Princess of Wales. Kate has always made a statement with her royal style looks, so a day as exciting as this one couldn't be missed.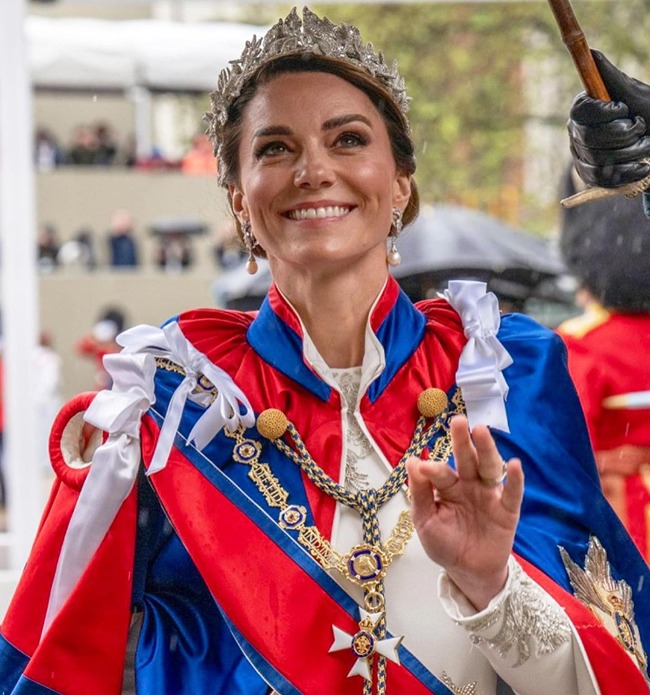 Kate's royal fashion outings have always made a statement, so a day as exciting as this one couldn't be missed.
When it comes to stunning royal fashion statements, the Princess of Wales has always delivered.
It's the latest in a string of stylish outfits worn by the Princess of Wales during the coronation weekend.
Kate Middleton Dazzled In A Alexander McQueen Gown On Coronation Day.
The princess looked stunning at King Charles III's coronation ceremony, which took place on Saturday at Westminster Abbey.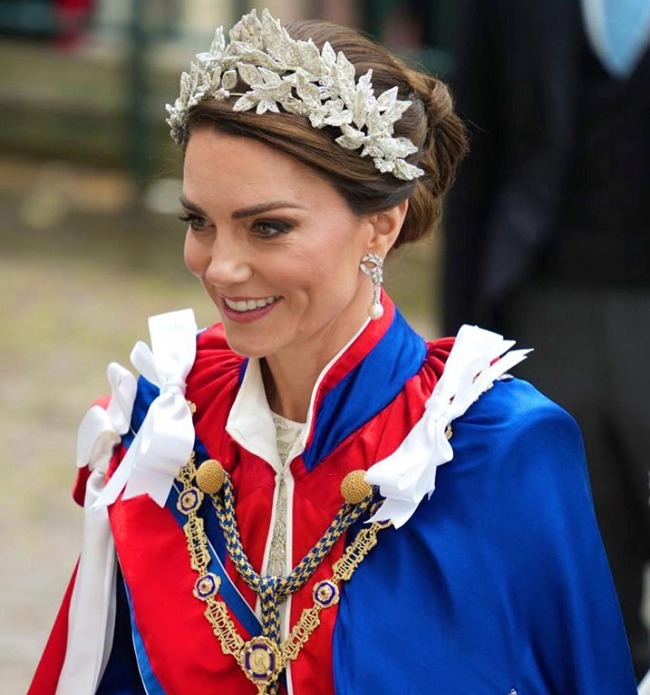 Kate Middleton was photographed wearing an embroidered ivory silk crepe gown by Alexander McQueen. Her coronation robes were a flowing cloak of dark blue silk satin with red edges.
It also came with a hand-embroidered badge. Her hair was styled in a neatly twisted updo, and her hair accessory was possibly the highlight of her look. Kate sported a silver leaf-patterned headpiece.
Her accessories included royal-blue Aquazzura heels, jewellery from Queen Elizabeth II and Princess Diana, and a Jess Collett x Alexander McQueen headpiece with silver bullion, crystal, and a silver threaded three-dimensional leaf embroidery adorned the headpiece.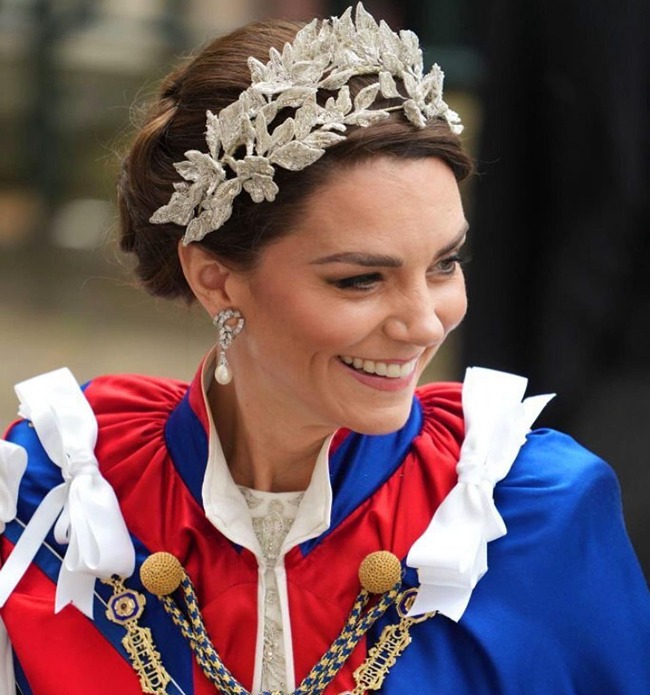 Kate Dresses Casually In A Blue Blazer On Day 2 Of Coronation Celebrations,
Catherine, Princess of Wales, looked stunning on the second day of King Charles' coronation weekend in a bright casual ensemble.
The Prince and Princess of Wales made an unexpected appearance at The Big Lunch in Windsor on Sunday afternoon, one of several street fairs held across the country to commemorate the coronation celebrations.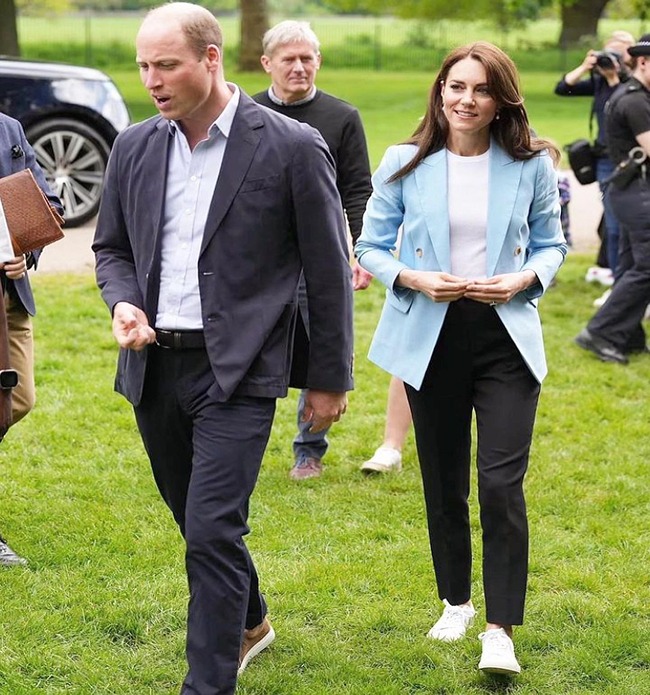 The Princess of Wales wore an oversized double-breasted powder blue blazer over a simple white T-shirt for the occasion, putting a sophisticated spin on brunch style.
She wore it with black cropped trousers and her favourite metallic-trimmed Veja trainers. Kate accessorised her laid-back ensemble with tiny diamond hoops and a pair of Annoushka pearl drop earrings.
And as well her sapphire-and-diamond engagement ring which added a refined touch to her casual look. Her hair was styled in bouncy curls with a side part in chestnut brown.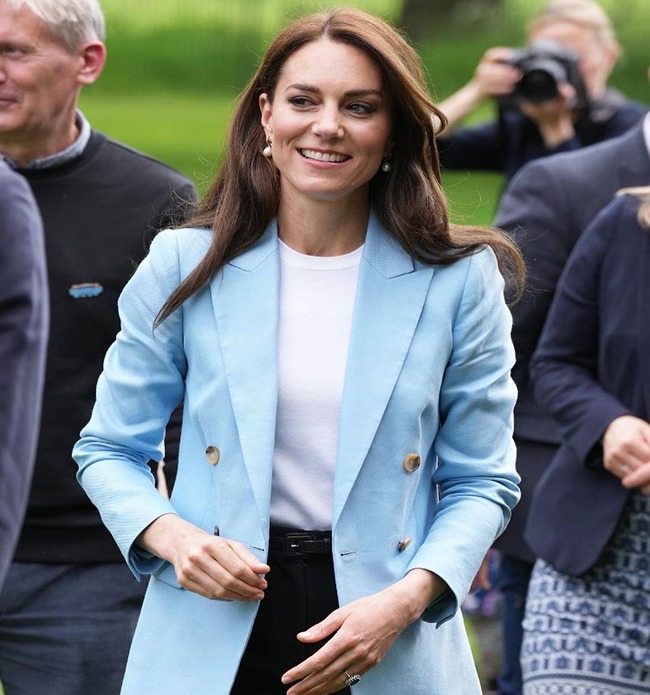 Kate Middleton Dons A Bold Red Suit To The Coronation Concert.
Following the crowning ceremony the day before, Kate Middleton was dressed to the nines for the Coronation concert on Sunday.
While at Windsor Castle for the extravagant concert special, she added a vibrant twist to her elegant style.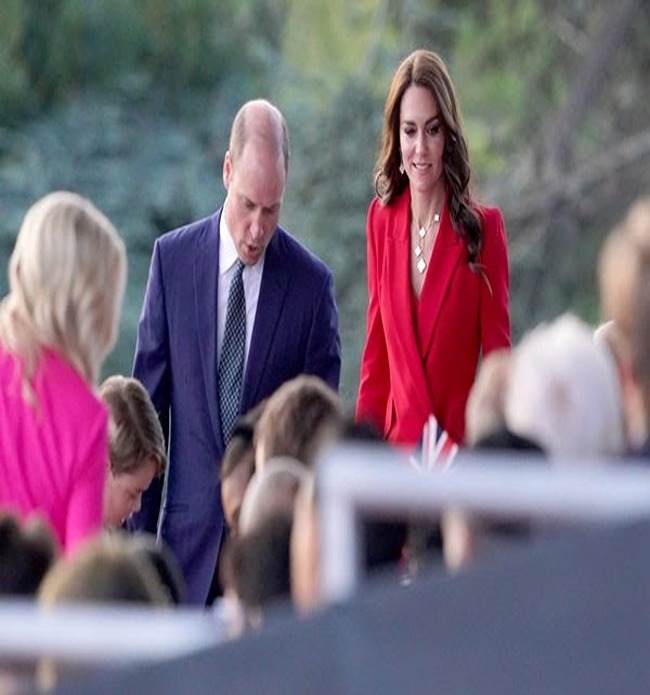 The Princess of Wales was dressed to the nines in a stunning scarlet red Alexander McQueen suit.
Kate, who is known for her environmentally conscious fashion choices, She wore the same dress to the concert.
According to Harper's Bazaar, she wore the same outfit in January for the pre-campaign launch of the Shaping Us campaign launch event in January.
Featuring a plunging, asymmetrical wrap blazer and flared trousers, it creates a sophisticated look.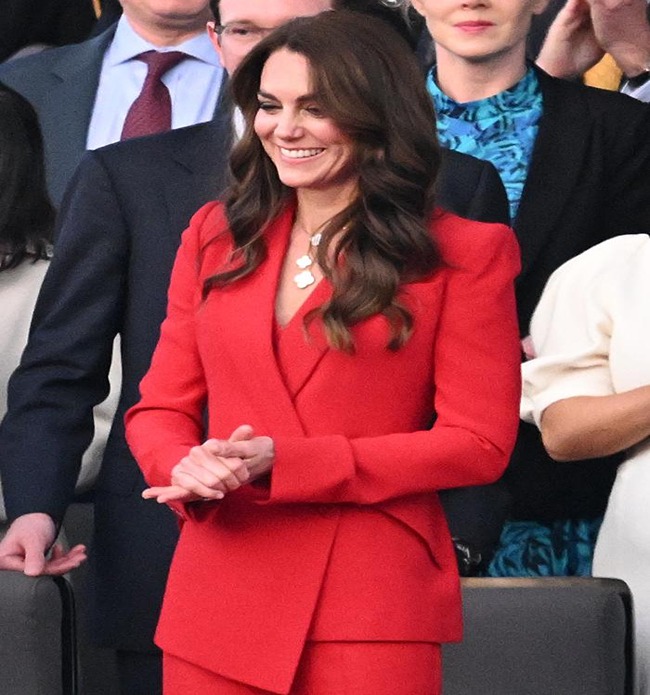 She accessorised with a Van Cleef & Arpels silver necklace with several floral pendants of varying sizes. Her evening glam makeup included rosy blush and a soft smoky eye.