Shakira, Gerard Pique To Split After She Caught Him Cheating On Her
Shakira and Gerard Pique are reportedly on the verge of splitting up. El Periodico of Barcelona reported that the singer caught her soccer partner cheating on her with another woman. However, the couple has yet to comment on the matter.
As per the report, Piqué has been living alone in Barcelona and has left the house he shares with the singer. Another reason for the breakup is said to be uncontrollable partying. It's also been reported that he's been enjoying the Barcelona nightlife with friend Riqui Puig and his group of friends, who have been seen staying out until late at night.
Gerard Piqué and Shakira's relationship appears to be fraying after they fell in love in South Africa in 2010. The couple remains single, despite having two children, Milan and Sasha, throughout their 12-year relationship. However, with the news that Piqué has returned to his bachelor pad on Muntaner Street in Barcelona, things do not appear to be going well between the two at the moment.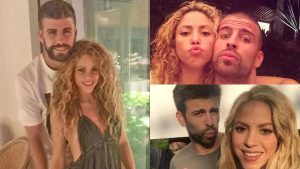 The lyrics to Shakira's new hit Te Felicito further suggest that all is not well between the pair. "Your wound didn't open my skin, but it opened my eyes. They are red because they cried so much for you." "And now it turns out that you are sorry, it sounds sincere, but I know you well and I know that you lie", the lyrics read when translated to English.
Pique has also vanished from Shakira's social media, with the singer previously frequently posting photos of the pair, but the last time that happened was in March.
On the work front, Shakira is currently working on her next album. She is also a judge on 'Dancing With Myself,' a dance reality show.