The much-anticipated festival of Bengal, Durga Puja, concluded with the vibrant and time-honored ritual known as Sindoor Khela. This significant tradition takes place on the final day of the Puja, Dashami, as married women bid farewell to Maa Durga. As she prepares to leave her paternal home with her children, they smear each other with vermillion and offer prayers for their husbands' longevity.
It's heartwarming to see that even in the glitzy world of Bollywood, numerous actors took a step back to embrace their cultural roots and celebrate Vijaya Dashami in the most traditional style. Many leading actresses, including Rupali Ganguly, Smriti Irani, Sumona Chakravarti, Ishita Dutta, and others, donned quintessential white sarees with red borders as they joyfully participated in Sindoor Khela. These stars shared their cherished moments from the celebration with their fans on social media.
Rupali Ganguly's Devotion
Rupali Ganguly shared a video where she sat before the idol of Maa Durga, her face adorned with sindoor. Folding her hands, she extended her heartfelt Bijoya wishes to her fans and followers.
Ishita Dutta's Loving Gesture
New mom Ishita Dutta posted a video of herself applying sindoor to her husband, Vatsal Seth's cheeks in a touching display of affection. Vatsal reciprocated the gesture, symbolizing unity and the celebration of womanhood. Ishita described Sindoor Khela as a beautiful celebration and a search for Durga Maa's blessings and guidance.
Divya Agarwal Finds Family
Actress Divya Agarwal shared photos from her Sindoor Khela celebration at a friend's home. In her caption, she expressed her joy at finding a family she had never expected to have. She prayed for the well-being of all, saying, "Mata Rani sabko khush rakhe."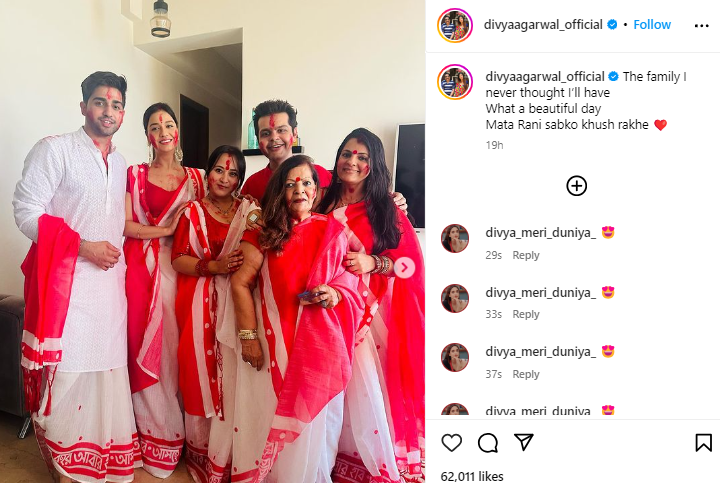 Sumona Chakravarti's Spiritual Connection
Sumona Chakravarti gave her Instagram followers a glimpse of her appearance before participating in the festivities. Her friends posted videos of her dancing to the beats of the dhaak, and Sumona herself shared a series of photos that included one with her face covered in red sindoor. In her heartfelt caption, she described her unique bond with Durga Maa, admitting that it makes her feel vulnerable and resilient.
Smriti Irani's Graceful Participation
Smriti Irani's Instagram journey began with a photo of her dressed up and ready for Sindoor Khela. Later, a photo on her story revealed her cheeks and forehead adorned with the auspicious red sindoor as she extended her respects with the caption, "Bijoya pronam to all elders."
The Sindoor Khela celebration, as witnessed by these TV stars, showcases the deep-rooted cultural traditions and the unity they bring. This beautiful ritual serves as a poignant farewell to Maa Durga, carrying the hope of her return the following year.