After No Way Home, Andrew, Tobey, and Tom sit down for their first interview
It's been a month and 11 days! Many have been waiting for the ultimate Spider-Man: No Way Home interview for quite some time now.
Since the release of the Marvel/Sony blockbuster over Christmas, Tom Holland, Tobey Maguire, and Andrew Garfield have finally gathered online to discuss it. The latter two actors, having had played distinct versions of Spider-Man in previous films, returned to reprise their roles in the webslinger's current adventure.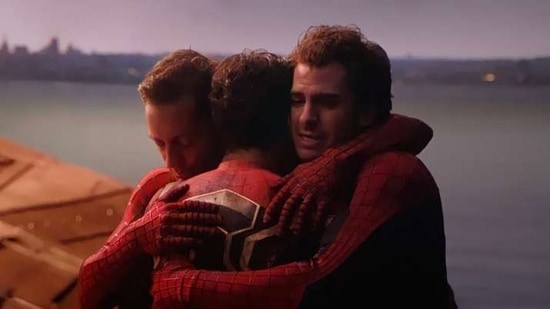 Image Source: Still from the movie 'Spider-Man: No Way Home'
Given the secrecy surrounding the inclusion of all three Spider-Men in No Way Home, the wait for this interview is understandable. The cat is out of the bag now. Below, Holland, Maguire, and Garfield discuss their experiences with the role.
When asked how he was approached to appear in the film, Maguire said, "Amy [Pascal] was like, 'We'd love to talk to you and you know what this is about.'" He spoke with Marvel Studios President Kevin Feige and Amy Pascal, the film's producer.
"It was intriguing, but I was also thinking to myself, 'Well, what are we going to do?' And that was a little mysterious."
When Maguire agreed to star in the film, Garfield agreed as well.
When asked the same question, Garfield replied, "Well, I was just waiting to see if Tobey was going to do it." "I was like, 'Well, I guess I don't have a choice.'"
Holland also revealed that some of the film's funniest scenes were made up on the spot.
Holland remarked, "It was so collaborative." "It was all stuff we came up with on the day, from [Garfield] cracking Tobey's back to [Garfield] coming up with the idea of pointing at us."
Despite the pandemic, Spider-Man: No Way Home became the most successful film of 2021, grossing over a billion dollars at the box office. It took only 12 days to reach the billion-dollar mark, making it the first film to do so since Star Wars: The Rise of Skywalker in December of 2019.