Recently, Sunny Leone, accompanied by former IAS officer and actor Abhishek Singh, was spotted performing Ganga aarti and offering prayers in Varanasi. A viral video circulating on the internet captures Sunny Leone doing Ganga aarti alongside Abhishek. In the video, Sunny is adorned in complete Indian attire, sporting a garland around her neck and chandan teeka on her forehead. As the video gained traction, paparazzo Viral Bhayani's post garnered a significant number of comments and reactions from netizens.
The video also features Sunny capturing beautiful scenes of Varanasi on her phone.
View this post on Instagram
Netizen's Reactions
Most of the comments on the post trolled the actress, while a small section also praised her for her religious activity. One user wrote, "Now all sins are washed away in the Ganges." Another one commented, "Ganga, your sins have made her dirty… The sins of sinners washed away." A third user expressed, "She went to cleanse her hands in the flowing Ganges." In contrast, a few social media users supported her. One user wrote, "Happy to see her performing Ganga Aarti." Another one stated, "Forget your past; you are the best."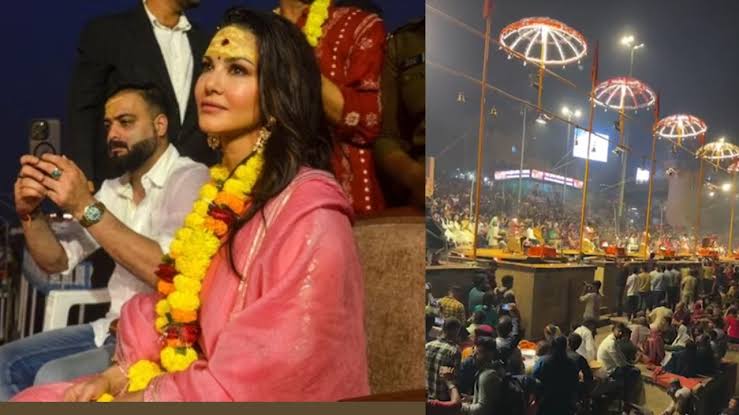 In October, Sunny Leone revealed her song "Mera Piya Ghar Aaya 2.0," a revamped version of the iconic song originally featuring Madhuri Dixit. Enbee and Maya Govind wrote the new rendition, with Neeti Mohan lending her voice. Additionally, a recently released music video titled "Third Party" was composed, written, and sung by Abhishek Singh. The video debuted on Wednesday.
Sunny is currently serving as one of the judges on the mentor-based reality show "Glam Flame," catering to aspiring models. Furthermore, she has contributed to Anurag Kashyap's film, "Kennedy," which received screenings at the Cannes Film Festival and the 14th Indian Film Festival of Melbourne. The movie, featuring Rahul Bhat and Abhilash Thapliyal, is awaiting release in India. The plot revolves around an insomniac ex-policeman (Rahul Bhat), presumed dead but still operating within the corrupt system, seeking redemption.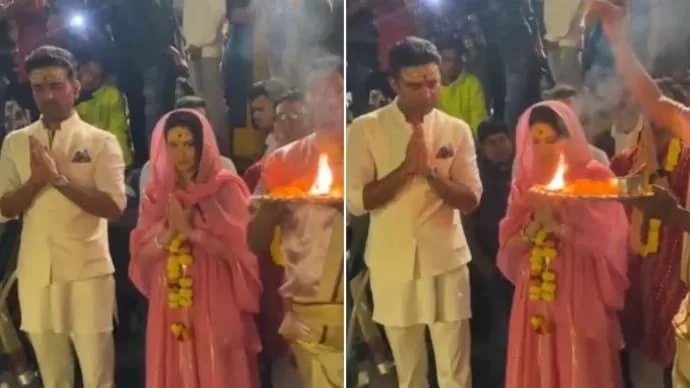 Attending the Cannes Film Festival, Sunny Leone marked her debut, accompanied by Rahul Bhatt, Anurag Kashyap, and Anurag Thapaliyal. She, along with her husband Daniel Weber, walked the red carpet at the prestigious event.
Also Read
Ankita Lokhande's Emotional Tribute to Sushant Singh Rajput on Bigg Boss 17: 'He is Family'
KWK 8: Alia Bhatt Addresses The Biggest Misconception About Her, "I'm Having Marriage Issues…" Read Here!