Sushmita Sen Pens An Emotional Note In Her Latest Post, Thanking Fans For Supporting Her
Sushmita Sen, a Bollywood actress, is a frequent user of social media and is frequently seen sharing her favorite moments and snippets with her fans and well-wishers. The actress, who recently disclosed her split with Rohman Shawl, used her Instagram account to write a positive remark about the year.
"A girl loves praises!!!" Sushmita tweeted beside a stunning selfie. And wow, do I have an avalanche of these on my timeline!!! 😄💃🏻🙏 Thank you, lovely individuals, for being a part of my life and believing in my dreams!!! 2021 has been a delightful year…with its delectable ups and downs (a graph called life)." "As we reach the conclusion of this year…," she added as a final message.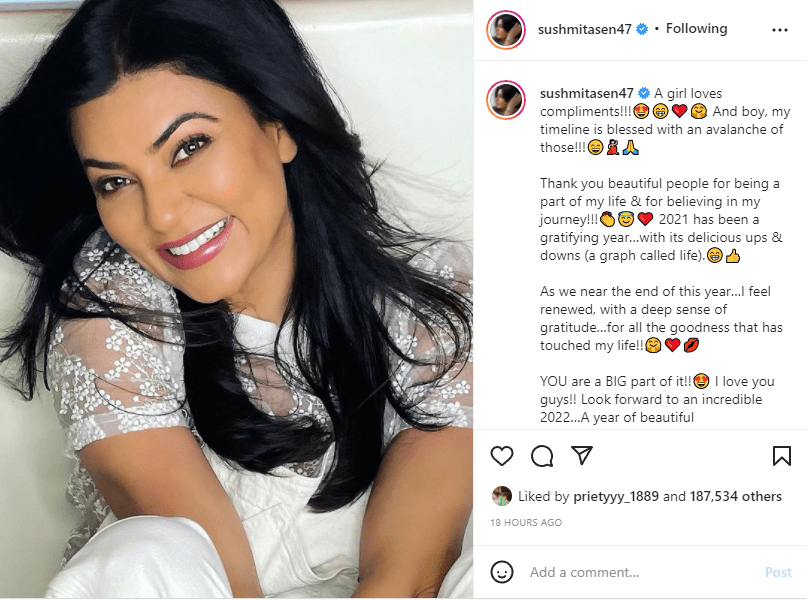 I'm feeling revitalized, with a profound sense of gratitude…for all the blessings that have come into my life!! 🤗❤️💋 YOU ARE AN IMPORTANT PART OF IT!! 😍 I adore you all!! Look forward to a fantastic 2022… Beautiful manifestations are galore!!! Keep your spirits upbeat, optimistic, and joyful!! It's everything going on for you, not for you!!! 👍🤗😀❤️ #joy #blissful #full of joy 😁💃🏻🌈 #duggadugga" Sushmita Sen was most recently featured in the blockbuster online series 'Aarya 2'.
Sushmita has already updated the status of her relationship with Rohman Shawl. They are no longer together, according to the actress. She shared a photo with Rohman and stated that they are still friends. "We began as friends, and we remain friends!!" Sushmita stated in her message. The romance had been finished for a long time, yet the love remained!!