Tamannaah Bhatia Removes Her Shoes And Lit A Diya, Leaving Netizens Impressed!
Several Bollywood celebrities arrived in Melbourne on Friday to launch the Indian Film Festival of Melbourne (IFFM) 2022. A large number of celebrities travelled to the Australian city to take part, including the actor Tamannaah Bhatia. And she has been posting gorgeous photos of herself from the current festival back to back, treating fashion enthusiasts' eyes to a feast. Her most recent post has an off-shoulder dress with the star having a diva moment. This voguish moment is everything that we love.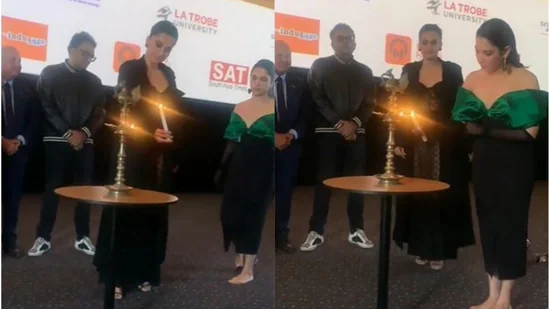 Tatannaah Bhatia took part in the lamp-lighting ceremony for the Indian Film Festival of Melbourne Awards (IFFM) 2022. As part of a video from the event, the actress appeared with Taapsee Pannu and director Anurag Kashyap on the show.
After Taapsee had already lit the Diya, Tamannaah was asked to light it. She slipped off her high heels and began the process immediately. Tamannaah responded, "It's just South Indian culture," when a woman on stage thanked her for her generosity. When Tamannaah wore her shoes back after lighting the diya, Taapsee assisted her in putting them back on. On social media, Tamannaah's fans expressed their support for her generosity. Some online users questioned Taapsee and Anurag's decision not to follow suit.
When Tammy comes to light up the ceremony lamp🪔 just look at her 😭😌 She is removes her heels and respecting the tradition🖤

Better everyone hear what she says in the clip😌 @tamannaahspeaks love you my love #IFFM2022 #TamannaahBhatia𓃵 #TamannaahBhatia pic.twitter.com/JuusRPbrn9

— Aathavan_Tamannaah☕🖤 (@Aathavan_speaks) August 12, 2022
Tamannaah will soon be seen playing the lead in Madhur Bhandarkar's "Babli Bouncer," which is her current project. The actress said of the movie, "'Babli Bouncer,' in which I play a bouncer, that it is a huge chance to highlight a powerful female character. There are a lot more female bouncers than we know about, even though the world is generally male-dominated and you don't see too many of them. The phenomenon is undoubtedly widespread abroad, but it is also widespread in India as well. But I suppose that has never been the subject of a story. So that's undoubtedly a project of which I'm quite proud.