The Gray Man: A Premiere That Was "Completely" Stolen By Dhanush's Sons Yatra & Linga
The Gray Man's cast and crew gathered for the film's premiere on a beautiful evening in Los Angeles. Wednesday's screening was attended by Rege-Jean Page, Chris Evans, Julia Butters, Billy Bob Thornton, Ryan Gosling, Jessica Henwick, Ana de Armas, and directors Anthony Russo and Joe Russo. Even though it was a star-studded occasion, Dhanush's sons Linga and Yathra stole the spotlight.
At the event, Dhanush uploaded three photos of himself and his boys on Instagram. On the carpet, photographs were taken.
At the screening, Dhanush, Linga, and Yatha all wore suits. The three individuals appeared on the red carpet sporting fashionable black attire. Dhanush donned a white shirt, but his sons Yathra and Linga wore a dark-colored shirt. As if that weren't enough to attract everyone's attention on their own, Dhanush was also spotted sporting his newly cut mullet hairstyle.
When Dhanush uploaded the photographs on social media, he added the following captions: "When you realize they have snatched the focus away from you while "viewing the premiere of "The Gray Man" with Yathra and Linga."
Family and friends responded favorably to the images. The singer Vijay Yesudas responded to the criticism in the comments area by stating, "Can't Blame Them. The Boys Are Rocking It With You, And @dhanushkraja, Your Tux. " G V Prakash Kumar used the fire emoji.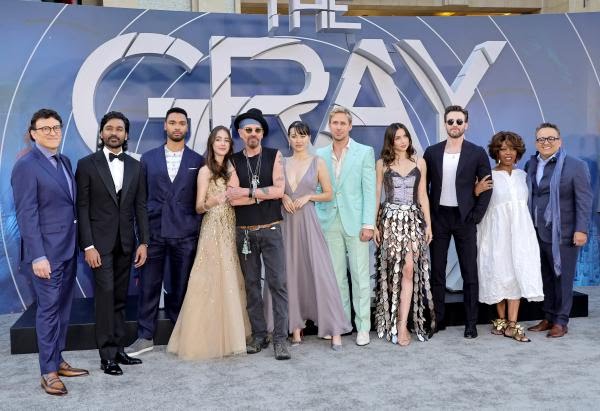 The audience joined in and began complimenting the trio. A supporter of the artist commented, "Million dollar picture." There was another, "Carbon copy, sir." Another admirer said, "Same as dad lion," in the words of the millions.
For those unaware, Dhanush plays a significant part in The Gray Man. The Russo Brothers were motivated to organize a trip to India by the actor's presence in a recently released web teaser.
In a YouTube video produced by Netflix India, The Russo Brothers addressed their audience. Began the message, "Hello, everyone! This is Anthony and Joe Russo, and we are ecstatic to have our dear buddy Dhanush on set for the production of our upcoming film, "The Gray Man." India, please prepare for my upcoming visit."
Recently, Dhanush discussed the production of The Gray Man, in which he participated. "He characterized it as an extraordinary occurrence. This film is like riding a rollercoaster; in addition to action and drama, it is fast-paced and has a significant pursuit. I'm glad I was allowed to be a part of this film's ensemble, which comprises outstanding actors and actresses."