"The whole world is laughing at us today," tweets Kangana Ranaut, targets Diljit Dosanjh and Priyanka Chopra Over Farmers Row
Kangana Ranaut was at it again, on her latest Twitter tirade. The actress name-dropped two other fellow actors, Diljit Dosanjh and Priyanka Chopra while expressing her angst against the recent Republic Day incident. Sharing a picture of a protester planting a flag, she said that the incident makes a mockery of the nation on a global stage.
Kangana expressed on Twitter, "You need to explain this @diljitdosanjh @priyankachopra Whole world is laughing at us today, yahi chahiye tha na tum logon ko!!!! Congratulations"
In a different tweet, she claimed to have lost endorsement deals because of her comments against the protests, which have been on-going for months at Delhi's Singhu border, because of the Centre's farm laws. She tweeted, "Six brands cancelled contracts with me some were already signed some were closing n said I called Farmer terrorists so they can't have me as an ambassador. Today I want to say each and every Indian who is supporting these riots is also a terrorist including anti national brands."
Kangana has always been very vocal about her views, she cuts to the chase. She also tweeted "People like @diljitdosanjh and @priyankachopra will be hailed by the left media for misleading and encouraging farmers protests, pro-Islamists and anti India film industry and brands will flood them with offers and English/living in colonial hangover media houses will felicitate them with awards, the problem is whole system is designed to make anti nationals flourish and grow and we are too less in numbers against a corrupt system, but I am sure magic will happen in every fight of GOOD versus EVIL, evil has been much stronger, JAI SHRI RAM."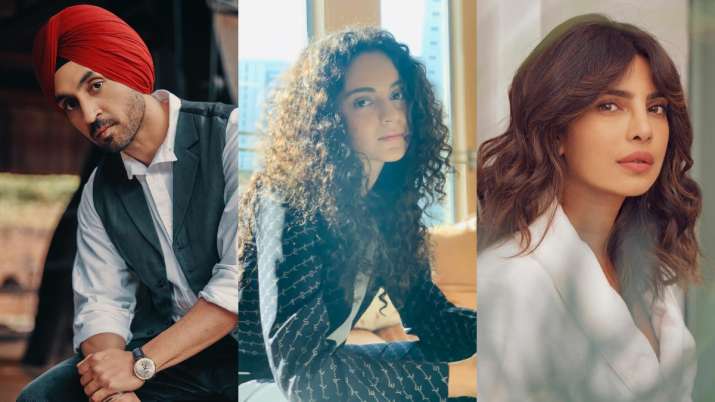 Kangana later claimed that the protests resulted in a cumulative loss of ₹70,000 crore and reminded Diljit and Priyanka of the 'serious consequences' of their support to the farmers. "Cost of farmers protests so far 70,000 crores, because of dharna economic slowdown in neighbouring industries and small factories, might lead to riots, @diljitdosanjh and @priyankachopra you understand our actions have serious consequences please tell me who will pay for this?," she exclaimed on Twitter.