TV Actress Sayantani Ghosh Marries Longtime Boyfriend Anugrah Tiwari
Sayantani Ghosh, a television actress, has married her longtime lover Anugrah Tiwari, who works in the fitness business. The actress, who appeared in 'Naaginn', 'Santoshi Maa' and other television series, shared her wedding pictures on Instagram and captioned them, "And just like that I went from being a Miss to a Mrs." They had already exchanged rings in a private ceremony.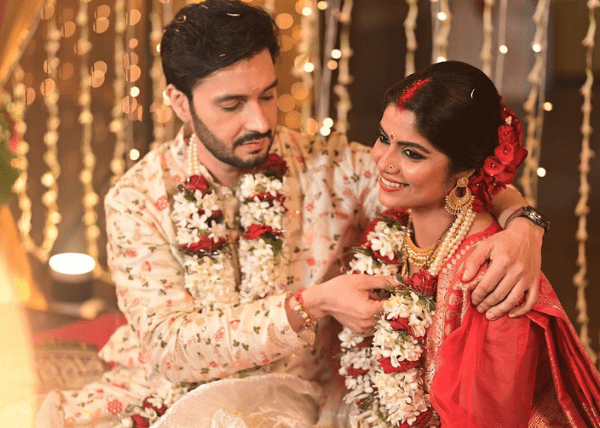 Sayantani Ghosh chose a crimson saree with a gold blouse for the occasion, while Anugrah Tiwari wore a golden jacket over his red kurta. In one of the photos, the couple is seen flaunting off their engagement rings, while in another, they are seen exchanging a fist bump to the camera. In addition, the actor posed alone for two photos with flower decorations as the backdrop. Sayantani and Anugrah had allegedly been together for eight years. On Sunday, they will get married.
She shared the pictures and wrote, "The best thing in life is to hold on to each other, and here we are about to begin a new chapter in our lives As we start our new journey, we have had an eternal blessing from my dida. The saree and my bangles that I'm wearing were given to me by her and it feels like she was a part of our celebration last night." For the wedding too, Sayantani chose to wear a red banarasi saree and had simple red bindi with white dots around it. She made for a beautifull bride while Anugrah also wore dhoti and embroidered kurta.
The actress's Haldi ceremony took place at her house on December 5 in the company of her close relatives and friends. Sayantani Ghosh recently shared a slew of images from her pre-wedding festivities. In one of the images, she was seen wearing her engagement ring.
Anugrah works in the fitness industry, and the couple has been together for more than a decade. They also arranged a reception in Anugrah's hometown of Jaipur, as well as a party in Mumbai for their friends.
Sayantani Ghosh is from Bengal, while Anugrah is from Rajasthan. Sayantani Ghosh is a television actress from India. She made her television debut in the long-running soap opera Kumkum – Ek Pyara Sa Bandhan and is most recognised for her roles in the hit operas Naaginn, Mahabharat, Naamkarann, and Naagin 4. She appeared on Bigg Boss 6 in 2012.
She is now starring as one of the leads in the Sony SAB series Tera Yaar Hoon Main.