Australia defeats India by six wickets to win their sixth ODI World Cup. They needed just 43 overs to chase the 241-run goal.
The sixth ICC One-Day International World Cup championship was won by Australia at the Narendra Modi Stadium in Ahmedabad, Gujarat, when it defeated India by six wickets. India hosted the tournament all by itself for the first time this year. Beginning the 2023 World Cup with two losses, Australia went on to win seven straight games and go to the semifinals. They defeated South Africa to get to the semifinals and play India.
But India dominated, taking first place in all of their group matches and going on to win the semifinal against New Zealand. The squad was unable to hold off the Australian team's relentless attack in the championship round.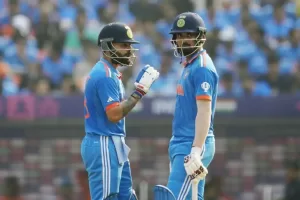 India defeated in the finale of icc world cup 2023. Rohit Sharma got india off to a great start, scoring 47, runs in only 31 deliveries.
The biggest turning point of the match was Rohit Sharma's dismissal in the 10th over, Courtesy a spectacular catch by Travis Head. In form shreyas Iyer faltered at the worst possible time, losing his wicket in the very next over after Rohit's dismissal.
As they did on 8th October, KL Rahul had to stabilise India's innings, stitching a 67 run partnership.
Rohit Sharma says" we were not good enough today, didn't put enough runs today on the board. We tried everything, but it wasn't meant to be"
It was an agonising Sunday for fans of Indian cricket team as their team went down against Australia in the world cup finale.
But in the end it's their hard work which should be congratulated as they had given their best so that is what our pM exactly does Narendra Modi on his Instagram handle post
Narendra Modi writes for India cricket team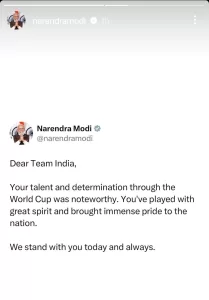 "Dear Team India,Your talent and determination through the World Cup was noteworthy. You've played with great spirit and brought immense pride to the nation.We stand with you today and always."
Also he congratulates Australia for their win "Congratulations to Australia on a magnificent World Cup victory! Theirs was a commendable performance through the tournament, culminating in a splendid triumph. Compliments to Travis Head for his remarkable game today."
Billions of heart break this Sunday What gives the supporters of the Indian cricket team hope is until next time.