"Uska Breakup Ho Jayega," Anil Kapoor Reacts As Varun Dhawan Reveals Arjun Kapoor Is A Big Flirt!
Filmmaker Karan Johar is not just a great director but a cool host too. His talk show Koffee With Karan often grabs headlines for its controversial content. And it is Johar who makes celebrities confess the darkest secrets of their lives.
In the recent episode of the show, actors Anil Kapoor and Varun Dhawan hit the couch and made for an interesting watch for the viewers. From their professional lives to relationships, and marriages, the two talked at length about every single aspect of their lives.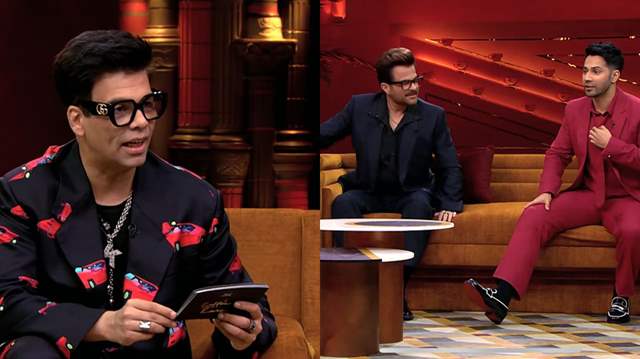 During the famous rapid-fire round, Varun also went to disclose some shocking habits of his bestie Arjun Kapoor. On being asked which Bollywood celebrity 'brags the most', he quickly named Arjun Kapoor. Anil, who is an uncle to Arjun interrupted and said that he should not be saying such things about his nephew. Varun then stated, "Shaukeen aadmi hai (He's a man of culture)."
Furthermore, Varun also revealed that Arjun Kapoor is a big flirt and a gossip monger. This shocked Anil and host Karan. Varun sided with Arjun and said, "Arjun karta hai flirt kabhi kabhi (Arjun flirts occasionally)." Karan depicted surprising emotions and asked, "Really? Is he sliding into people's DMs?" To this, Varun replied, "Once in a while, it's all fine." Anil jumped in to quote, "Uska break-up ho jayega (He might have a breakup now)." Varun replied, "Nahi nahi, woh nahi hoga (No, that won't happen)."
After all these revelations, Varun stopped himself a bit and started praising Arjun. To this, Anil said, "Don't make it up now, uski baja bhi raha hai aur…".
Let us tell you that Arjun Kapoor is in a relationship with Malaika Arora for quite some time now. The two often turn heads with their public appearances. Varun and Arjun share a close bond of friendship. Their bromance is evident on their social media handles.
Let's wait for Arjun's reaction to all this. Till then, stay tuned.