Vikram's Trailer Screens At Burj Khalifa, Watch Kamal Haasan's Reaction!
Kamal Haasan has landed in Dubai to promote his highly anticipated upcoming film Vikram, directed by Lokesh Kangaraj. Excitement for the film peaked when the film's trailer was shown on the Burj Khalifa in Dubai on Wednesday night. A video of the actor watching the trailer in a spectacular setting has gone viral online.
In the video, Kamal Haasan sits on a chair and enjoys the trailer as it passes the Burj Khalifa. The actor looked super ecstatic while watching it. Vikram also features Vijay Sethupathi and Fahadh Faasil in the lead role. The trailer of Vikram has yet again set the internet on fire.
#VikramatBK 😍🔥

The Trailer of #Vikram was displayed on the world's tallest screen, Burj Khalifa💥 #VikramFromJune3 #VikramHitlist@ikamalhaasan @Dir_Lokesh @VijaySethuOffl #FahadhFaasil @anirudhofficial #Mahendran @RKFI @actor_nithiin @SreshthMovies @turmericmediaTM pic.twitter.com/L0gLRTQHQe

— 𝐕𝐚𝐦𝐬𝐢𝐒𝐡𝐞𝐤𝐚𝐫 (@UrsVamsiShekar) June 2, 2022
Yesterday, director Lokesh Kangaraj unveiled Suriya's poster from the film as he is playing a cameo role. It also teased the character Suriya is playing in the movie as the caption reads, "Suriya as? The poster sent the internet into meltdown.
That Kamal Haasan will visit the Rohini Silver Screen in Chennai to greet fans on the first day of its first screening tomorrow, June 3, at 4 a.m. The FDFS broadcasts begin at 7 a.m., and the expected response will be unimaginable.
Recently, the actor explained that he wanted to film Vikram in all languages, but that was not possible. The actor's job is the worst. Even if you do one plan where you double for the other four, they pay people to double, which worries them.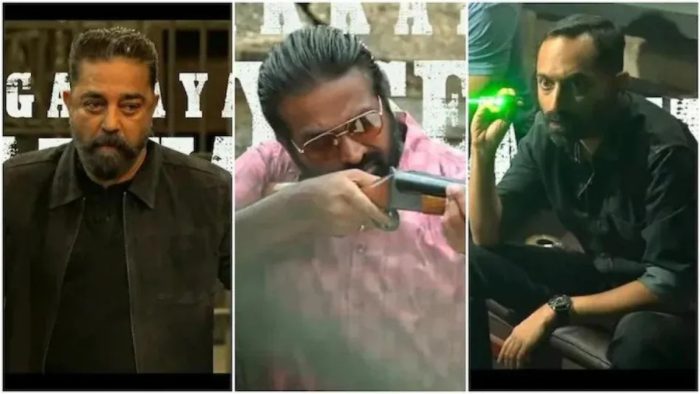 Directed by Lokesh Kangaraj and supported by Kamal Haasan Production, Raaj Kamal Films International, music was composed by Anirudh Ravichander for the film. In supporting roles, Vikram also stars Shivani Narayanan, Kalidas Jayaram, Narain, Antony Varghese, and Arjun Das.