What Rakhi Sawant Said After Being Praised By Twinkle Khanna-Readout!
Rakhi Sawant has thanked actress and writer Twinkle Khanna with folded hands for her praise. Actually, Twinkle Khanna had praised Rakhi Sawant in an article on 'Tweak India', due to which she has thanked Rakhi. Rakhi calls herself the 'One Woman Army. Rakhi said that she is such a 'One Woman Army' that fights for what she believes in. Rakhi wrote on her Instagram that no matter how funny it was, I stood firm. She said that I was trolled and abused, made fun of, and even after that I stood strong. Replying to Twinkle's article, Rakhi shared pictures of herself and Twinkle on Instagram and wrote in the caption – Thank you Twinkle Khanna Your appreciation means a lot to me. Rakhi told Twinkle that I thank you for taking out precious time and writing about me.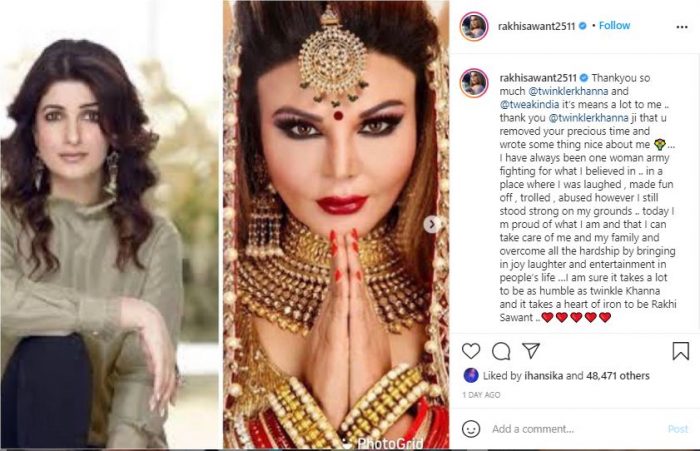 Rakhi wrote that I am proud that I can take care of myself and my family. I can overcome all difficulties by bringing laughter and entertainment to people's lives… I am sure it takes a lot to be humble like Twinkle Khanna and a heart of iron to be like Rakhi Sawant. Everyone knows that Rakhi Sawant is known for her unique style in the industry. She keeps making everyone laugh with her bubbly style and keeps making headlines every day. However, she has struggled a lot to reach this point, about which she often talks openly. This is the reason that when Twinkle Khanna praised Rakhi in her article, she was stunned and thanked Twinkle Khanna for it.

Twinkle wrote in her article that over the years Rakhi Sawant has been called by many names in the industry including Controversy Queen, Dramebaaz and Item Girl, etc. Sequence. She is doing her work with self-awareness Rakhi had recently appeared in Bigg Boss. Along with this, apart from acting in many Bollywood films, she has also done item dance. A few days ago, Farah Khan also praised Rakhi Sawant.