Kamya Punjabi Raised Questions On Bigg Boss; Said, "Why Is Shamita Getting Special Treatment?"
Bigg Boss 15 has reached its sixth week, in such a situation the relations of many people in the house are seen deteriorating. On one hand, where a new enmity started between Jai Bhanushali and Vishal Kotian in the house, on the other hand, Raqesh Bapat, and Neha Bhasin have entered the house with Shamita's support and once again as Bigg Boss contestants. After Rajiv Adatia, now Rakesh Bapat and Neha Bhasin came as wild cards in the house. But with this decision of Bigg Boss, not only did the fans of Bigg Boss express their displeasure but now some stars also raised their voice against it.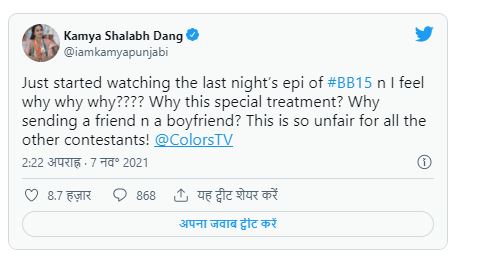 Kamya Punjabi, who was an ex-contestant of Bigg Boss and constantly following this season, gave her opinion on this issue. She tweeted and wrote, "I was watching Bigg Boss last night and I felt like why? Why is this special treatment being given? Sending a friend and boyfriend to the house is very unfair to the other members of the house."
Poonam Pandey Accuses Husband Sam Bombay For Assault, Arrested By Bombay Police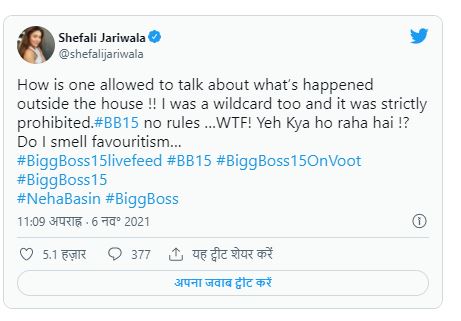 Shefali Jariwala expressed her displeasure and said, "How is it allowed to talk about things outside the Bigg Boss house. I was also a wild card entry but it was strictly forbidden to do so. There is no rule in Bigg Boss 15, what is happening? I feel like this time there is favoritism in Bigg Boss." Shefali did not like to invite Neha Bhasin and Rakesh into the house as wild card entries after sending Rajeev Adatia for Shamita Shetty.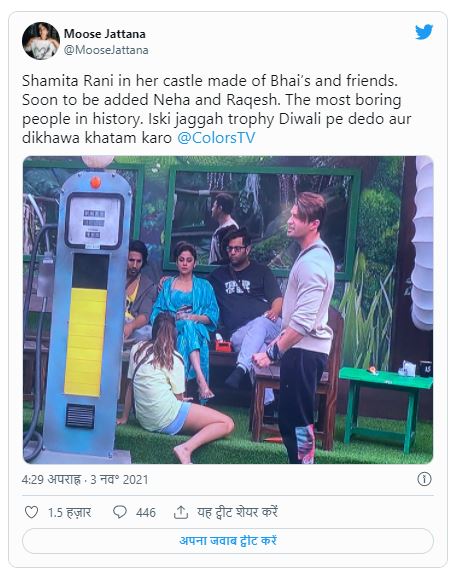 Social media influencer Moose Jattana, who was seen in Bigg Boss OTT before Kamya Punjabi and Shefali Jariwala, expressed her anger towards the makers of Bigg Boss. While tweeting, he described Raqesh Bapat and Neha Bhasin as the most boring contestants in the history of Bigg Boss. Moose Jattana wrote, "Shamita Rani is in her palace full of brothers and friends. Neha Raqesh will also join this now." Moose Jattana expressed her anger at the makers of Bigg Boss saying, "These two are the most boring contestants in the history of Bigg Boss. Instead, give the trophy on Diwali and end the show." Not only the stars but the fans are also very upset about why Shamita Shetty is being favored so much in the house.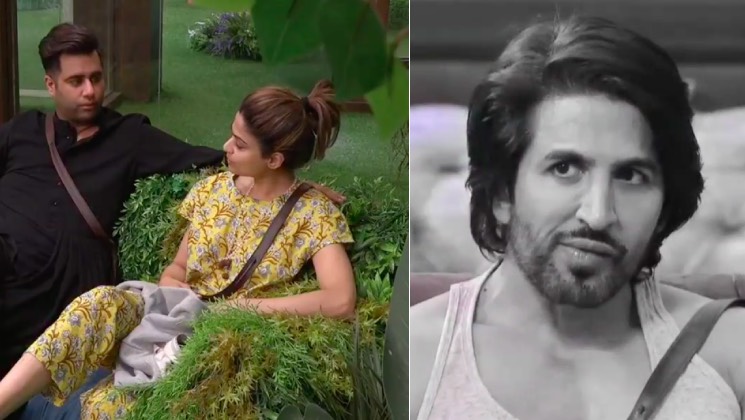 When Rajiv Adatia came to the Bigg Boss house, he did a lot of evil in front of Shamita about Vishal and said that he is playing a game with her. Once again Neha Bhasin and Rakesh Bapat also said the same thing to Shamita, due to which Vishal and Shamita fought in the house, although Salman Khan supported Vishal in this.