Salman's Ex-Girlfriend Somy Ali Said In Aryan Khan Drugs Case- Let's Ruin That Child's Life
Shah Rukh Khan and Gauri Khan's son Aryan Khan was arrested by the Narcotics Control Bureau in a drug case on October 3 and Bollywood celebs are extending their support to Shah Rukh Khan and his family. Aryan is currently lodged in Arthur Road Jail after his bail was rejected. Now another Bollywood actress and Salman Khan's ex-girlfriend Somy Ali has also supported Aryan Khan. He has also written a message sharing the picture of star kid Aryan Khan through an Instagram post.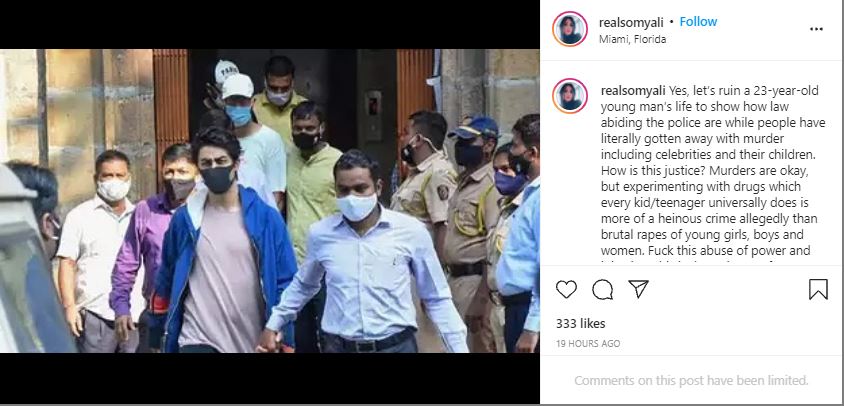 Somy wrote, "Yes, let's ruin a 23-year-old young man's life to show how law abiding the police are while people have literally gotten away with murder including celebrities and their children. How is this justice? Murders are okay, but experimenting with drugs which every kid/teenager universally does is more of a heinous crime allegedly than brutal rapes of young girls, boys and women. Fuck this abuse of power and injustice. This is the epítome of hypocrisy. #letthiskidsgo And, yes, at my age a 23-year-old is a kid. This is complete horseshit! #freearyan #nomorescapegoats #stopcorruption." Earlier, Somy had strongly reacted to the entire case.
Nagarjuna Says About Tabu "When You Mention Her Name, My Face Lights Up"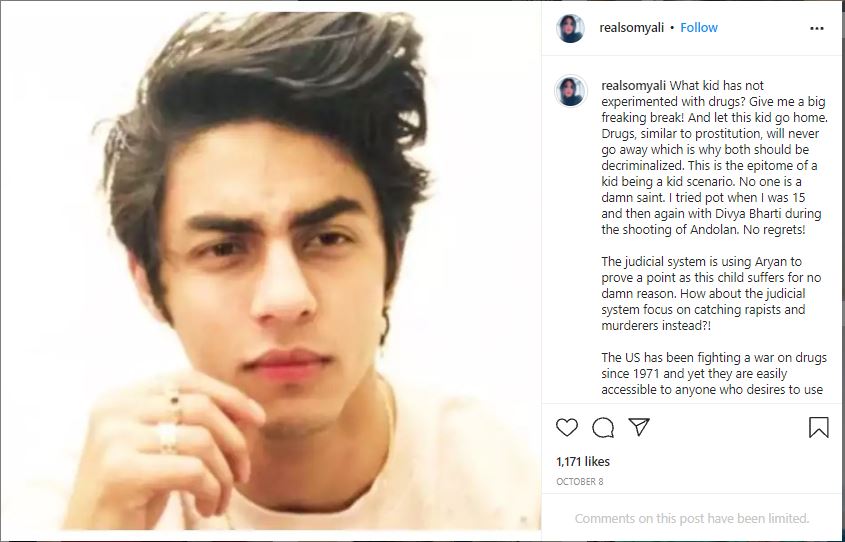 What kid has not experimented with drugs? Give me a big freaking break! And let this kid go home. Drugs, similar to prostitution, will never go away which is why both should be decriminalized. This is the epitome of a kid being a kid scenario. No one is a damn saint. I tried pot when I was 15 and then again with Divya Bharti during the shooting of Andolan. No regrets! The judicial system is using Aryan to prove a point as this child suffers for no damn reason. How about the judicial system focus on catching rapists and murderers instead?! The US has been fighting a war on drugs since 1971 and yet they are easily accessible to anyone who desires to use them. My heart goes out to Shah Rukh and Gauri and my prayers are with them. Aryan, you have done nothing wrong and justice will be served, kiddo.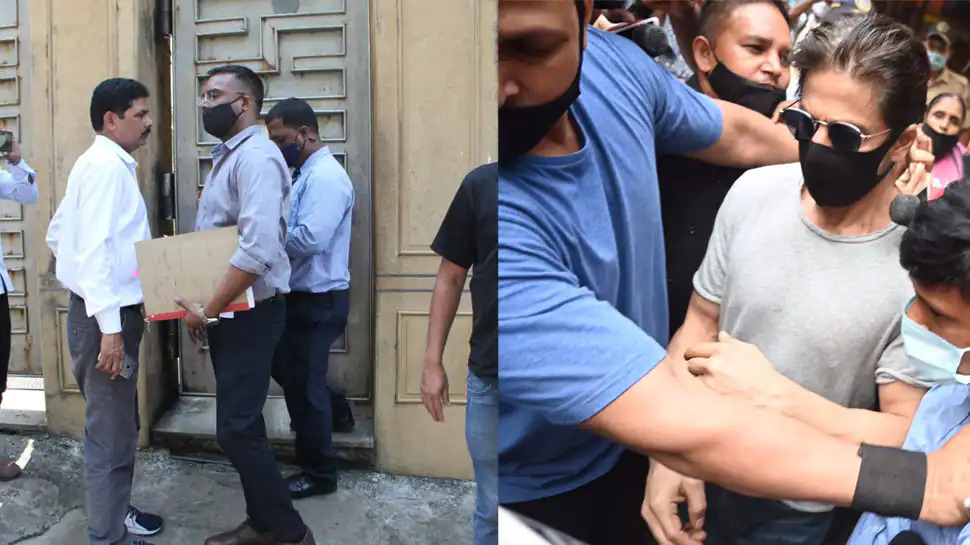 On Thursday, NCB officials reached Shahrukh Khan's house Mannat. During this, the officers searched the house of Shahrukh Khan. According to reports, NCB officials went to Shahrukh Khan's house to give notice. It is written in this notice that if Aryan Khan has any other electronic device, then hand it over to NCB. NCB official VV Singh went to Shahrukh's house.